a lil bean ✨

Offline
Feb 2011
17189
Banner: Rinarin
POINTS BESIDES EACH THEME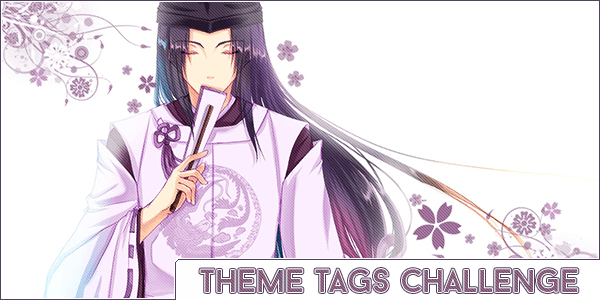 Considering that there are so many interesting tags and themes out there used in anime, we have decided to make this challenge to group them all. This challenge will consist of several approved tags used to describe themes that appear in different series, and instead of releasing individual challenges for them (see Iyashikei, GAR, CGI, etc.) you can complete their version of this challenge here.
  To suggest a tag, make sure there are enough series listed under them and suggest them on discord or in the
Suggestion & Discussion
thread. (Other requirements may be added later on)
Difficulty

:
 — All versions will need 40 series in total.
 — No x2+ should be attempted for this challenge. Points won't be awarded.



Previously completed series

aren't

allowed. Neither is re-watching.
 — Series previously started, but not finished,

may be used

.
 — Airing can be used, but you must

complete

the series, so you can only turn-in the challenge after the series has finished airing.
 —

Note:

If you've seen everything available for a certain tag, please be sure to contact one of the staff to see what your options are.


Any type is allowed, but must be

equal to or longer

than 15 minutes (total).


Your challenge "Starting Date" is the day you post.
 — Remember that it's required to add the start and end dates to any anime you use for our challenges.




ABOUT THE TAGS

:


Cannot use the same series and/or entry twice in one version, but you can use the same series for different versions.
 — For example: "Cross Ange: Tenshi to Ryuu no Rondo" appears tagged as "Dragons" and "Rebellions" in Anime-Planet.
 — If both tags were accepted as versions of this challenge, you could use them for both.



NOTE

that since new tags are added after the challenge release date, you can't use an old post for them. Once a new tag is added, you have to make a post for it.
 — Newer tags can't be started before they were added.


Limit yourself to use the provided sites for each tag. If you were to find another suitable listing, provide it to a staff so we can verify it.



This challenge is available in our

Hall of Fame

as a checklist that will help you complete it.
 — You will need to have turned-in at least once (any challenge) to appear listed. Check if you are in the database

here

.

Suggested by SheyCroix ; Using variants suggested by
SET #1: YayakoChii (Aliens, Deities, Detectives, Dragons, Fairies, Ghosts, Ninjas), ExperienceLD (Love Triangles), Wyvern22 (Mythology, Robots, Swordplay), SebastianOrf3 (Historical Period), Titadou (Robots)
SET #2: YayakoChii (Gore, Maids), MetalFalcon (Angels, Delinquents, Gunfights, Power Suit), Sakku-san (Androids), ShockZz (Coming of Age, Disasters, Conspiracy), TheFlyingOrange (Friendship), HDAsylum (Parental Abandonment) Theme Tags Challenge
Sign Up Code Here
Points | HoF Link | Theme Tag | Sources





SET #1

released on Sep 21, 2019 Jul 02, 2023
— cosmetic update ; new badges have been donated and added, made by coziitsu (for SET #2)
Apr 21, 2023
— new badges have been donated and added, made by CsillaLoli (SET #1: Detectives ; SET #2: Androids, Angels, Delinquents)