4th Year Anniversary Challenge

Offline
Sep 2011
1862
Banner: Riho88riho
3 POINTS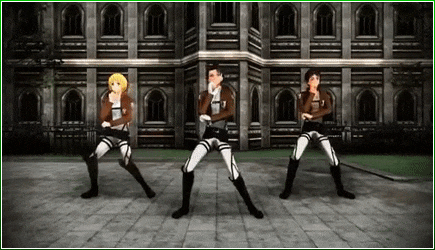 Standard Rules

:


Complete all listed items.
 — Keep in mind that from the last section (Contributors) you don't have to watch them all.


Previously completed series

aren't

allowed. Neither is re-watching.
 — Series previously started, but not finished,

may be used

.
 — Airing can be used, but you must

complete

the series, so you can only turn-in the challenge after the series has finished airing.
 — Can overlap with any and all challenges (unless otherwise stated in the referenced challenge).


Any type is allowed, but must be equal to or longer than 15 minutes (total).
 — Unless otherwise stated.


Your challenge "Starting Date" is the day you post.
 — Remember that it's required to add the start and end dates to any anime you use for our challenges.


You cannot use the same entry more than once.



Some of these challenges are available in our

Hall of Fame

as a checklist that will help you completing it.
 — Check on each challenge thread to see availability.
 — See all the required series for all the anniversaries

here

.

Anniversary Challenge Guidelines

:


The "

Referenced Challenge

" is in bold to the left of the criteria/requirement.
 — This refers to the challenge that the criteria is based on.



The rules

from the referenced challenges applies for each corresponding requirement. For example:
 — If the Referenced Challenge states that it can't overlap with another specific challenge.
 — If the Referenced Challenge, such as the TV Scum Challenge for example, states that only a certain type or length can be used.


If there is criteria that

you cannot watch new

because you've already seen everything available, link to your completed challenge(s).
 — Only applies for the referenced challenges below:



 ○ 100 URLs Challenge
 ○ Doga Kobo Challenge
 ○ NHK Top 100 Challenge
 ○ TV Scum Challenge
 ○ Highlights Challenges (November 2019: Gourmet & Ghibli Founders, February 2020: Superhero & World Tour)
 ○ Love in All its Forms Collection

 ○ AzureRikkai's Collection
 ○ Imyreld's Mysterious Collection
 ○ Smhmines' Feel Good Collection
 ○ Shey's Sommelier Attempt Collection
 ○ Yuki's Summit Of Entertainment Collection
 ○ mozgow's Magical Collection Collection
 ○ Aera's BiSHiEM@STER Collection Collection
 ○ Flip's Diverse Universe Collection
 ○ Mixed Bean Bag of Anime Collection
 ○ Abhu's Parfait Paradise Collection
 ○ BigDud's Big & Bold Collection Collection
 ○ Anna's Must-Watch Shoujo Collection Collection
 ○ Rubik's Super Happy Fun Times GO! Collection

 ○ Hibbington's Hiblicious Tough Love
 ○ HaXXspetten's Battle of Wits and Thrills
 ○ Misao's Wolves of Mibu
 ○ Blue's Collection for Every Taste
 ○ Shuuka's Sparkling Passage of Dreams
 ○ In Another Hell with Akuma-chi
 ○ Veggie's Harem Extravaganza!
 ○ Jirmt's Overpowered Protagonists
 ○ Risa's Risky Rendezvous for Revelry
 ○ Ray's Obscure Oddities
 ○ Yasaal's Essentials & Forgotten Classics
 ○ Cobra's Boy Haven




The series you use for this challenge do not have to be used in the referenced challenges. 4th Year Anniversary Challenge
[ 0 / 70 ]
Sign Up Code Here

AIRED-BASED -- Watch an anime aired during that year


[X]

Aired 2003 Challenge


[X]

Aired 2020 Challenge


STUDIO-BASED -- Watch an anime from each studio


[X]

Doga Kobo Challenge


GENRE-BASED -- Watch a series tagged with each of the following genres


[X]

Adventure Challenge


[X]

Martial Arts Challenge


[X]

Parody Challenge


[X]

Police Cars Challenge


[X]

Space Challenge


[X]

Super Power Challenge


[X]

Supernatural Challenge


[X]

Thriller Challenge


THEME-BASED -- Watch a series that is listed for each challenge


[X]

Holiday Challenge -- Watch a series that fits a criteria from the challenge [CRITERIA?]


[X]

Iyashikei Challenge


[X]

Korean and Chinese Anime Challenge


[X]

Theme Tags Challenge -- Watch an anime that fits a tag from the first set [WHICH?]


CHARACTER-BASED


[X]

Adult Character Challenge -- Watch a series with a main character that is 20+ years old. [SOURCE?]


[X]

Character Tag Chain Challenge -- See note 1 at the end of the challenge.


[X]

Child Character Challenge -- Watch a series with a main character that is 12 years old or younger. [SOURCE?]


TYPE-BASED


[X]

ONA-Per-Day Challenge -- Watch an ONA


INFO-BASED -- Watch a series that is listed for each challenge


[X]

100 URLs Challenge


[X]

TV Scum Challenge


[X]

NHK Top 100 Challenge


MISCELLANEOUS-BASED -- Watch a series that fits a criteria from the challenge


[X]

Anime Tag Chain Challenge -- See note 2 at the end of the challenge


[X]

Second Chances 2016 Challenge [CRITERIA?]


[X]

Second Chances 2017 Challenge [CRITERIA?]


[X]

Second Chances 2018 Challenge [CRITERIA?]


[X]

Second Chances 2019 Challenge [CRITERIA?]


SPECIAL-BASED


[X]

Monthly Challenges -- Watch a series that fits any of the 2019 monthly challenges criteria [CRITERIA/CHALLENGE LINK]


[X]

Scavenger Hunts Challenges -- Watch a series that fits a criteria from Hunt #28 (Butterfly Set) [CRITERIA]



For the following two items, use any anime that was previously offered/challenged. The full listing will be linked under the challenge name.




[X]

Highest Scored Anime Challenge


[X]

Lowest Scored Anime Challenge


HIGHLIGHT


[X]

November 2019 -- Watch a series from the Gourmet or Ghibli Founders Challenge


[X]

February 2020 -- Watch a series from the World Tour or Superhero Challenge


COLLECTION STAFF BASED -- Watch one anime from each staff list


[X]

AzureRikkai's Collection


[X]

Imyreld's Mysterious Collection


[X]

Smhmines' Feel Good Collection


COLLECTIONS MAL AWC STAFF BASED -- Watch one anime from each staff list


[X]

Shey's Sommelier Attempt Collection


[X]

mozgow's Magical Collection


[X]

Aera's BiSHiEM@STER Collection


[X]

Mixed Bean Bag of Anime Collection


[X]

Abhu's Parfait Paradise Collection


[X]

BigDud's Big & Bold Collection


[X]

Rubik's Super Happy Fun Times GO! Collection


[X]

Lestat's Lost Lore of Legends Collection


[X]

Ranacchi's Moonlit Pond of Lillies Collection


[X]

Kaylee's Journey to Wondrous Worlds Collection


[X]

Flip's Diverse Universe Collection


[X]

Anna's Must-Watch Shoujo Collection


[X]

Yuki's Summit Of Entertainment Collection


COLLECTION ANIME GUILD STAFF BASED -- Watch one anime from each staff list


[X]

Hibbington's Hiblicious Tough Love Collection


[X]

HaXXspetten's Battle of Wits and Thrills Collection


[X]

Misao's Wolves of Mibu Collection


[X]

Blue's Collection for Every Taste Collection


[X]

Shuuka's Sparkling Passage of Dreams Collection


[X]

In Another Hell with Akuma-chi Collection


[X]

Veggie's Harem Extravaganza! Collection


[X]

Jirmt's Overpowered Protagonists Collection


[X]

Risa's Risky Rendezvous for Revelry Collection


[X]

Ray's Obscure Oddities Collection


[X]

Yasaal's Essentials & Forgotten Classics Collection


[X]

Cobra's Boy Haven Collection


COLLECTION AFFILIATES BASED -- Watch one anime from the collection


[X]

Love in All its Forms Collection


CELEBRATING SUGGESTION CONTRIBUTORS -- Watch 8 series from the list below
If you have ever suggested a challenge/collection and it was accepted or created, you can link to that challenge/collection and skip only 1 of the required anime from this section. See the HoF checklist for this section here.



[X]

ExperienceLD - High School DxD


Challenge Suggested for: Themes





[X]

GamerDLM - Ore no Nounai Sentakushi ga, Gakuen Love Comedy wo Zenryoku de Jama Shiteiru


Challenge Suggested: Chuunibyou Collection





[X]

greyjoie - Selector Infected WIXOSS


Challenge Suggested: K Collection





[X]

greatvillage - Yoru no Yatterman


Challenge Suggested: Final Fantasy Collection





[X]

Imyreld - Sarazanmai


Challenges Suggested: Adventure, Tag Chains, Doga Kobo, Police Cars, Space, Parody, Super Power





[X]

Jhiday - Yoake Tsugeru Lu no Uta


Challenge Suggested: JoJo Collection





[X]

Kqver - Hisone to Maso-tan


Challenges Suggested: Haikyuu!!, Overlord Collections





[X]

Lady_Nera - Bokura wa Minna Kawai-sou


Challenges Suggested: Haikyuu!! Collection, NHK Top 100





[X]

MegaManBK7 - Katanagatari


Challenge Suggested: TV Scum





[X]

Punkero - Ginga Eiyuu Densetsu: Die Neue These - Kaikou


Challenge Suggested: Ikkitousen Collection





[X]

SebastianOrf3 - Dantalian no Shoka


Challenges Suggested for: Iyashikei, Themes, Thriller, Supernatural





[X]

SecretDinosaur - Girls Bravo: First Season


Challenges Suggested: ; Collection, Holiday





[X]

SheyCroix- Qing Chi Hong Xiaodou Ba!


Challenges Suggested for: Child Character, Themes, ONA-PD, K&C, Police Cars, Parody, Super Power, Second Chances





[X]

Wyvern22 - The Big O


Challenges Suggested: Adventure, Collections, Adult Character, Themes, Martial Arts





[X]

YayakoChii - Shoujo☆Kageki Revue Starlight


Challenge Suggested for: Themes



NOTES & BONUSES


NOTE #1: Follow the instructions as you would if you were starting the Character Tag Chain Challenge.
 — For the character in Step 1, use Kira Yamato (Anime-Planet). (You only need to watch 1 series, not the full chain/challenge.)


NOTE #2: Follow the instructions as you would if you were starting the Anime Tag Chain Challenge.
 — For the series in Step 1, use Katekyo Hitman Reborn! (Anime-Planet). (You only need to watch 1 series, not the full chain/challenge.)


BONUS
 You can skip one requirement in this challenge if you completed one of the following events:
  — The Halloween Bingo LE '19
  — The Cheeky Santa LE '19 BADGES
Created by riho88riho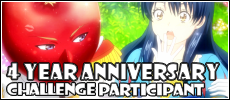 [img]https://i.imgur.com/yJSwEvw.png[/img]
Created by KuraikoDesu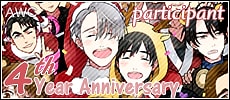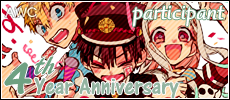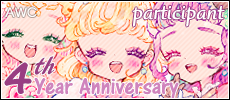 [img]https://i.imgur.com/IDrAgt4.png[/img] [img]https://i.imgur.com/24I9p78.png[/img] [img]https://i.imgur.com/qIMOJnl.png[/img]
Created by Clover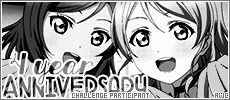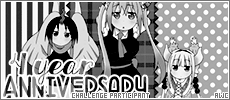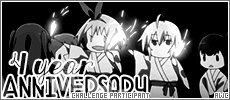 [img]https://i.imgur.com/PxLnofz.png[/img] [img]https://i.imgur.com/Oy4sPQf.png[/img] [img]https://i.imgur.com/wSRcu7I.png[/img] Created by riho88riho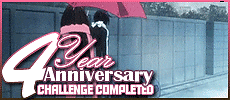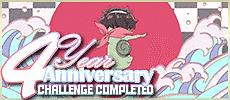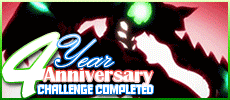 [img]https://i.imgur.com/2Nn9TuZ.gif[/img] [img]https://i.imgur.com/7gIOcUW.gif[/img] [img]https://i.imgur.com/YYmvr34.gif[/img]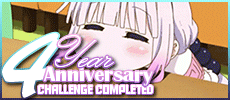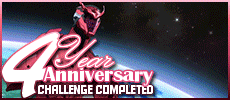 [img]https://i.imgur.com/zSQWlMw.gif[/img] [img]https://i.imgur.com/CvZLGzU.gif[/img]
Created by Clover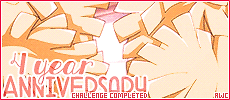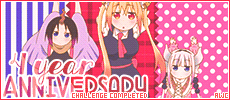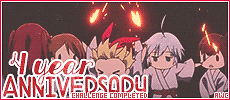 [img]https://i.imgur.com/UQ7YWOQ.gif[/img] [img]https://i.imgur.com/kWtVlz0.gif[/img] [img]https://i.imgur.com/y3mIHrA.gif[/img] Feb 5, 2023
— cosmetic update; added clarification regarding rules from referenced challenges
More topics from this board