5th Year Anniversary Challenge
a lil bean ✨

Offline
Feb 2011
17214
Banner: Imyreld
2.75 POINTS

Standard Rules

:


Complete all listed items.
 — Keep in mind that from the last section (contributors) you don't have to watch them all.


Previously completed series

aren't

allowed. Neither is re-watching.
 — Series previously started, but not finished,

may be used

.
 — Airing can be used, but you must

complete

the series, so you can only turn-in the challenge after the series has finished airing.
 — Can overlap with any and all challenges (unless otherwise stated in the referenced challenge).


Any type is allowed, but must be equal to or longer than 15 minutes (total).
 — Unless otherwise stated.


Your challenge "Starting Date" is the day you post.
 — Remember that it's required to add the start and end dates to any anime you use for our challenges.


You cannot use the same entry more than once.



Some of these challenges are available in our

Hall of Fame

as a checklist that will help you completing it.
 — Check on each challenge thread to see availability.
 — See all the required series for all the anniversaries

here

.

Anniversary Challenge Guidelines

:


The "

Referenced Challenge

" is in bold to the left of the criteria/requirement.
 — This refers to the challenge that the criteria is based on.



The rules

from the referenced challenges applies for each corresponding requirement. For example:
 — If the Referenced Challenge states that it can't overlap with another specific challenge.
 — If the Referenced Challenge, such as the Alpha-Producers Challenge for example, states that only a certain type or length can be used.


If there is criteria that

you cannot watch new

because you've already seen everything available, link to your completed challenge(s).
 — Only applies for the referenced challenges below:



 ○ Clover's Calamitous Collection
 ○ -Ez_Bri_zy-'s Baka Bash
 ○ Gwathgor's Collection
 ○ KuraikoDesu's Incoherent Tastes
 ○ MegaManBK7's Time Tour Collection
 ○ MetalFalcon's Harem Hall Of Fame
 ○ Nez's Polarized Tastes Collection
 ○ Rage's Emotional Rollercoaster
 ○ Scarlet's Mecha Awesome Collection
 ○ ShockZz's Superb Collection of Grandiosity
 ○ Sostter's Sports and Food Collection
 ○ Tamo's Pit of Absurdity
 ○ Wyvern's Oldies Punishment
 ○ Yorokobi's Hopeless Romantic Collection
 ○ Yterbium's Wholesome and Horror Hunt

 ○ Ecchi/Harem Club's Collection

 ○ Mari Okada Challenge
 ○ Tezuka Universe Challenge
 ○ World Masterpiece Theater Challenge
 ○ Movie Scum Challenge
 ○ OVA Scum Challenge
 ○ Special Scum Challenge
 ○ ONA Scum Challenge
 ○ Award Winning (Non-TV) Challenge
 ○ Award Winning (TV) Challenge




The series you use for this challenge do not have to be used in the referenced challenges. 5th Year Anniversary Challenge
[ 0 / 56 ]
Sign Up Code Here

AIRED-BASED -- Watch an anime aired during that year


[X]

Aired 2000-2002 Challenge


[X]

Aired 2021 Challenge


[X]

OVA Timeline Challenge -- Aired on or before 1999


MAKER-BASED -- Watch an anime from each maker


[X]

Mari Okada Challenge


[X]

Tezuka Universe Challenge


[X]

Alpha-Producers Challenge -- Watch an anime where the studio fits a letter from the word "Anniversary" [STUDIO?]


[X]

World Masterpiece Theater Challenge


STUDIO-BASED -- Watch an anime from each studio


[X]

J.C.Staff Challenge


[X]

Studio Pierrot Challenge


[X]

TMS Entertainment Challenge


GENRE-BASED -- Watch a series tagged with each of the following genres


[X]

Magic Challenge


[X]

Musical Challenge


THEME-BASED -- Watch a series that is listed for each challenge


[X]

Award Winning (Non-TV) Challenge


[X]

Award Winning (TV) Challenge


TYPE-BASED


[X]

Alpha-Seasonal Special Challenge -- Watch a special where the main title fits a letter from the word "Anniversary"


INFO-BASED -- Watch a series that is listed for each challenge


[X]

Movie Scum Challenge


[X]

OVA Scum Challenge


[X]

Special Scum Challenge


[X]

ONA Scum Challenge


[X]

Sequel Challenge -- Watch a series that fits a criteria from the challenge [CRITERIA?]


MISCELLANEOUS-BASED -- Watch a series that fits a criteria from the challenge


[X]

Second Chances 2020 Challenge [CRITERIA?]


SPECIAL-BASED


[X]

Monthly Challenges -- Watch an anime that fits any of the 2020 monthly challenges criteria [CRITERIA/CHALLENGE LINK]



For the following two items, use any anime from there since the new collections are very limiting. New ones: Hamtarou, Hiromu Arakawa & Hakuouki collections.




[X]

Series Collections -- Watch an anime from a series collection [WHICH?]


[X]

Creator Collections -- Watch an anime from a creator collection [WHICH?]



For the following three items, use any anime that was previously offered/challenged. The full listing will be linked under the challenge name.




[X]

Highest Scored Anime Challenge


[X]

Lowest Scored Anime Challenge


[X]

Anime Auction House [WHICH ROUND?]


HIGHLIGHT


[X]

Easter Bean Hunt -- Watch a series that fits a criteria from the challenge [CRITERIA?]


[X]

February 2021 -- Watch a series from one of the collections used on the challenge [COLLECTION?]


COLLECTION STAFF BASED -- Watch one anime from each staff list


[X]

Clover's Calamitous Collection


[X]

-Ez_Bri_zy-'s Baka Bash


[X]

Gwathgor's Collection


[X]

KuraikoDesu's Incoherent Tastes


[X]

MegaManBK7's Time Tour Collection


[X]

MetalFalcon's Harem Hall Of Fame


[X]

Nez's Polarized Tastes Collection


[X]

Rage's Emotional Rollercoaster


[X]

Scarlet's Mecha Awesome Collection


[X]

ShockZz's Superb Collection of Grandiosity


[X]

Sostter's Sports and Food Collection


[X]

Tamo's Pit of Absurdity


[X]

Wyvern's Oldies Punishment


[X]

Yorokobi's Hopeless Romantic Collection


[X]

Yterbium's Wholesome and Horror Hunt


COLLECTION AFFILIATES BASED -- Watch one anime from the collection


[X]

Ecchi/Harem Club's Collection


CARD EDITIONS -- Watch one anime (or a series directly related to one) from the list provided for each card edition.
If you have a card from all of the editions listed below, you can link them in your challenge and skip only 1 of the required items from this section.



[X]

Your Challenge is Invalid: Special Edition


[X]

Staff Birthdays: May Edition SE


[X]

Staff Birthdays: September Edition SE


[X]

Staff Birthdays: November Edition SE


CELEBRATING SUGGESTION CONTRIBUTORS -- Watch 7 series from the list below
If you have ever suggested a challenge/collection that was created, you can link to that challenge/collection and skip only 1 of the required anime from this section. See the HoF checklist for this section here.



[X]

bigdud24 - Tetsuwan Birdy Decode


Challenge Suggested: Anime Auction House





[X]

Helvian494743 - Kaguya-sama wa Kokurasetai: Tensai-tachi no Renai Zunousen


Challenge Suggested: Hiromu Arakawa Collection





[X]

Imyreld - Id:Invaded


Challenges Suggested: Highlights, Easter Bean Hunt, Magic





[X]

Jhiday - Takahashi Rumiko Gekijou


Challenge Suggested: Award Winning





[X]

kallah - Kakegurui


Challenge Suggested: Magic





[X]

Kyrieleiison - Zankyou no Terror


Challenge Suggested: Hiromu Arakawa Collection





[X]

Lady_Nera - Kimi to Boku.


Challenge Suggested: Alpha-Producer





[X]

miaxnder - Jibaku Shounen Hanako-kun


Challenge Suggested: Musical





[X]

SebastianOrf3 - Rolling☆Girls


Challenge Suggested: Mari Okada Challenge, OVA Timeline





[X]

SheyCroix- Honzuki no Gekokujou: Shisho ni Naru Tame ni wa Shudan wo Erandeiraremasen


Challenges Suggested for: Alpha-Seasonal Special, Anime Auction House, Award Winning, Magic, OVA/ONA/Special Scum, Second Chances





[X]

ShockZz - 91 Days


Challenge Suggested: Movie Scum, OVA Scum





[X]

TheFlyingOrange - Nami yo Kiitekure


Challenge Suggested: TMS Entertainment





[X]

Wyvern22 - Fei Ren Zai


Challenge Suggested: Alpha-Producer, Hakuouki Collection, J.C.Staff, Studio Pierrot, Tezuka Universe, TMS Entertainment, World Masterpiece Theater BADGES
Created by Clover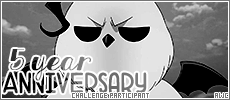 [img]https://i.imgur.com/RGQRhGv.png[/img]
Created by Imyreld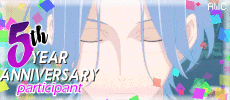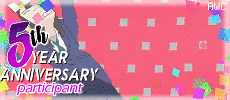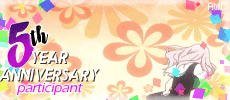 [img]https://i.imgur.com/3HgqMzO.gif[/img] [img]https://i.imgur.com/J4qVxDB.gif[/img] [img]https://i.imgur.com/J648STp.gif[/img]
Created by tamochinnn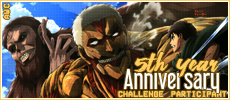 [img]https://i.imgur.com/s0G83OD.png[/img] [img]https://i.imgur.com/NUrKhr1.png[/img]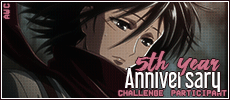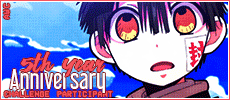 [img]https://i.imgur.com/jKxWIUJ.gif[/img] [img]https://i.imgur.com/oKE5xMY.gif[/img] Created by Clover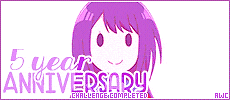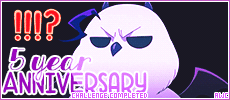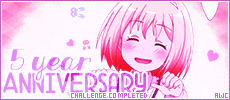 [img]https://i.imgur.com/ML2BijR.gif[/img] [img]https://i.imgur.com/xgtywq6.gif[/img] [img]https://i.imgur.com/UGJMQA3.gif[/img]
Created by Imyreld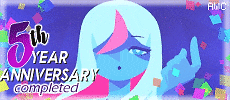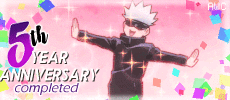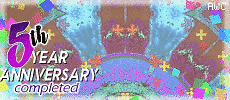 [img]https://i.imgur.com/TUGOxre.gif[/img] [img]https://i.imgur.com/YkSkhvx.gif[/img] [img]https://i.imgur.com/6da84Nc.gif[/img]
Created by tamochinnn
[img]https://i.imgur.com/shWGAvR.gif[/img] [img]https://i.imgur.com/ZRMC7UW.gif[/img] Feb 3, 2023
— points updated from 2.50 to 2.75 ; cosmetic update; added clarification regarding rules from referenced challenges
More topics from this board