[CLOSED] December 2019 Challenge

Offline
Sep 2011
1862
Winner: lowaltitude
Make sure to wish your fellow club members a HAPPY BIRTHDAY!! 🎂

Dec 02 — AngelShiva, PsychoticDave ❄️ Dec 03 — SheyCroix ❄️ Dec 04 — SaikyoSenshi_ ❄️ Dec 05 — Riho88riho
Dec 06 — Flower_Hana7788 ❄️ Dec 17 — Hakaminah ❄️ Dec 28 — KuraikoDesu
0.50 POINTS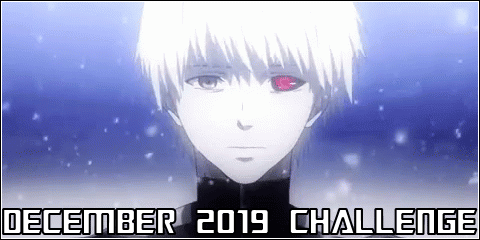 It's that time! Time for the next month's challenge! You submitted, you voted, and your winner is...
lowaltitude
! Congratz! Please keep in mind he/she cannot make a submission for the next month, January.
Please be on the lookout for the January Submissions and enjoy the
LIMITED TIME
December challenge. You must complete the challenge before the end date in order to proudly use the December 2019 Badge.
Theme -
T
h
e
E
n
d
o
f
t
h
e
Y
e
a
r

December 2019 Challenge
[ 0 / 4 ]
Sign Up Code Here
Requirements: 15+ minutes total
Start Date:
December 1st
End Date:
December 31st
🎁 Watch an anime that's been on your Plan-to-Watch list (for a while).
[Screenshot: ] (

Screenshot required

)
"for while" will refer to one of the titles that has been on your list for the longest (the most time; like since 2011 or when you joined MAL), for example one of the first ten. You can use the following link (with modern list design) to check which anime you can use: https://myanimelist.net/animelist/YOURNICKHERE?order=-5&status=6
Now's your chance to wrap things up!

❄️ Watch a tagged Slice-of-Life anime.
Life seems to slow down around this time of year.

🔮 Watch an anime that's recommended to you by MAL or MalGraph.
[Screenshot: ] (

Screenshot required

)
Does Granny MAL finally know what kind of shows you like? Will it be an ugly sweater or a new gaming console?

🎆 Watch an anime with the Fireworks tag.
It looks like we're blasting off again!

(Optional) Bonus Challenge! (Sponsored by ✨ Anime Guild ✨)
BADGES ― BANNERS ― IMAGES
Created by Riho88riho / SheyCroix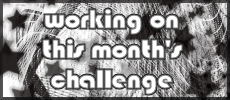 [img]https://i.imgur.com/Cll6WHR.png[/img] [img]https://i.imgur.com/6GPo7KS.png[/img]

Created by Riho88riho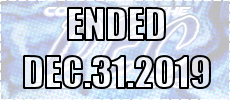 Created by Imyreld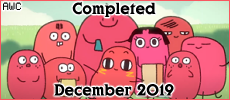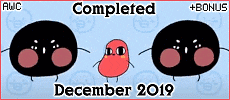 Colors -
Slate Blue
&
Midnight Blue
riho88riho
Jan 1, 2020 6:49 AM
More topics from this board