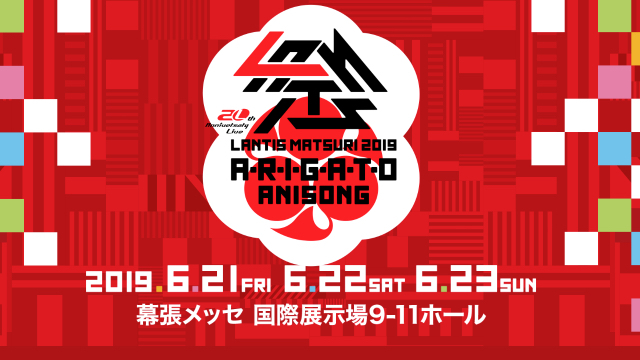 Anisong music label
Lantis
has announced plans to celebrate its 20th anniversary with a three-day Lantis Matsuri 2019 concert, to be held June 21–23 at the Makuhari Messe convention center in Tokyo.
In a press conference streamed on Niconico Live, YouTube Live, and LINE Live, Lantis founder and music producer
Shunji Inoue
announced that the theme of Lantis Matsuri 2019 will be "A-R-I-G-A-T-O Anisong," an expression of thanks to the label's fans, employees, and artists for their support over the past 20 years.
Lantis, which was
amalgamated
into
Bandai Namco Arts
earlier this year, also celebrated its 10th and 15th anniversaries with similar Lantis Matsuri concerts. The latest edition of that concert in 2014 kicked off an Anisong World Tour the following year which made stops in Las Vegas, Hong Kong, Singapore, Seoul, Shanghai, and Taipei. It has since evolved into the
Anisong World Matsuri
concert series organized in cooperation with
Sony Music Entertainment
and talent agency
Amuse
.
Organizers for Lantis Matsuri 2019 have begun accepting early ticket lottery applications on LINE Ticket, which will run through January 6. Lottery results will subsequently be announced beginning January 12. One-day tickets for reserved seating are priced at 9,800 yen, while standing room tickets are 8,800 yen.
Day 1 (June 21, 2019) Artists
Day 2 (June 22, 2019) Artists
Day 3 (June 23, 2019) Artists
Lantis Matsuri 2019 Press Conference
Official site:
https://www.lantis.jp/20th/
Related Database Entries
| | |
| --- | --- |
| People: | Suzumura, Kenichi, Chihara, Minori, Hayami, Show, Morikubo, Shoutarou, Ono, Daisuke, Ogata, Megumi, Shintani, Ryouko, Terashima, Takuma, Itou, Kanae, Ono, Kensho, Kuribayashi, Minami, Ishida, Yoko, Tamaki, Nami, ALI PROJECT, eufonius, CooRie, Kita, Shuhei, Misato, Aki, yozuca*, JAM Project, Hashimoto, Miyuki, Yousei Teikoku, Yonekura, Chihiro, Sphere, Yuuki, Aira, GRANRODEO, Fuchigami, Mai, Faylan, Hata, Aki, Sasaki, Sayaka, Hatanaka, Tasuku, nano.RIPE, AiRI, milktub, ChouCho, Ohashi, Ayaka, OLDCODEX, Tadokoro, Azusa, Furukawa, Makoto, ZAQ, fhána, Ueda, Reina, STEREO DIVE FOUNDATION, Karasawa, Miho, SCREEN mode, Technoboys Pulcraft Green-Fund, Luck Life, Mia REGINA, NOW ON AIR, ORESAMA, Chima, rionos, Tapimiru |

RSS Feed