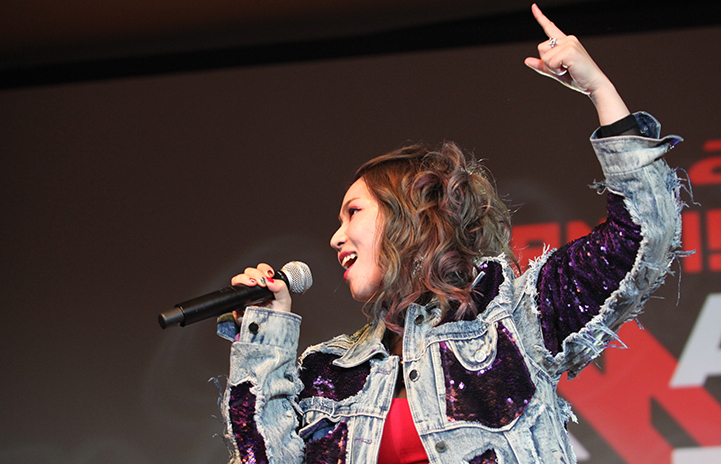 ZAQ
began playing the piano at three years old. Her passion and talent for music would lead to the pursuit of a College of Music degree, where she studied classical music in the Piano Department. After graduation, ZAQ would then leave the refined rooms of Beethoven and Mozart to enter the chaotic world of anime song (anisong) writing. This may seem like a big leap, but for the artist ZAQ, we've come to learn chaos comes as natural as breathing.
A classics and hip-hop person, ZAQ was attracted to the freedom of self-expression in anisong, where compositions may be influenced by a variety of musical genres. Pursuing her own self-taught style, ZAQ debuted as a creator in February 2012 with Yomotsu Hirasaka's character song from
Mirai Nikki
. Half a year later, she followed in the footsteps of her idol,
Minori Chihara
, and made her major singing debut with "Sparkling Daydream," the opening theme song for
Chuunibyou demo Koi ga Shitai!
(
Love, Chunibyo & Other Delusions!
)
In the seven years since, ZAQ has created numerous anisongs performed by herself and other artists. She continues to push boundaries, searching not only for the unique sound that is "ZAQ," but also to progress industry she's a member of. The result is a passionate creator who produces anisong incorporating a wide-range of genres, composed for a variety of different voices. MyAnimeList had the opportunity to interview ZAQ following her performance at AnimeNYC's Lantis Matsuri in November 2019, where we spoke briefly about memorable songs she created recently and her goals for the future.
How are you feeling today after yesterday's live performance?
Super glad. There was something deeply moving about being able to sing in New York for yesterday's live performance. The feeling of everyone coming together as one made me happy. And everyone at the performance was really excited to see me. I don't think everyone there knew me, but I made myself known to them. It was a valuable experience.
In an interview for "Coming Next Artists" (with Tom-H@ck) early last year, you said one current goal was to increase your live performances. Do you feel you've achieved this goal, at home and overseas?
Yes. I was able to come to Chicago this past May, and at that time, I talked about wanting to perform in New York. I'm so glad that dream came true. In Japan, I've also performed live many times and will be holding a one-man live (solo concert) next month. This year has become "The Year of Live Performances" for me.
Do you have a new goal you're currently working toward?
When I perform overseas (outside of Japan), I want to continue performing in other countries even more. I think I like making local fans excited with each ensuing performance. The more I perform live, the more I want to do so in various places. For example, in the United States, I'd now like to perform in Los Angeles, Las Vegas, and Texas as well.
Of your recent work, most of our users are probably familiar with "Caste Room," the opening theme of Youkoso Jitsuryoku Shijou Shugi no Kyoushitsu e (Classroom of the Elite), and "Braver," opening theme of Shokugeki no Souma (Food Wars!)'s third season. "Caste Room," is one of Lantis channel's most popular videos with more than 5 million views!
Could you anticipate while creating that it would resonate with so many fans?
When making "Caste Room," I was worrying about the direction of my music and wasn't sure if that particular song would be well-received when it was finished. But when it was released, it was accepted by everyone. The music I've made up until now, with that sort of musicality, was heading in the right direction. Once again, I felt it was important to believe in my own music.
"
Soranone," opening theme of 2019's Kouya no Kotobuki Hikoutai (The Magnificent Kotobuki), has a different style, while still remaining fun and very "ZAQ." The horns, piano and whistling feel like strong jazz meets anisong. Could you describe your thoughts while composing this song?
I wanted to incorporate many sounds reminiscent of American prairies. I tried whistling (I did the whistling myself), studied guitar sounds, American rock and country music, and thought about what other rustic sounds would be good to include. I added a jazz-like arrangement to make the rustic feeling more lively. It was inspired by my song "Caste Room," which was jazz-influenced, and I was able to reflect the sound I cultivated there in "Soranone."
At Anime Festival Asia in 2015, you said you were hoping to explore writing hip-hop songs. Since then, you have composed and recorded a few, including your third album's "girly rap" song, "Mikai Toon." Is this a genre you'd still like to explore more, or are there others currently grabbing your attention?
Right now in Japan, the fusion of hip-hop and anime is incredibly popular. Anime is "unreal" while hip-hop tends to be about reality, so I think the marriage of the two is absolutely fascinating. Also, because I have roots in hip-hop and there aren't many women in this industry making those sorts of songs, it's a unique weapon of mine and I want to continue to add more hip-hop flair to my music. In future albums there won't be only one song like this, I'll write multiple rap songs, open for various voice actors to take part in. I want to keep developing [this area of my music].
Aina Suzuki's debut album, Ring A Ring, was just released on November 2 and you composed the song, "Hikari-iro no Uta." How is it helping a new singer from the same label to achieve her dream?
[Suzuki] and I always possessed the same dream of becoming anisong singers, and we've steadily worked to achieve that dream. She's actively involved in
Love Live! Sunshine!!
and told me she's always held the dream of becoming an anisong singer close to her heart. While writing, I was thinking of a song that would take that passion and make it explode. The lyrics, musical composition, and arrangement were of utmost importance in expressing [Suzuki's] feelings to the audience. I wanted to transmit her hopes and make the music so charismatic, as if she was telling fans to come with her and follow her on her path.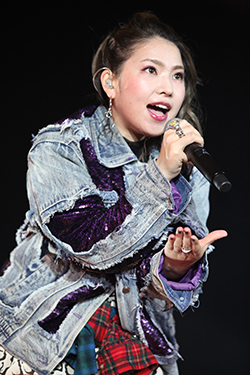 During "Coming Next Artists," you said that you think musical collaborations are important to spread music. Do you have any artists you would like to collaborate with in the future?
There are many. I'd like to make music with rappers, voice actors, and other artists from various genres to increase my fanbase. I want to collaborate on Marvel productions and other works overseas, and because I love American dramas, I'd also like to try things like that. My dreams are really spread out.
If you could compose a theme song overseas—for a Pixar animated film like The Incredibles, an American drama series like The Walking Dead, or a French film like Amélie (as examples)—which kind of challenge do you think would be most interesting for ZAQ now?
I love when the villains play an active role. Recently, I've been watching a show on Amazon Prime called
The Boys
which paints a group of superheroes as a bunch of degenerates, and I find it incredibly amusing. Everyone wants to sing songs about heroes, but I want to enthusiastically sing a song about degenerate villains with their worldview.
Will there be some time to look around some of NYC before you head home, and maybe uncover the next inspiration?
I didn't have enough time during this visit, but I love US club music—and because I listen to it a lot, I would love to try to hear the raw sounds of places like Harlem or Compton, and other downtowns. I was really surprised by this, but on the street I heard passersby singing loudly, and they were all quite good. New York really feels like it's brimming with music.
Official site:
http://zaqzaqzaq.jp
Twitter: @
zaxic_r
YouTube:
Official Playlist
ZAQ on Spotify Music
Interview was conducted in Japanese and has been edited for clarity.
To learn more about ZAQ, we recommend reading her interview on Music Natalie with fellow anisong creator, Tom-H@ck. It's only available in Japanese, but is an interesting read even with machine translation.

RSS Feed