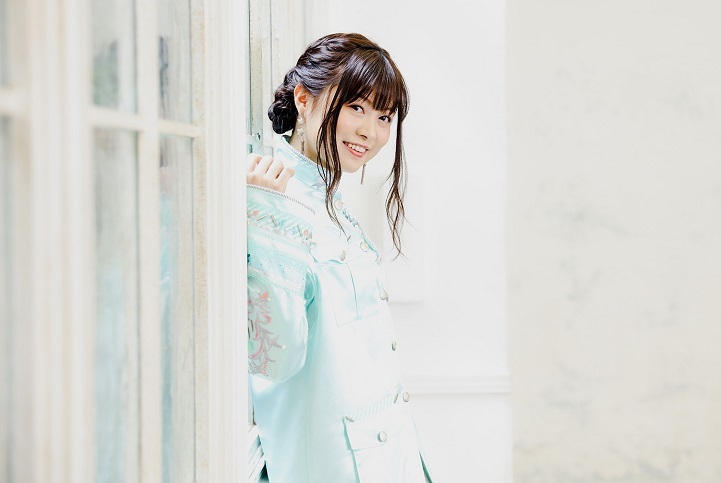 Konomi Suzuki
has been singing and dancing since she was little, but singing for anime was not always her objective. That changed when a friend introduced her to
Macross F
and performances by
May'n
for the anime. By middle school, Suzuki was determined to become a singer for works of anime.
The opportunity arrived in 2011 when she auditioned for the 5th All-Japan Anisong Grand Prix sponsored by
Animax
. Despite placing second in the preliminaries in Osaka, she went on to be crowned the tournament's overall winner in Tokyo, beating more than 10,000 other contestants. She remains the annual tournament's youngest winner to date.
Suzuki made her CD debut at the age of 15, singing the opening theme song for
Tasogare Otome × Amnesia
. She has since contributed more than a dozen anime tie-up songs, releasing 15 singles, three original albums, and one best album. When she performed in the United States for the first time at last year's Anime Expo, she was riding on the popularity of
No Game No Life
and
Re:Zero kara Hajimeru Isekai Seikatsu
, for which she sang the opening theme songs.
Next month, she will perform in New York City for the first time as Anime NYC hosts the Anisong World Matsuri concert tour. Anisong World Matsuri is a partnership between leading Japanese entertainment companies including
Bandai Namco Arts
,
Amuse
, and
Sony Music Entertainment
to bring pop music popularized by anime ("anisong") to new audiences around the world.
Earlier this month, MyAnimeList interviewed Suzuki ahead of her Anisong World Matsuri appearance to discuss her music and work.
We're catching you in the middle of your Asia tour. How is that tour going so far?
The type of venues on this tour changes depending on the location, and that's really exciting. Even though it's the same set list, the fans have different reactions and unexpected things happen, so I always start the concert with a refreshed feeling. I want to really work hard overseas in the next one or two years, so I'm really happy that my passion is reaching the audience.
Your 15th single "Ao no Kanata" which was released on October 24 is the ending song to the anime Sora to Umi no Aida. How do the lyrics of the song relate to the anime's theme?
The anime is about these six girls who have the same goal, so I used that image when singing "Ao no Kanata." Even though they have the same motive, they clash because they can't be honest and can't pace themselves, so their teamwork crumbles. But I wanted to express their feeling of accomplishment when they overcame those difficulties.
Konomi Suzuki 15th Single "Ao no Kanata"

In the music video for "Ao no Kanata," you're also playing the guitar, which you started learning a few years ago. Do you have a preference toward performing with a guitar now?
For me, singing is where I'm most secure, so I'd rather be singing than playing an instrument. But ever since I started playing the guitar at my shows, I genuinely enjoy it, so I've been practicing every day. I would like to continue playing, so I was happy that I was able to showcase that in this music video.
As a performer of anime theme songs, you have to be able to convey the feelings and emotions of the anime and its characters. How does it feel to finally play an anime character yourself in Lost Song?
This was my first time really analyzing a single character, so it was definitely challenging. I was training for a year before recording. There I learned how to face my emotions honestly and try different ways to express my feelings with my voice. That also helped me with my singing as well.
Do you see any similarities between yourself and the character Rin? Did you have any difficulty expressing Rin's characteristics?
Since Rin really likes to eat, I was able to relate to that right away! But the scenes where she was eating were hard. Usually I eat silently, but you have to make noises when you have to act it out, so I was practicing at home when I was actually eating dinner!
Konomi Suzuki 14th Single "Utaeba Soko ni Kimi ga Iru kara"

You co-wrote the lyrics for that anime's opening song, "Utaeba Soko ni Kimi ga Iru kara," with Aki Hata. What was the songwriting process like?
First I wrote the song and then Aki re-worked it. It was my first time writing for an anime tie-up song, but Aki helped me express Rin's character and my own emotions in the song. I wrote it thinking about that special person you want to meet, so I hope that a lot of people will listen to it.
You were the youngest winner of Anisong Grand Prix at the age of 14. Were you nervous to be among thousands of contestants during the competition? What emotions do you remember from that time?
I was very nervous at the audition. I didn't have 100% confidence and felt like I was going to lose if I showed that, so I convinced myself that I had total confidence when I sang. When I actually did win, all I could think about was how happy I was. During my train ride home, I got so many messages from friends congratulating me. I got all teary-eyed and started realizing that I was actually going to be a singer.
Are there any routines that you do to prepare immediately before a performance?
I always get nervous, so my crew pushes me to get rid of all my worries and pressures. I also like Hello Kitty, so I always wear Hello Kitty socks.
Konomi Suzuki Greeting

You will be performing for the first time in New York with Anisong World Matsuri at Anime NYC. What are you looking forward to the most about being in New York?
Since it's my first time in New York, I'm curious to what the city looks like! In my mind, I imagine it to be very stylish and cool, so I hope to take a lot of pictures.
Since this is only your second time in the United States, many people might be hearing your songs for the first time at the concert. What would you like them to know about you as a performer?
Of course I want them to know my anime theme songs, but I poured myself into other songs as well, so I would love for them to listen to all kinds of my song and get to know me better!
Anisong World Matsuri at Anime NYC 2018

Anisong World Matsuri at Anime NYC 2018
Date: November 16 and 17
Venue: New York City, Hammerstein Ballroom
Day 1 line-up:
Luna Haruna
,
Konomi Suzuki
,
TRUE
,
nano
Day 2 line-up:
Morning Musume. '18
,
Hironobu Kageyama
,
Hiroshi Kitadani
,
Shoko Nakagawa
Concert info:
http://animenyc.com/anisongworld2018/
Anisong World Matsuri official site:
http://www.anisongworldmatsuri.com/
Anisong World Matsuri Facebook:
https://www.facebook.com/AnisongWorldMatsuri
Anisong World Matsuri Twitter:
https://twitter.com/AnisongWorld
Anisong World Matsuri YouTube:
https://www.youtube.com/anisongworldmatsuri

RSS Feed