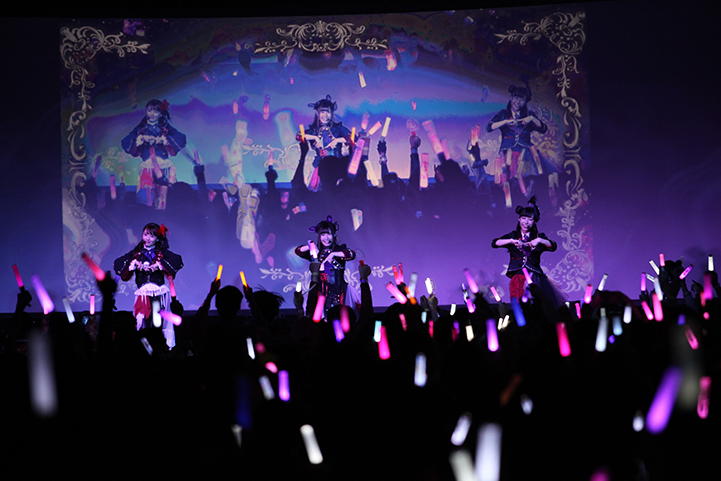 When the
Love Live! Sunshine!!
multimedia project launched in April 2015,
Love Live!
fans eagerly awaited the next step for the franchise's newest school idol group, Aqours—the introduction of subunits. In October 2015, fan voting opened for a variety of subunit configurations, and by March of the following year, three trios were named and formed.
Guilty Kiss, comprised of the characters
Riko Sakurauchi
,
Yoshiko (Yohane) Tsushima
, and
Mari Ohara
are visually represented as the darkest of the subunits. While they've sung hard rock-inspired music fitting with this image, Guilty Kiss are difficult to pigeonhole with the variety of their music and their overwhelming charm.
Rikako Aida
,
Aika Kobayashi
, and
Aina Suzuki
, the voice actresses behind Riko, Yoshiko, and Mari, respectively, have recorded nine original songs as Guilty Kiss. They performed their most recent single, "New Romantic Sailors," at Anime NYC's Lantis Matsuri less than two weeks before its release in November 2019. MyAnimeList had the opportunity to speak with the trio on the heels of their Lantis Matsuri performance and ahead of their first solo live event this February.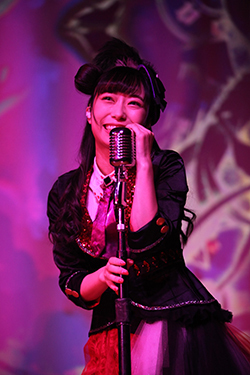 Could you share a memorable moment from yesterday's performance?
Kobayashi
: I was so glad that everyone made the Guilty Kiss call before we spoke. It was such a warm welcome and I thought it made the live performance very exciting.
Aida
: It was my first live performance in New York, so in the beginning I was nervous about what kind of performance it might be, but when it started, everyone really welcomed us warmly and I was so happy.
Suzuki
: During the Guilty Kiss stage, everyone got really excited and gave us a warm welcome, I was overjoyed by that. When we started singing "Guilty Night! Guilty Kiss!" and the crowd called back together, "Guilty Night! Guilty Kiss!," I was so happy that my hands were trembling!
Suzuki-san, could you compare the similarities or differences between performing together as Aqours in Los Angeles and as Guilty Kiss in New York City?
Suzuki
: Because Aqours is always singing and dancing with nine people, there's a strong power that comes from that, but the atmosphere when we become Guilty Kiss, in particular the cool image, is also strong. We need to express the power of nine members with only three, while also conveying the cool Guilty Kiss charm.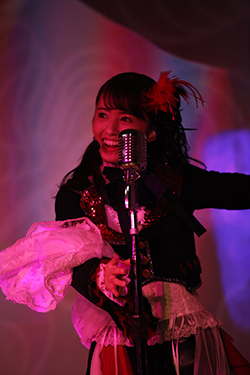 Aida-san, while "Strawberry Trapper" and "Kowareyasuki" had many hard rock elements, Guilty Kiss' music overall has been very diverse. Is there a song that you feel really captures Guilty Kiss' image?
Aida
: It's difficult, [but I would say] our debut single, "Strawberry Trapper." The reason is it is an easy to understand rock song with standing mics; it's simple and really expresses the Guilty Kiss image. I also think it has the strongest impact.
Kobayashi-san, if Yohane came to New York, what's the first thing she would do?
Kobayashi
: Yohane would stand in front of the Statue of Liberty and shout, "I'm in New York! Daten kourin! (The fallen angel descends!)"
What are some characteristics of your characters that you can deeply relate to in your own life?
Suzuki
: A similarity between Mari and myself is probably laughing without being conscious of it. Mari is a comedian.
Kobayashi
: Yohane and I aren't all that similar. However, Yohane is persistent with the things she likes, and she gives it her all for things she loves, and that's something I can really relate to. I really want to be like her in that way.
Aida
: Our names are similar. (smiles)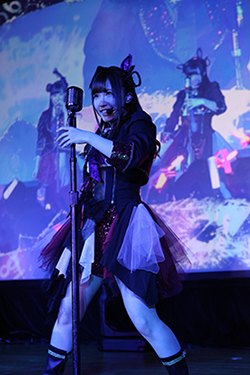 Congratulations on your new single, "New Romantic Sailors," and Guilty Kiss' upcoming 1st Live (in February 2020)!
What are some of the challenges or preparations associated with a one-man live (solo concert) compared to the performances you've done as Guilty Kiss so far?
Aida
: Because there are three of us, there are things we can do with more freedom. I think it's nice being able to perform fun concerts freely in a Guilty Kiss way.
Kobayashi
: Up to now, we've performed Guilty Kiss songs as Aqours at live events, but because this is our first one-man live, I want to effortlessly become Guilty Kiss and try to make Guilty Kiss the best!
Suzuki
: There are two other units within Aqours, but Guilty Kiss is the only unit that uses standing mics. Holding those, Guilty Kiss feels like a final boss, like we're saying, "bring it on!" I really want to see fans who come to see us in that mode.
Guilty Kiss on Spotify
Interview was conducted in Japanese and has been edited for clarity.

RSS Feed