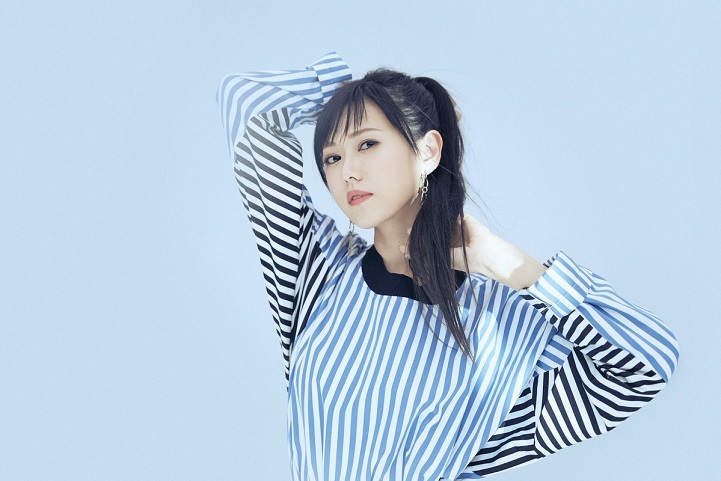 Last November, anisong singer
TRUE
joined the line-up of the Anisong World Matsuri concert tour for the first time in New York City. The performance on the sidelines of the Anime NYC convention included collaboration duets with
Konomi Suzuki
(performing "Sparkling Daydream" from
Chuunibyou demo Koi ga Shitai!
) and with
Luna Haruna
(performing "Don't say "lazy"" from
K-On!
).
MyAnimeList was invited to watch her performance and to interview her following Anisong World Matsuri. In the past, TRUE did not perform overseas very often, so media outlets outside Japan had few opportunities to converse with her directly. As she has traveled to more countries in the last couple of years, anisong fans overseas have had more opportunities to view her live performances.
TRUE is the artist name of singer-songwriter Miho Karasawa, which she has used since 2014 to perform anime theme songs under the music label
Lantis
. In addition to performing, she has also written dozens of songs for voice actors and other anisong artists, which have been included in the soundtracks of various anime and video game titles. Most recently, her 13th CD single "Another colony" is used as the first ending theme song of
Tensei shitara Slime Datta Ken
.
Good morning. What did you think about the concert last night?
It was the best! Fantastic!
What was your favorite part of the concert?
The best part was definitely singing in front of the audience and seeing their happy faces. That was the best of the best.
How did you pick out your collaboration songs with the other artists?
First, everybody just came up with the songs of their choice. By chance, I collaborate a lot with
Kyoto Animation
, so all the songs I selected were from their works. It worked out great, so I was very happy. I really love their anime. They're my favorite!
TRUE Debut Single "UNISONIA" Music Video

When you switched into anisong, you changed your stage name to TRUE. What was the origin of that stage name?
This is very difficult to explain. When plans for my CD release with the music label
Lantis
were confirmed, the producers and I talked about what my artist name should be. Up until that point, I had really gone in circles to get to where I am. By taking that time, I was finally able to get to the point where I truly wanted to be, so that's where the name TRUE came from.
How does that name affect your work as an artist?
"TRUE" is also an expression of my strong determination and will, and I get a lot of strength from this name. This is a word that all Japanese people know, so it helps me connect to them, too.
Your latest single "Another colony" is the ending theme of the Tensei shitara Slime Datta Ken anime. What was the songwriting process like for that song? How do the lyrics relate to the themes of the anime?
The original work is very famous, and the animation is also popular in Japan. I made an effort to keep the original themes of the work at the center of the song, but I added my own concepts to it as well. If you look at the main character of the anime, he's able to acquire skills quickly. He's really strong from the get-go, but his goal is to cultivate the strength of his comrades and help them with their growth. By doing that, he becomes a stronger person. I thought this was in total alignment with me because I know that I can't create any music on my own. When I get help from the other professionals I'm working with, that's how I'm able to create the final piece of the music.
TRUE 13th Single "Another colony" Music Video

When you are writing songs for other artists, how do you match the songwriting to the voice of that other performer?
It really varies on a case-by-case basis, because everybody's needs are different. Of course, I'll ask the other person what he or she wants to write, and we'll exchange emails and discuss how to move forward. Sometimes there's a lot of communication with the anime staff, and sometimes they just leave it up to me.
How do you juggle the schedule for your songwriting? Do you write multiple songs at once? Do you write one song at a time?
When I'm really busy, there are definitely times when I have to write one piece a day. I'm just so busy, which is typical of a Japanese person. (Laughs.) It's always a battle with time, and I'm always trying to create as many high-quality works as possible within a short period of time. But I have to take breaks sometimes, too, just to take care of my health.
In 2019, you will be celebrating your fifth anniversary as an anisong artist. What are you looking forward to in that celebration? Do you have any goals after these five years?
There are really many things I want to do. For
Hibike! Euphonium
, I've performed once or twice a year with a concert band and other artists to sing the opening and ending theme songs and insert music. Because of that experience, I want to do more collaborations with orchestras and music groups in my own solo concerts. And also, last year I had the opportunity to go to places like Los Angeles, Singapore, Jakarta, and I was able to get in contact directly with people while traveling to many different countries. There were a lot of things I personally was able to gain from this experience. Even though the lyrics may sound different and we all speak different languages, the attitude of trying to learn what we don't know cultivates new pathways for us. This is what I realized throughout my journey singing in many different countries, so I'm always hoping for more of those experiences.
Thank you for your time.
Thank you so much! See you all again soon!
TRUE Greeting

Anisong World Matsuri official website:
http://anisongworldmatsuri.com/
Anisong World Matsuri at Anime NYC:
http://animenyc.com/anisongworld2018/
TRUE official site:
http://true-singer.com/
TRUE Twitter:
https://twitter.com/miho_karasawa
TRUE Instagram:
https://www.instagram.com/miho_karasawa/

RSS Feed