In a unique spin on the thriving isekai subgenre,
Tensei shitara Slime Datta Ken
(
That Time I Got Reincarnated as a Slime
) tells the tale of a 37-year-old man who reincarnates as a slime after he dies. Aired over two cours beginning in October of 2018, the anime adaptation of the best-selling light novel currently holds a score of 8.21 on MyAnimeList.
A second season
was announced in March, with a planned air date in 2020.
A number of
Tensei shitara Slime Datta Ken
's anime staff were guests at this year's Anime Central (ACEN), and MyAnimeList had the pleasure of interviewing assistant director
Atsushi Nakayama
and character designer/lead animator
Ryouma Ebata
.
How did you feel when you were first offered a role in the creation of Tensei shitara Slime Datta Ken (TenSura)?
Nakayama
: When I first got the offer to work on this, I hadn't read the novel.
TenSura
was originally a web-based novel on the Naro platform that evolved into a printed novel before also being made into a manga. And it was popular in all three forms, so I was very nervous about working on this. But then, I read the work—it was very great, very powerful—and so I decided that I would take on the job.
Ebata
: Let's see... I have always been an avid reader of novels on Shosetsuka ni Naro. And so I knew about
TenSura
—I knew that it was popular and I knew that it would eventually become an anime. And when I was given the job... well, I thought, "Why me?"
Who is your favorite character, Rimuru aside?
Ebata
: Shion.
Nakayama
: Gabiru. Henchmen A, B, and C also come very close.
Do you have a favorite episode or scene from the anime?
Nakayama
: For me, I would have to say episode one, when Rimuru is freshly reincarnated into his slime form and hasn't received his name yet. You see Rimuru in slime form the most in episodes one and two, and that was when I could get the animators to be as free as they wanted, to do lively slime animations. So I'm quite fond of those two episodes.
Ebata
: Rimuru, in order to obtain a human form, must first capture a human. And that happened with the capture of Shizu, where Shizu had to lose her life in order for Rimuru to obtain a human form. That was my favorite scene.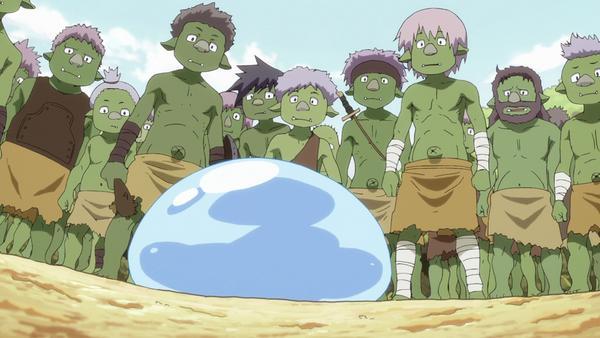 [Questions in this next section were directed to Ebata-san.]
Was there anything you had to pay special attention to while creating the anime character designs?
Ebata
: Considering that there were illustrations in the original novel, and the fact that there's the manga by Mitz Vah, my task was to come up with a fusion of their styles. I also had to come up with character designs that would be good for the animators to work with.
How much interaction did you have, if any, with light novel illustrator Mitz Vah or mangaka Taiki Kawakami about the design process?
Ebata
: At the very beginning, when I still had a blank sheet, I had a meeting with both to set the direction for the anime. Mitz Vah's illustrations have a unique touch when compared to other Japanese light novel illustrations, and there was a lot of that taste that I wanted to retain in the anime. Also, Kawakami-san has a very refined touch in the manga version, so I wanted to take the best of both styles and incorporate them into the anime.
You are listed as being heavily involved in creating the openers and closers for this series. How much autonomy did you have in designing them, and how did you balance selling the series vs. providing spoilers?
Ebata
: When I get to work on an opening or closing, I have complete freedom as to what I do. As for how much spoilers to have vs. sells, I start by receiving the songs for the opening and the closing and I will listen to them for three continuous days until I get inspiration for what to do. So "listen for three days, get inspiration." That was my style.
How did you decide on animation as a career?
Ebata
: When I was in high school, there was a TV special, a behind-the-scenes at Studio Ghibli—the "Making of." I watched that TV special and decided that animation was for me.
You've become quite famous among fans of Sakuga animation for your ability to capture realistic movement—the "Ebata Walk," in particular. When did you begin developing this style of yours, and how long do you think it has taken you to perfect it?
Ebata
: I think I've always been trying to do this, right from the very beginning, and there's been a lot of trial and error—more error. And though I think I've established my style somewhat, I haven't really perfected it yet. I'll continue striving toward that goal.
There is a scene in episode 24 of the anime where the demon Orthos walks with what can only be described as "incredible swag." Was that you?
Ebata
: Yes!! (Laughs) I'm very happy that you can pinpoint it to me.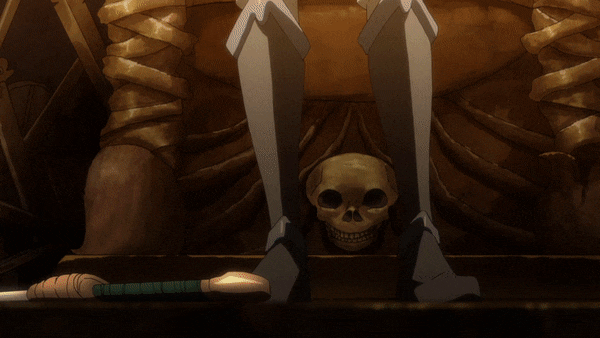 What was your favorite character or group of characters to design?
Ebata
: Hmm... Shizuka, I think. Shizuka has to become the image that the main character takes on in his human form. She has to have compatible facial features. And so she was designed in sync with Rimuru's human form, and a lot of my feelings went into designing her.
[Questions in this next section were directed to Nakayama-san.]
Do you have any stories about the most exciting moments when making TenSura?
Nakayama
: Well, the battle scenes in the show were very exciting to work on. In addition, I am very fond of Gabiru and his crew. In the recording studio, the voice actor for Gabiru, Fukushima Jun-san, really, really outdid himself. And so I wanted to somehow reflect that in the visuals and create positive feedback for the character. This resulted in extra screentime for Gabiru.
You are listed in the show's credits as both the assistant director and an episode director. Can you clarify what your responsibilities were in each role?
Nakayama
: My role as assistant director was to be with the director, Kikuchi-san, and participate in production meetings and also work on the plot development. Director Kikuchi-san mostly had the task of working on the screenplay and the storyboard phase. For me, most of my assistant director work involved photography, editing, and delivery of the finished film. And as episode director and technical director, I worked on episode one and some of the other key episodes. Most episode directors would not be too worried about continuity, like with what takes place in the previous episode or the following episode, but since I was also assistant director, I actually had to be mindful of continuity as well.
You have served as an episode director numerous times over the past twenty years. In your experience, have there been any significant changes to that role over time?
Nakayama
: The biggest change in my twenty years was production moving from analog to digital. And this was taking place about 15 to 20 years ago. Before I went into directing in anime, I worked in the video game field, working with a lot of CG. So I actually went into the industry setting myself as someone who was versed in digital production.
You are credited as episode director for episode one. This adapts the part of the story where Rimuru has just woken up as a slime and is unable to see. Was it difficult to adapt this scene for the anime? Did you consider going with the "black with outlines" approach that the manga took?
Nakayama
: For episode one, the planning started with the screenplay-writing stage, and this was in conjunction with working with the director, Kikuchi-san. We tossed around many ideas for showing how Rimuru would have no vision. And this was quite a challenge, but it can be broken up into two scenes. One would be before the reincarnation, including the reincarnation scene itself, which was all done in CG. And this was done through the work of the CG director, Haibara-san... And after the reincarnation, there is indeed a scene where Rimuru has no vision, and a lot of that is visually depicted with black and dark scenes. Though there might be lines in a scene, the lines might be fuzzy, and there might be shading where there were flat colorings normally. This is made very distinct from afterwards, where Rimuru can see, and the world is suddenly full and bright, with lots of colors. As for how this is depicted in the manga version, where it's all dark... that might have been mistaken for a technical error in the TV broadcast, so we decided to not consider that at all.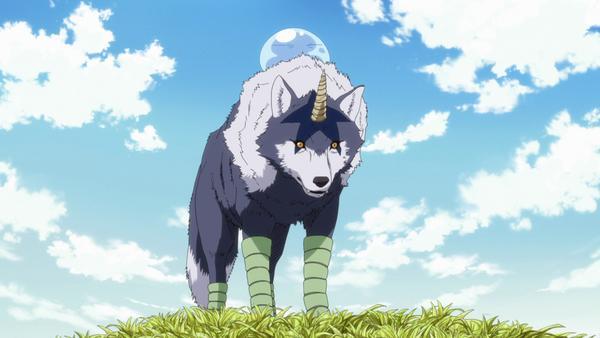 Did you encounter any other challenges while directing TenSura?
Nakayama
: There was a challenge in almost every single episode, but of the episodes I actually directed... there was episode seven, with the flame effects, with Ifrit. Over half of the episode involved some kind of flame, so that was quite the challenge there. Also, in episode 13... it's supposed to be a battle against an army of 100,000 orcs, and so there was quite a balancing act in deciding how much of it to be hand-drawn and how much to be done with CG.
Were there any scenes where you were especially happy with the result?
Nakayama
: Out of all the episodes, I think the best scene comes out in episode three, in the orc battle—that is, Gabiru vs. the Orc General. And this was done through the work of the key animator, Tomioka, and I think Tomioka really outdid himself, really showing Gabiru in a shining way.
Compared to some other titles with similar setups, TenSura seemed to use relatively little CGI, and what CGI there was (for example, in the orc army or the lizardman army) was often blended brilliantly with the 2D art in the foreground. Was this an active consideration at the time?
Nakayama
: In the beginning, the idea of rendering characters in 3D was not considered. But when it comes to depicting an army of 100,000, it becomes necessary to invoke the use of CG. And so the use of CG is sort of there to supplement what cannot be done with hand-drawn 2D animation. And yes, the integration was very much something that was considered. Especially when you switch back between CG and hand-drawn—you want to do that with as little shock as possible. And so with the orc battle... this takes place with a lot of foreground fog in the marsh and at night, and those were CG effects that were there for the integration.
Images © Taiki Kawakami, Fuse, KODANSHA/"Ten-Sura" Project
Interview was conducted through an interpreter and has been edited for clarity.

RSS Feed