The world's largest anisong event, Animelo Summer Live 2019: Story, was held from August 30th to September 1st at Saitama Super Arena. First held in 2005, this year was the event's 15th memorial festival. In celebration of its anniversary, the number of artists and audience members were the biggest in its history.
One-day passes, which cost 9,200 yen (approx. 90 US dollars) were sold out immediately after their release in late June. The total number of attendees across all three days reached 84,000, and there were 141 artists from 59 groups participating in the event. On average, nearly six hours of exciting live performances were held each day, and it seemed like many fans had purchased three-day tickets to attend.
Day 1
20 artists performed on the first day. First, three songs from Kemono Friends were played. It was a lively show befitting of the opening, as it raised the spirit and expectations of the whole crowd.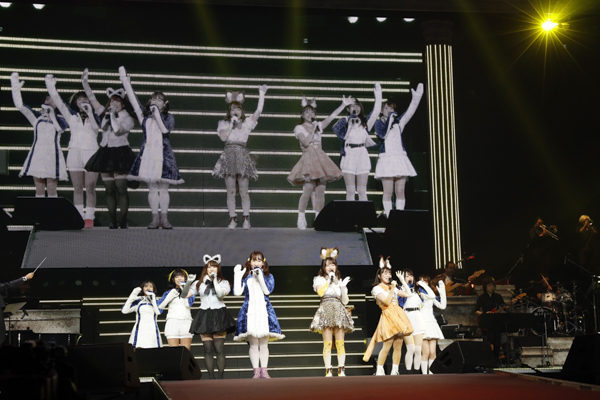 Suzuko Mimori, who is known for anime roles such as Umi Sonoda from Love Live! School Idol Project and Mimori Togo from Yuuki Yuuna wa Yuusha de Aru, has been performing at this event for 10 consecutive years. She belted out four songs, including the second ending theme song of Diamond no Ace, "Glory!", with Masayoshi Ooishi.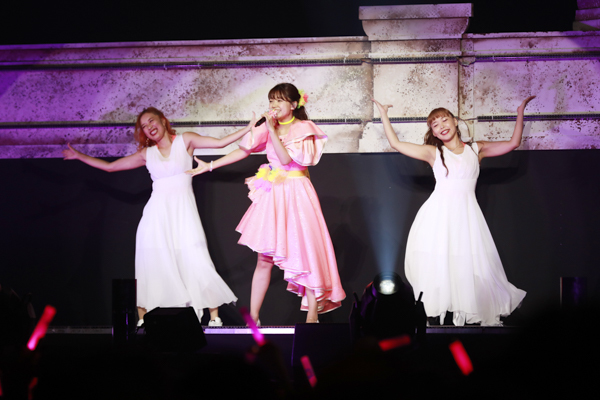 Sayaka Sasaki sang three songs from Girls & Panzer. The anime is quite popular in Japan, and the popularity is partially sustained by fans who visit places depicted in the franchise on pilgrimages called "seichi junrei."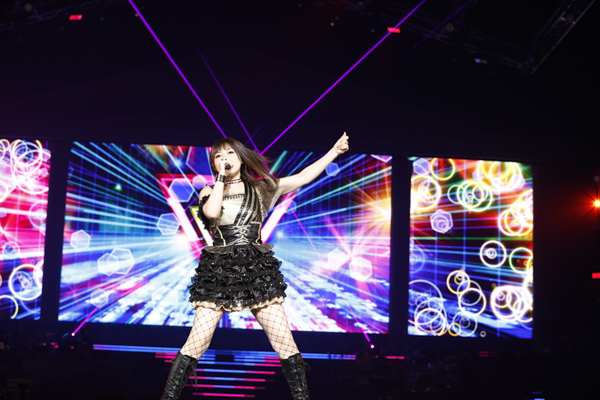 ReoNa performed two ending themes from Sword Art Online:Alicization.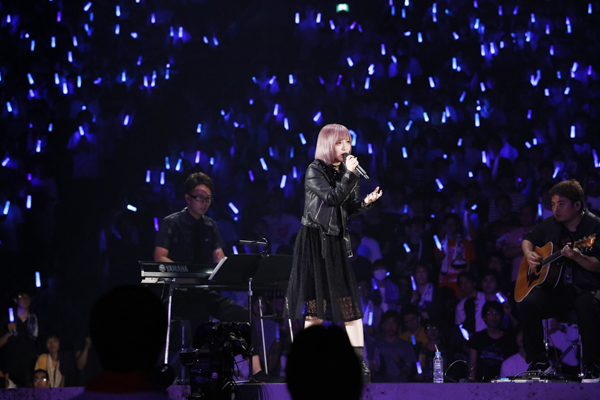 Konomi Suzuki, a veteran singer and voice actress who won the All-Japan Anison Grand Prix in 2011 at the age of 14 rendered four songs solo. One of them was "This Game," the opening theme song of No Game No Life.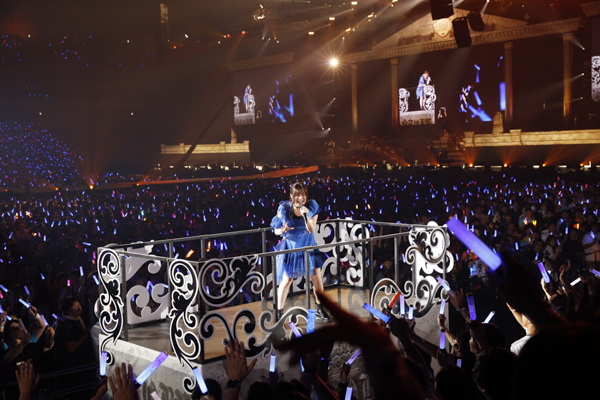 Roselia sang "Brave Jewel" from the second season of BanG Dream!. As the popularity of BanG Dream! grows, Roselia are definitely among the top up-and-coming artists in Japan.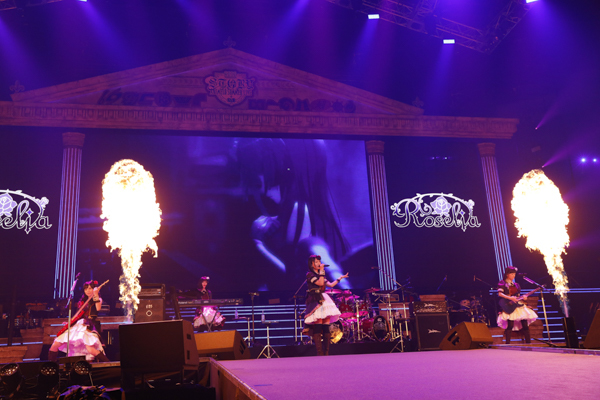 Masayoshi Suzuki, who sang "Love Dramatic" from Kaguya-sama wa Kokurasetai: Tensai-tachi no Renai Zunousen, is known nationally for his love songs and ballads. This was his first anisong, thus he is considered the biggest rookie to an Animelo Summer Live. The performance also featured Sphere, an all-girl idol group.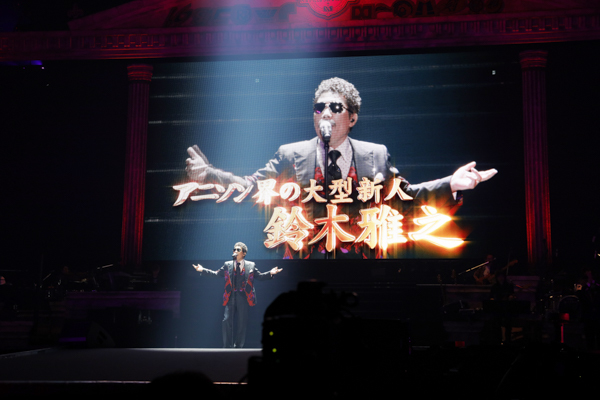 The last act of Day 1 was Sphere (Haruka Tomatsu, Minako Kotobuki, Ayahi Takagaki, and Aki Toyosaki). They performed two songs, in addition to Otome Youkai Zakuro's "Moon Signal" and "Now loading… SKY!!" from Asobi ni Iku yo!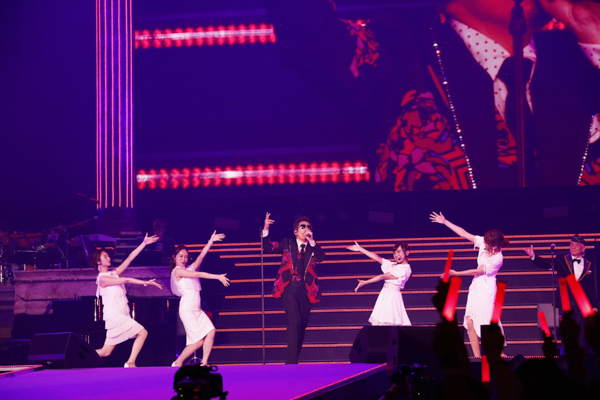 Day 2
21 artists performed on the second day. Many of the theme songs were from popular anime works.
Today's live performances opened with Ga-Rei:Zero's "Paradise Lost" by Minori Chiara and TRUE. Chiara also provided the solo performance of Kyoukaisenjou no Horizon's opening theme song, "Terminated."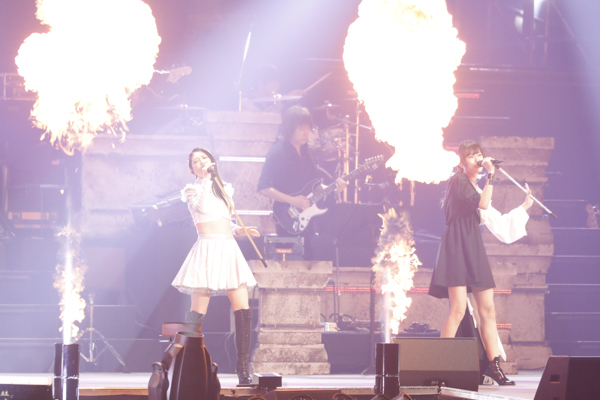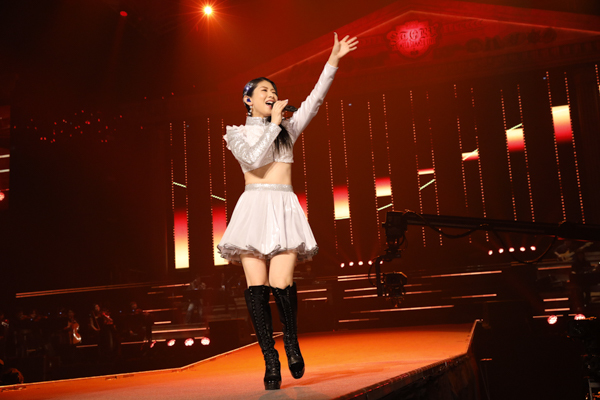 Tasuku Hatanaka, the voice of Yuuma Tsukumo from Yu☆Gi☆Oh! Zexal Second, sang the opening theme of Konjiki no Gash Bell!!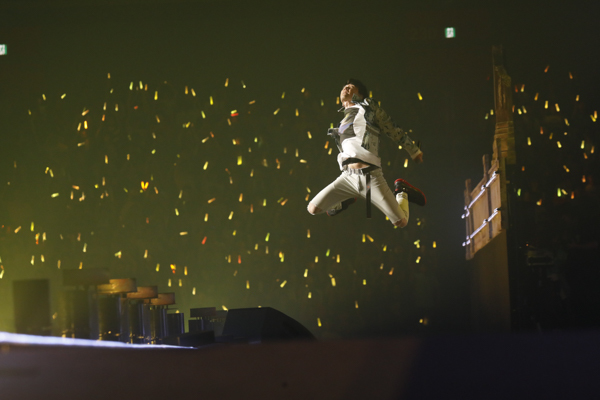 Minori Suzuki made her appearance on Day 2 too, where she sang Ramen Daisuki Koizumi-san's opening theme, "Feeling Around".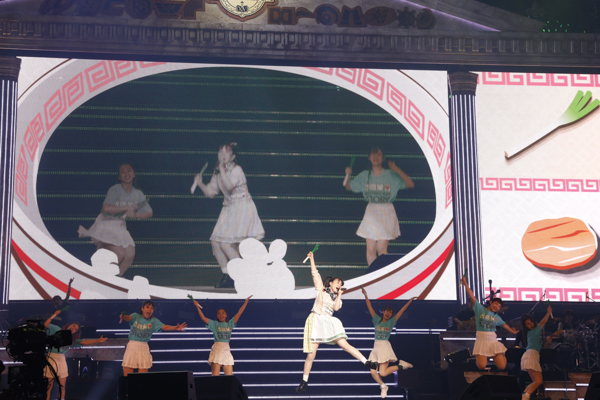 Takuma Terashima performed the opening theme song, "Nameless Story," from Tensei shitara Slime Datta Ken.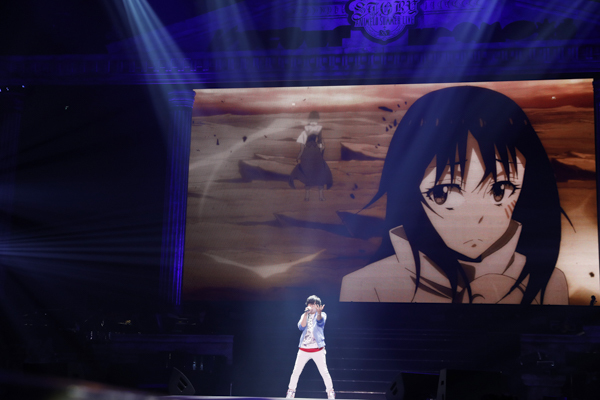 It was followed by a duet from Yuiko Oohara, who sings the theme song for Karakai Jouzu no Takagi-san, and Rie Takahashi, who plays the role of Takagi-san.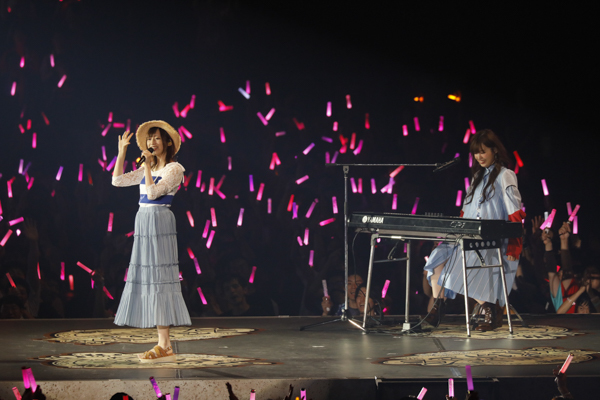 Minami Kuribayashi and surprise guest Masami Okui performed the classic opening theme song of Shoujo Kakumei Utena as the venue roared in excitement.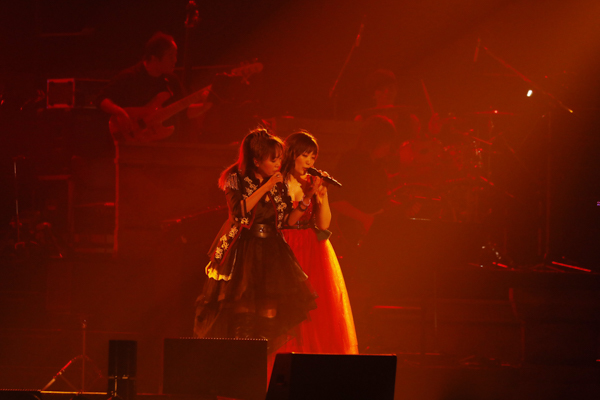 TRUE and Kitauji Quartet (Tomoyo Kurosawa, Ayaka Asai, Moe Toyota, Chika Anzai) performed four songs from Hibike! Euphonium.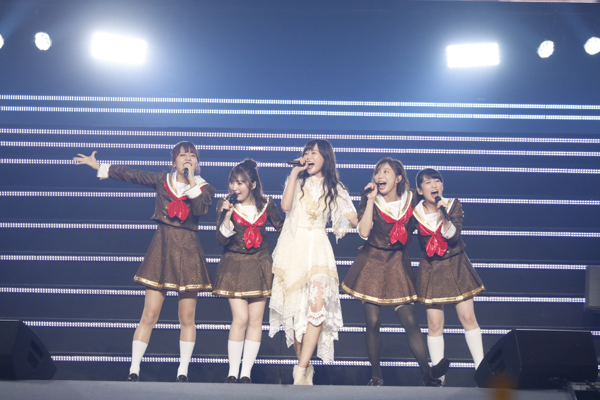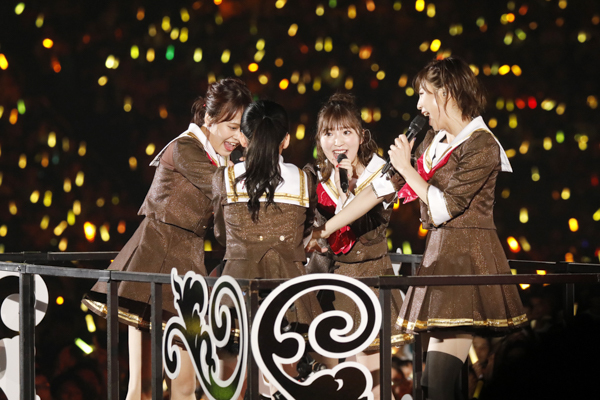 The next pair of surprise guests, Aira Yuuki and Minori Chihara, continued with songs from Violet Evergarden.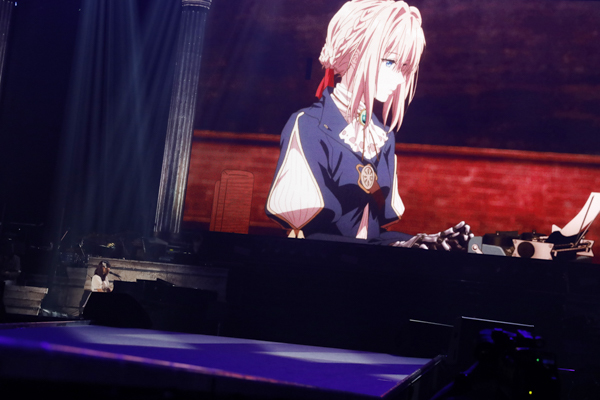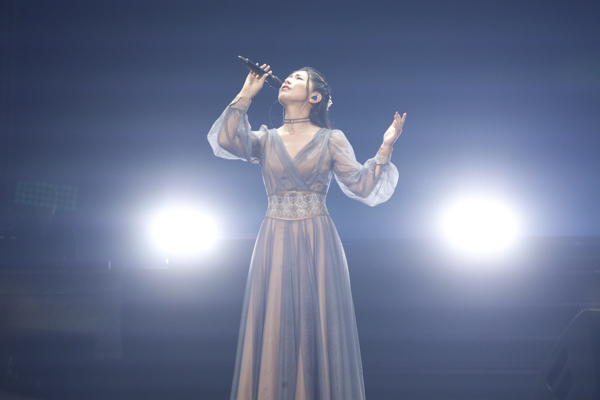 angela's medley in the second half consisted of Aho Girl, Soukyuuno Fafner: Dead Aggressor, and Sidonia no Kishi's opening theme songs.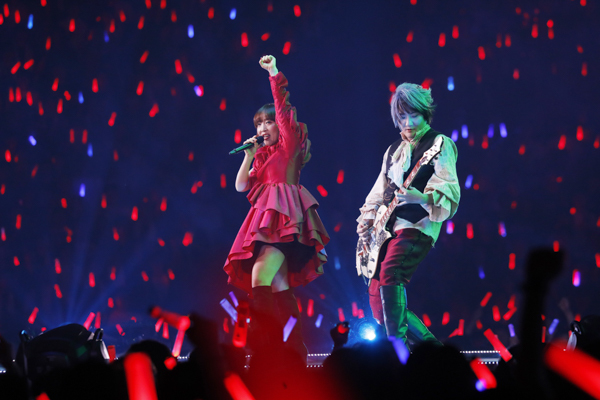 When Love Live! Sunshine!!'s Aqours showed up as the last act of Day 2, the crowd was elated. Their performance, while clad in the same costumes as the characters, was well received.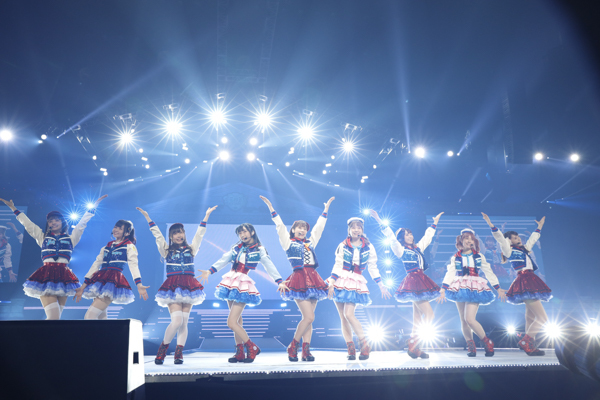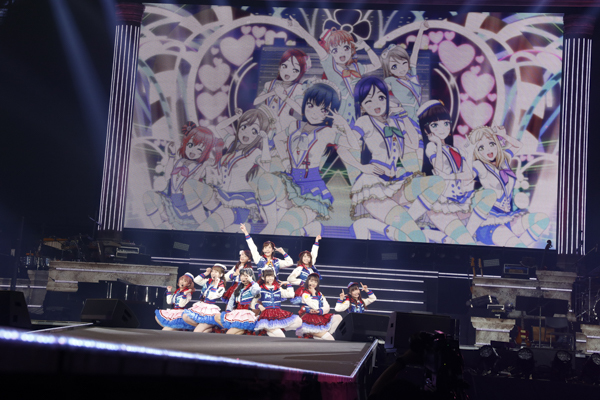 Day 3
Then, on the last day, the excitement of the crowd reached its peak because the surprise guest was someone no one would've guessed: Houkago Tea Time from K-On! Screams filled the stadium and pen lights were swung wildly during "Don't say 'Lazy'" and "Go! Go! Maniac". Even 10 years after the broadcast ended, K-On! still has dedicated fans.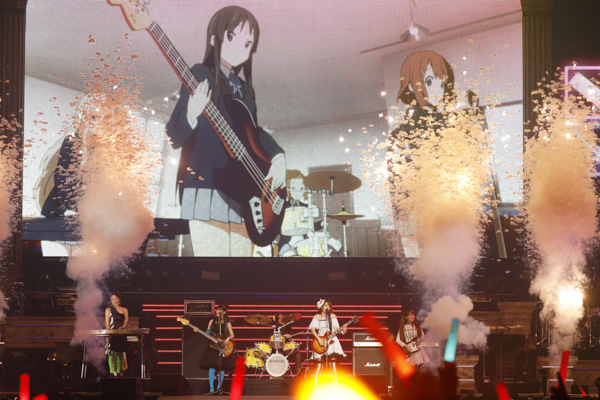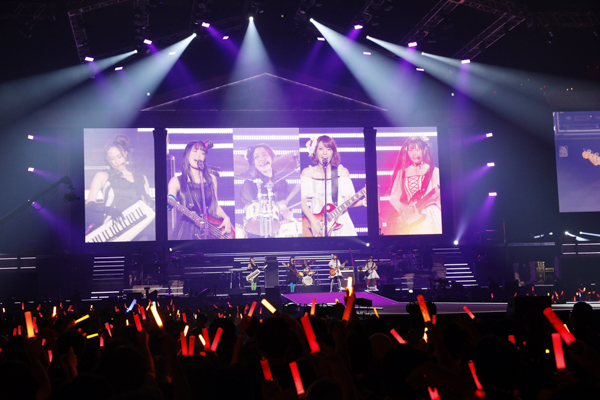 Nijigasaki Gakuen School Idol Doukoukai (Mayu Sagara, Miyu Kubota, Tomori Kusunoki, Aguri Oonishi, Natsumi Murakami, Chiemi Tanaka, Kaori Maeda, Akari Kitou, and Maria Sashide) from the Love Live! franchise was another crowd pleaser as the performance was synchronized with the idols dancing on the rear screen, and the audience waved their penlights.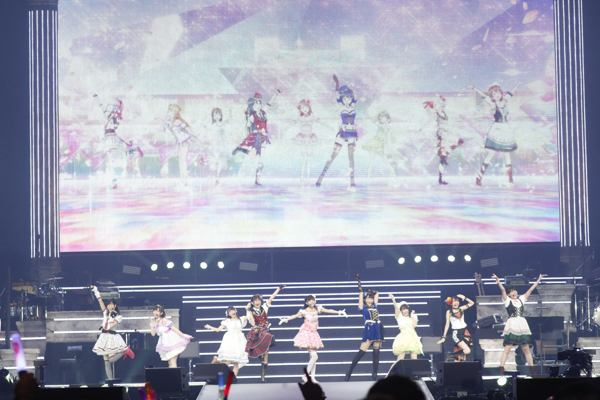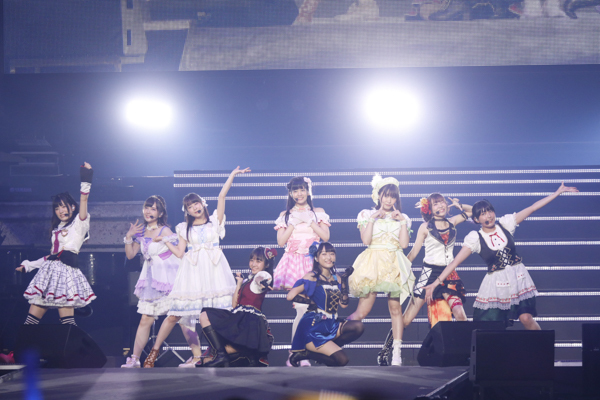 ClariS sang Ano Hi Mita Hana no Namae wo Bokutachi wa Mada Shiranai. and Hataraku Saibou's ending theme songs.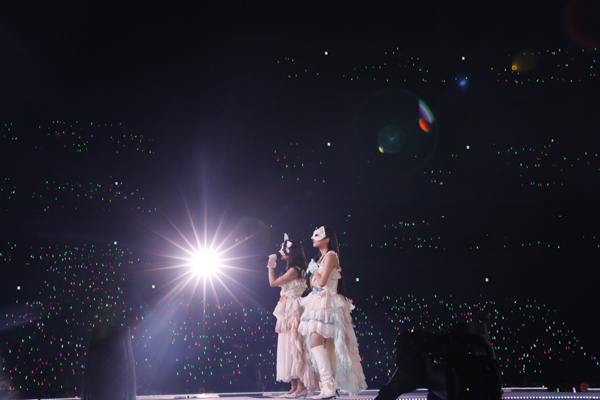 After Yuuma Uchida sang the ending theme song for Kono Oto Tomare.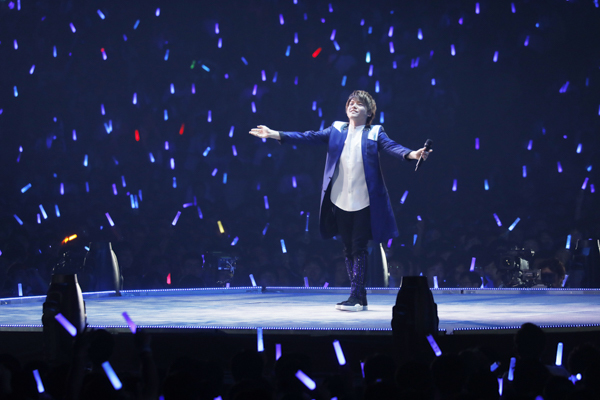 Next, OxT (Masayoshi OoishixTom-H@ck) sang the opening theme song, "Union," from SSSS.Gridman, while the ending theme song, "Youthful Beautiful," was sung by Maaya Uchida featuring Sumire Uesaka.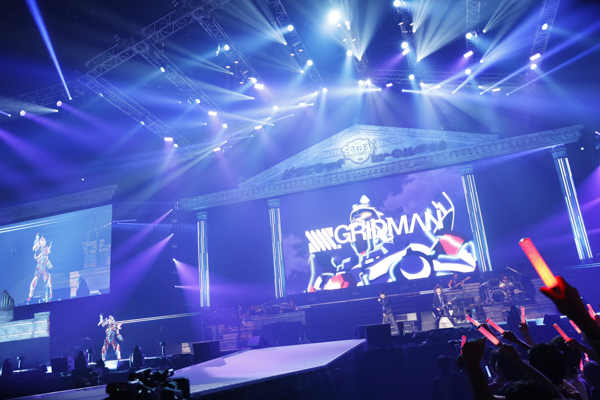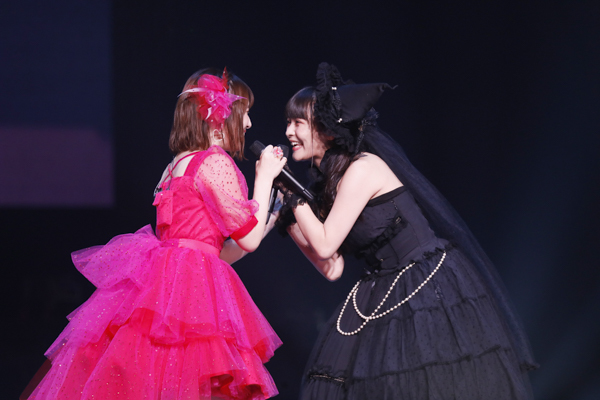 OxT also sang the opening theme song, "Clattonoia," from Overlord with power and passion.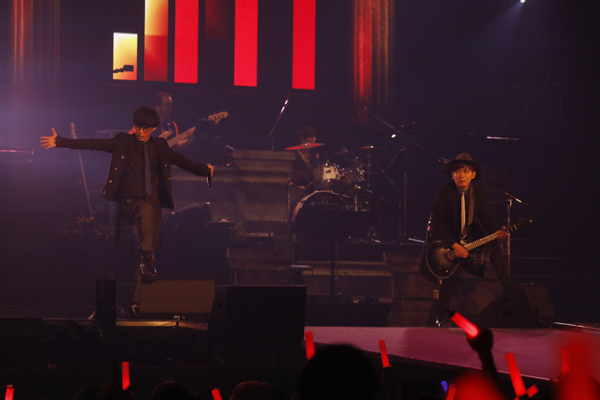 ZAQ, a singer-songwriter known for Chuunibyou demo Koi ga Shitai!'s opening theme, sang Shokugeki no Souma: San no Sara's opening theme song in an up-tempo rock 'n' roll style, and roused the crowd with an acoustic rendition of her next song, Kouya no Kotobuki Kikoutai's opening theme song, "Soranone".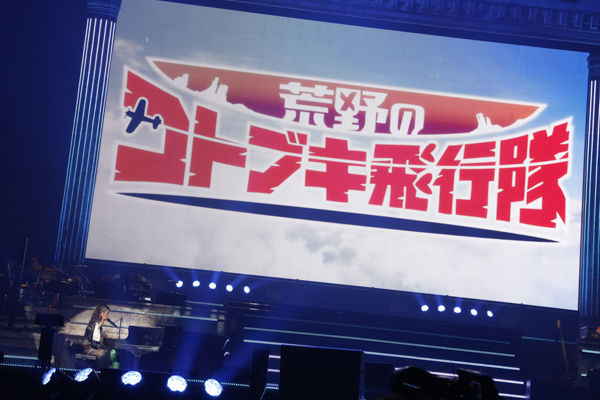 Maon Kurosaki, who performs the theme songs for Toaru Majutsu no Index, sang the third season's second opening theme song, "Roar".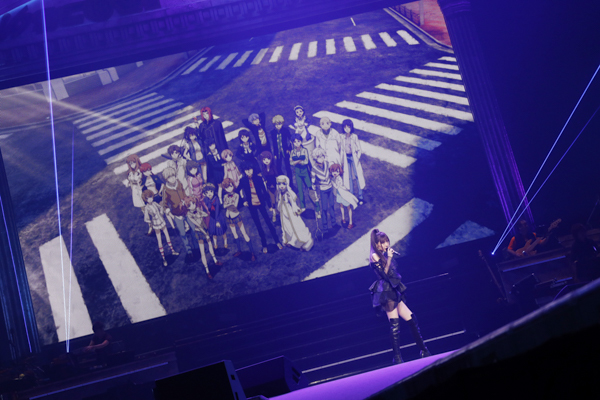 I'd like to call attention to Poppin' Party, the five-member group born out of BanG Dream!, comprised of voice actresses Aimi (guitar and vocals), Ayasa Itou (keyboard), Rimi Nishimoto (bass), Sae Otsuka (lead guitar) and Ayaka Ohashi (drums). Roselia, who performed on the first day, is also from BanG Dream!.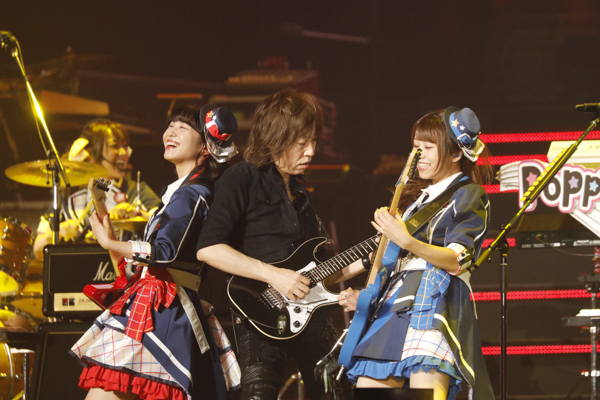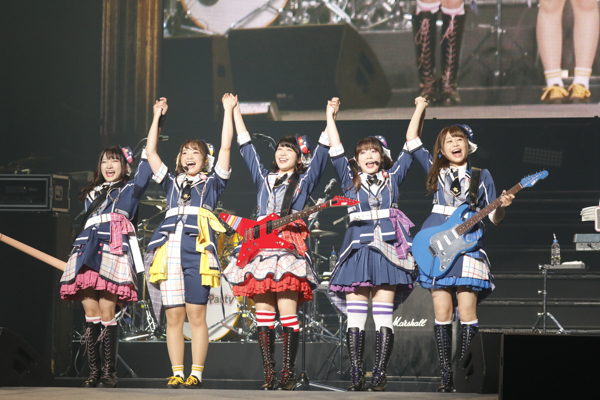 The very last act in the three days of Animelo Summer Live 2019 was Eir Aoi, who sang four songs including opening themes from Kill la Kill and Sword Art Online. You could call her the reigning queen of the anisong world.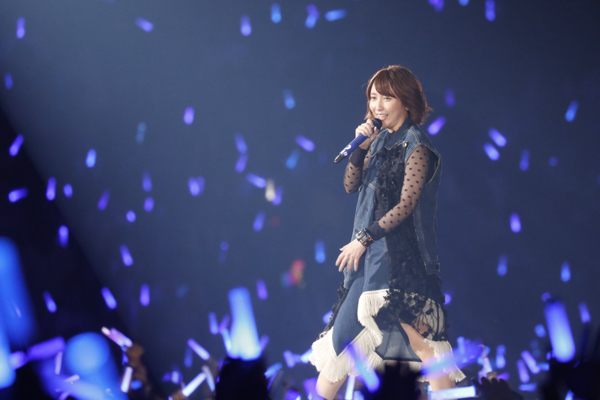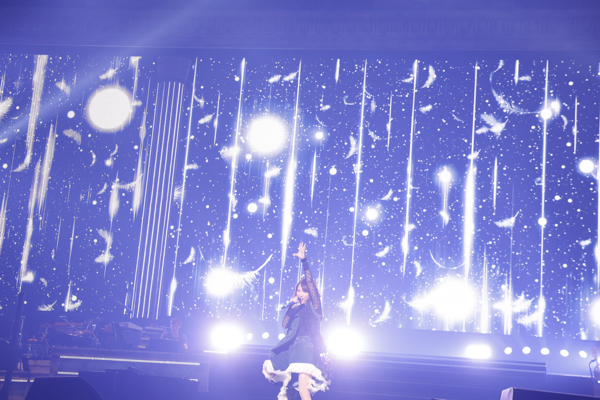 ---
Song List Day 1
ARTIST
SONG
TITLE
Kemono Friends×i☆RiSphere
"Youkoso Japari Park e"
Kemono Friends OP Theme song
Kemono Friends with Masayoshi Oohishi
"Notteke! Japari Beat"
Kemono Friends 2 OP Theme song
Kemono Friends with Masayoshi Oohishi
"KE MO NO DA MO NO"
Kamono Friends 3 Theme song
Miku Ito
"Shocking Blue"
Busou Shoujo Machiavellianism OP Theme song
Miku Ito feat. Junichi Sato (fhána)
"Hirameki Heartbeat"
Ueno san wa Bukiyou OP Theme song
Kaori Ishihara
"Ray Rule"
Kaori Ishihara
"Tempest"
Maou sama Retry! OP Theme song
Sayaka Sasaki
"Grand symphony"
Girls & Panze Last Chapter Episode 1~3 OP Theme song
Sayaka Sasaki
"Ankou Ondo"
Girls & Panzer Insert song
Sayaka Sasaki
"High-Flying Future!!"
CR Girls & Panzer Insert song
Sayaka Sasaki × Mai Fuchigami
"Enter Enter MISSION!"
Girls & Panzer ED Theme song
Mai Fuchigami
"Black Cat"
Animelo Summer princess from Prencess Connect! Re:Dive
"Lost Princess"
Princess Connect! Re:Dive Main Theme song
Animelo Summer princess from Prencess Connect! Re:Dive
"Connecting Happy!!"
Princess Connect! Re:Dive ED Theme song
Kiyoshi Hikawa
"Genkai Toppa × Surviver"
Dragon Ball Super OP Theme song
Kiyoshi Hikawa
"Tough Boy"
Hokuto no Ken 2 OP Theme song
Ai Nakajima × Kaori Ishihara
"TRY Unite!"
Rinne no Lagrange OP Theme song
Rikako Aida
"Ordinary Love"
Senryu Shoujo ED Theme song
Chihaya Kisaragi feat. Duke of Pianeet
"Aoi Tori (M@STER VERSION)"
Suzuko Mimori × Masayoshi Ooishi
"Glory!"
Diamond no Ace ED Theme song
Suzuko Mimori × Kaori Ishihara
"Fattoshite Tougenkyou"
Teekyuu 4th season OP Theme song
Yu Serizawa♡→Suzuko Mimori ←♡Yuka Otsubo
"doki doki toki doki tokime kiss♡"
Suzuko Mimori × Mai Fichigami
"Univer Page"
Outbreak Company OP Theme song
Suzuko Mimori
"Aitai yo …Aitai yo!"
Masayoshi Ooishi
"Rakuen Toshi"
Cop Craft OP Theme song
Masayoshi Ooishi × Ayaka Ohashi
"Otomodachi Film"
Tada-kun wa Koi wo Shinai OP Theme song
ReoNa
"forget-me-not"
Sword Art Online: Alicization ED Theme song
ReoNa
"Niji no Kanata ni"
Sword Art Online: Alicization Episode 19 ED Theme song
i☆Ris
"Gensoukyoku Wonderland"
TV program Rank Okoku Dec. 2013, Jan. 2014 ED Theme song
i☆Ris
"Endless Notes"
Grimms Notes The Animation ED Theme song
i☆Ris
"Ultimate☆MAGIC"
Kenja no Mago OP Theme song
Ai Nakajima
"Watashi no Sekai"
Fuuka ED Theme song
Ai Nakajima
"Bitter Sweet Harmony"
Sunohara-sou no Kanrinin-san OP Theme song
Masayuki Suzuki feat. Sphere
"Love, dramatic"
Kaguya-sama wa Kokurasetai: Tensai-tachi no Renai Zunousen OP Theme song
Masayuki Suzuki feat. Sphere
"Chigau, Sou ja nai"
Masayuki Suzuki feat. Sphere
"Megumi no Hito"
Roselia
"Louder"
Roselia
"Black Shout"
Roselia
"Brave Jewel"
BanG Dream! 2nd Season OP Theme song
Roselia feat. Konomi Suzuki
"This game"
No Game, No Life OP Theme song
Konomi Suzuki
"Shinri no Kagami, Tsurugi no youni"
Kono Yo no Hate de Koi wo Utau Shoujo YU-NO ED Theme song
Konomi Suzuki
"Ao no Kanata"
Sora to Umi no Aida ED Theme song
Konomi Suzuki
"DAYS of DASH"
Sakurasou no Pet na Kanojo ED Theme song
fhána
"Divine Intervention"
Witch Craft Works OP Theme song
fhána with Anisama Friends
"Aozora no Rhapsody"
Kobayashi-san Chi no Maid Dragon OP Theme song
fhána feat. Gothic x Luck
"Kimi wa Kaeru Basho"
Kemono Friends 2 ED Theme song latter half
fhána
"Boku wo Mitsukete"
Nakanohito Genome [Jikkyouchuu] ED Theme song
Sphere
"Moon Signal"
Otome Youkai Zakuro OP Theme song
Sphere
"Music Power→!!!!"
Sphere
"Now loading...SKY!!"
Asobi ni Iku yo! OP Theme song
Sphere
"Let Me Do!!"
TV program Sphere Club Theme song
All Artists
"Crossing Stories"
Animelo Summer Live 2019: Story Theme song
---
Song List Day 2
ARTIST
SONG
TITLE
Minori Chihara × TRUE
"Paradise Lost"
Ga-Rei: Zero OP Theme song
Minori Chihara
"Junpaku Sanctuary"
Minori Chihara
"Terminated"
Kyokaisenjou no Horison First season OP Theme song
Tasuku Hatanaka
"not GAME"
Nakanohito Genome [Jikkyouchuu] OP Theme song
Tasuku Hatanaka
"Kasabuta"
Konjiki no Gash Bell!! OP Theme song
Minori Suzuki
"Feeling Around"
Ramen Daisuki Koizumi-san OP Theme song
Minori Suzuki
"Dame wa Dame"
Tejina Senpai ED Theme song
Takuma Terashima
"Nameless Story"
Tensei shitara Slime Datta Ken OP Theme song
Takuma Terashima × ULTRAMAN TAIGA
"Buddy, steady, go!"
ULTRAMAN TAIGA OP Theme song
RAISE A SUILEN
"Unstoppable"
Cardfight!! Vanguard ED Theme song
Kokoro Tsurumaki & Michelle + RAISE A SUILEN
"Sekai Nobbinobi Treasure!"
BanG Dream! 2nd Season Insert song
Yuiko Oohara
"Zero Centimeter"
Karakai Jouzu no Takagi-san 2 OP Theme song
Takagi-san feat. Yuiko Oohara
"Kimagure Romantic"
Karakai Jouzu no Takagi-san Episode 1, 2 ED Theme song
Minami Kuribayashi
"Next Season"
Kimi ga Nozomu Eien: Next Season OP Theme song
Minami Kuribayashi
"Crystal Energy"
Mai-Otome OP Theme song
Masami Okui × Minami Kuribayashi
"Rinbu Revolution"
Shoujo Kakumei Utena OP Theme song
The idol m@ster SideM
"Drive A Live"
GAME The idol M@ster SideM
The idol m@ster SideM
"Let's Go!!"
The idol M@ster SideM Wake Atte Mini! Theme song
The idol m@ster SideM
"Ray Of Light"
GAME The idol M@ster SideM
The idol m@ster SideM
"Legacy of Spirit"
GAME The idol M@ster SideM
The idol m@ster SideM
"Pride Star"
GAME The idol M@ster SideM
Starlight Kukugumi
"Yakusoku Tower"
Starlight Kukugumi
"Butai Shoujo Kokoroe"
Starlight 99 gumi
"The Galaxy Express 999"
MOVIE The Galaxy Express 999 Theme song
Starlight Kukugumi
"Star Divine"
Asaka
"Konoyo no Hate de Koi wo Utau Shoujo"
Kono Yo no Hate de Koi wo Utau Shoujo YU-NO OP Theme song
Asaka
"Shiny Days"
Yuru Camp△ OP Theme song
Asaka × Minori Suzuki
"Get Wild"
City Hunter ED Theme song
Ayaka Ohashi
"Daisuki."
Kawaikereba Hentai demo Suki ni Natte Kuremasu ka? OP Theme song
Ayaka Ohashi
"Wagamama MIRROR HEART"
Masamune-kun no Revenge OP Theme song
TRUE
"Another colony"
Tensei Shitara Slime Datta Ken ED Theme song
TRUE
"Blast!"
MOVIE Hibike! Euphonium Movie 3: Chikai no Finale Theme song
TRUE × Kitauji Quartet
"Dream Solister"
Hibike! Euphonium OP Theme song
Kitauji Quartet
"Tutti!"
Hibike! Euphonium ED Theme song
Aira Yuuki
"Violet Snow"
Violet Evergarden Imaging song
Minori Chihara
"Amy"
Violet Evergarden Gaiden: Eien to Jidou Shuki Ningyou ED Theme song
Minase Inori
"Wonder Caravan!"
Endro~! ED Theme song
Minase Inori
"Ready Steady Go!"
TV program musicRU TV 2017, Dec. Monthly ED Theme song
Minase Inori
"Trust In Eternity"
GAME GESTALT ODIN Theme song
angela
"The Beyond"
Soukyuu no Fafner - The Beyond Theme song
angela
"Zenryoku☆Summer!"
Aho Girl OP Theme song
angela
"Shangri-La"
Soukyuu no Fafner OP Theme song
angela
"Zenryoku☆Summer!"
Aho Girl OP Theme song
angela
"Sidonia"
Sidonia no Kishi OP Theme song
angela
"Survive!"
MOVIE K Seven Stories Episode 1~6 OP Theme song
TrySail
"High Free Spirits"
High School Fleet OP Theme song
TrySail
"Sunset Kung-fu"
TrySail
"adrenaline!!!"
Eromanga-sensei ED Theme song
Aqours
"Bokura no Hashittekita Michi wa... "
Love Live! Sunshine!! The School Idol Movie Over the Rainbow Insert song
Aqours
"Aozora Jumping Heart"
Love Live! Sunshine!! OP Theme song
Aqours
"Omoi yo Hitotsu ni Nare"
Love Live! Sunshine!! Episode 11 Insert song
Aqours
"Yuuki wa Doko ni? Kimi no Mune ni!"
Love Live! Sunshine!! 2nd season ED Theme song
All artists
"Crossing Stories"
Animelo Summer Live 2019 -STORY- Theme song
---
Song List Day 3
ARTIST
SONG
TITLE
Air Aoi × Shouta Aoi
"Preserved Roses"
Kakumeiki Valvrave 1st SEASON OP Theme song
Spira Spica
"Start Dash"
Gundam Build Divers 2nd cour ED Theme song
Spira Spica
"Iyayo Iyayo mo Suki no Uchi"
Tsuujou Kougeki ga Zentai Kougeki de Ni-kai Kougeki no Okaasan wa Suki Desu ka? OP Theme song
Nijigasaki Gakuen School Idol Doukokai
"Tokimeki Runners"
Love Live! School Idol Festival ALL STARS Theme song
Sumire Uesaka
"Bon ♡ Kyu ♡ Bon wa Kare no Mono ♡"
Nande Koko ni Sensei ga!? OP Theme song
Sumire Uesaka
"last sparkle"
Poputepipikku Special Episode 13 OP Theme song
ClariS
"Shiori"
Owarimonogatari ED Theme song
ClariS
"CheerS"
Hataraku Saibou ED Theme song
ClariS
"secret base ~Kimi ga Kureta Mono~"
Ano Hi Mita Hana no Namae wo Bokutachi wa Mada Shiranai. ED Theme song
JUNNA
"Kono Yubi Tomare"
Kakegurui xx OP Theme song
JUNNA
"Iruimi"
BEM ED Theme song
Asami Imai
"Believe in Sky"
Pastel Memories OP Theme song
Asami Imai
"Tooi Ongaku"
Yuuma Uchida
"Speechless"
Kono Oto Tomare! 1st cour ED Theme song
OxT x Yuuma Uchida
"Hands"
ULTRAMAN R/B OP Theme song
Maaya Uchida
"Kodou Escalation"
Diamond no Ace: Act II The Second ED Theme song
Maaya Uchida
"Youthful Beautiful"
SSSS.GRIDMAN ED Theme song
Maaya Uchida feat. Sumire Uesaka
"Majo ni Naritai Hime to Hime ni Naritai Majo no Rhapsody"
ZAQ
"Braver"
Shokugeki no Souma: San no Sara OP Theme song
ZAQ
"Soranone"
Kouya no Kotobuki Hikoutai OP Theme song
buzz★Vibes
"buzz★Parade"
buzz★Vibes
"Kokoroe"
Major S1 OP Theme song
buzz★Vibes feat. MOTSU
"EZ DO DANCE"
MOVIE King Of Prism -Pride the Hero- Insert song
buzz★Vibes feat. MOTSU
"buzz★Parade"
Houkago Tea Time
"Don't say 'lazy'"
K-On! ED Theme song
Houkago Tea Time
"Go! Go! Maniac"
K-On!! OP Theme song
JAM Project
"Tread on the Tiger's Tail"
GAME Super Robot Wars T OP Theme song
JAM Project
"Seijaku no Apostle"
One Punch Man 2nd Season OP Theme song
JAM Project
"Hero"
JAM Project with Anisama Friends
"Skill"
GAME 2nd Super Robot Wars OP Theme song
Yui Ogura × Maaya Uchida
"Hamutaro Tottoko Uta"
Tottoko Hamutaro OP Theme song
Yui Ogura
"High Touch☆Memories"
Cardfight!! Vanguard G: Stride Gate-hen ED Theme song
Yui Ogura
"Raise"
Campione!: Matsurowanu Kamigami to Kamigoroshi no Maou ED Theme song
Maon Kurosaki
"Roar"
Toaru Majutsu no Index III new OP Theme song
Maon Kurosaki
"Gensou no Rondo"
Grisaia: Phantom Trigger The Animation OP Theme song
Shota Aoi
"Tone"
Kono Oto Tomare! 1st cour OP Theme song
Shota Aoi
"Unlimited"
TV Program BREAK OUT 2015 Apr. OP Theme song
OxT
"Clattanoia"
Overlord OP Theme song
OxT
"Golden After School"
Diamond no Ace: Act II ED Theme song
OxT x SSSS.GRIDMAN
"Union"
SSSS.GRIDMAN OP Theme song
Poppin'Party feat. Anisama Band
"Teardrops"
BanG Dream! Re-air ED Theme song
Poppin'Party
"Star Beat!~Hoshi no Kodou~"
BanG Dream!/BanG Dream! 2nd Season Insert song
Poppin'Party
"Kizuna Misic♪"
BanG Dream! 2nd Season OP Theme song
Eir Aoi
"Sirius"
Kill la Kill First Half OP Theme song
Eir Aoi
"Innocence"
Sword Art Online: Fairy Dance OP Theme song
Eir Aoi
"Tsuki wo Ou Mayonaka"
Granbelm OP Theme song
Eir Aoi
"Ignite"
Sword Art Online: Phantom Bullet OP Theme song
All Artists
"Crossing Stories"
Animelo Summer Live 2019 -STORY- Theme song
---