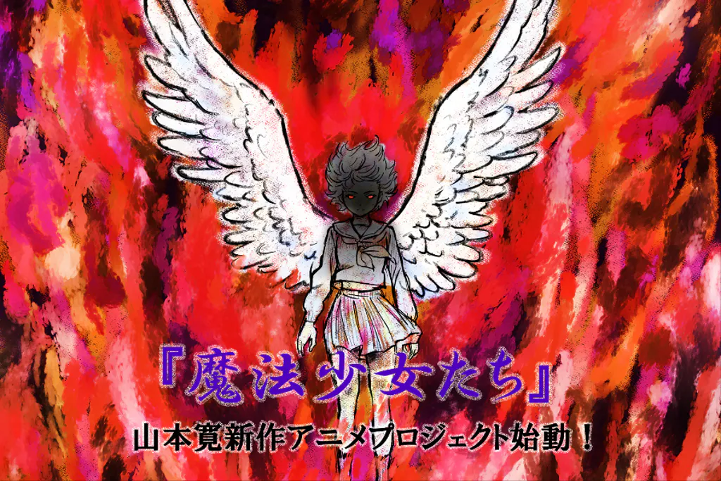 Animation director
Yutaka Yamamoto
(
Fractale
,
Wake Up, Girls!
) launched a new project on Friday that will be crowdfunded through Campfire, tentatively titled
Mahou Shoujo-tachi
(
Magical Girls
). The dark fantasy magical girl project aims to raise 10 million yen (approximately US$92,700) in 33 days. The funds will go towards producing a two to five minute pilot film that will be completed in April 2020.
As of press time, the crowdfunding sits at 2,273,300 yen (approximately US$21,096) with 124 backers. Any additional funding will go towards the production of a full-length film.
The anime project's key visual (pictured) features a girl in a school uniform with wings enclosed by dark flames, directly referencing the
July 18 Kyoto Animation arson incident
. Yamamoto cites the tragedy as his motivation behind the project, saying that he is creating the film to "change anime" and wants to use it to send a message to all of those who are involved with the anime industry. Yamamoto further wrote that he cannot forgive the evil "madness" in anime that caused him the loss of a friend, and so he must defeat it through animation.
Yamamoto's previous successfully-funded project,
Hakubo
, exceeded its 15 million yen (approximately US$139,275) goal, raising over 21 million yen. The 52-minute film premiered in Fukushima on May 24 before it screened around Japan on June 21.
Crowdfunding page:
https://camp-fire.jp/projects/view/196006
Source:
Livedoor News
News tip submitted by
NothingReally

RSS Feed