At a joint panel at Anime Expo 2015,
Studio 4°C
introduced its first anime crowdfunding project, titled
Red Ash the Animation: Magicicada
. The studio is also partnering with Comcept in developing a video game titled
Red Ash: Kikanjou Karkanon no Majo
(
Red Ash: The Indellible Legend
).
Comcept was founded by Keiji Inafune, best known as a co-designer of the
Rockman
(Mega Man) character at Capcom. It has created games such as
Soul Sacrifice
and
Mighty No. 9
. According to Studio 4°C president
Eiko Tanaka
, the collaboration originated from meetings she and Inafune had on the sidelines of Anime Expo 2014.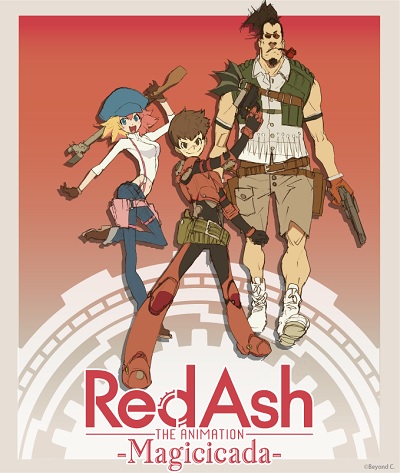 Red Ash the Animation
will use treasure hunting as a story concept, and it will be in a setting separate from but parallel to the video game. Yuuta Sano, who is previously a CG animator for the
Berserk: Ougon Jidaihen
movies, will make his directorial debut in the project. Studio 4°C will experiment in combining 3D characters with hand-drawn paintings.
The anime Kickstarter has a total crowdfunding goal of US$2.48 million. It is composed of eight episodes of varying length, each with its own stretch goal. The first stretch goal of US$150,000 has a deadline of August 4, 2015. A ninth stretch goal is to produce an ending animation. Should the project meet its ultimate funding target, it will be presented as a feature film of at least 75 minutes, which includes an epilogue to the story.
Yuuki Kaji
will voice the protagonist Beck. Supporters who pledge US$14 or more to the project will have a right to vote for the seiyuu cast of two other characters, Call and Tyger. In the game, Call will be voiced by
Asami Seto
, while Tyger will be voiced by
Houchuu Ootsuka
.
Official site:
http://redashgame.com/
Official anime Kickstarter:
https://www.kickstarter.com/projects/mightyno9/red-ash-magicicada-by-studio4c
Official game Kickstarter:
https://www.kickstarter.com/projects/mightyno9/red-ash-the-indelible-legend

RSS Feed