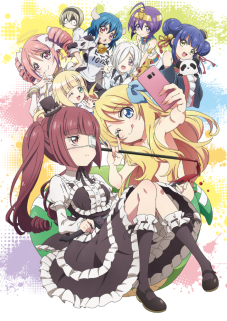 The official Twitter account of the
Jashin-chan Dropkick
(
Dropkick on my Devil!
) anime series announced on Thursday that a third season has been green-lit following a successful
crowdfunding campaign
. The third season is scheduled to air in 2022, following the
original manga
's 10th anniversary.
The campaign began at 12:00 p.m. on Wednesday and exceeded its goal of 20 million yen (approximately US$190,000) within 33 hour. As of press time, the campaign sits at over 22 million yen (approximately US$208,000).
Synopsis
The demon Jashin-chan has been summoned to Earth by Yurine Hanazono, a girl with a knack for the occult. Unfortunately, Yurine does not actually know how to send Jashin-chan back to Hell. Now stuck on Earth, she must live at Yurine's apartment as her familiar.
The only way for Jashin-chan to return would be to kill her summoner, but this is easier said than done for the incompetent demon. Since Jashin-chan is immortal and can regenerate her body, Yurine does not hold back in attacking her with a range of weapons, punishing her in gruesome manners for her evil schemes. Jashin-chan is also often visited by her demon friends: the kindhearted Gorgon Medusa and the energetic minotaur Minosu, who seem much more well-behaved in contrast, and disapprove of her plans to kill Yurine. [Written by MAL Rewrite]
Yukiwo began publishing the supernatural comedy manga on Flex Comix's online magazine
Comic Meteor
in April 2012. The 15th volume shipped on June 12.
The first season aired in 11 episodes in Summer 2018, with the
12th episode
debuting on October 1 that year. The
second season
premiered exclusively on Amazon's Prime Video platform on April 6. Crunchyroll also streamed the anime subsequently.
Announcement
Official site:
http://jashinchan.com/
Official Twitter: @
jashinchan_PJ
Crowdfunding Campaign page:
https://motion-gallery.net/projects/jashinchan03
Source:
Anime Recorder
Jashin-chan Dropkick 3rd Season
on MAL

RSS Feed