Scavenger Hunt #11 [Ferry Set]

Offline
Sep 2011
1862
Banner: riho88riho
0.50 POINTS PER SET | EXTRA 0.50 POINTS FOR A FULL SET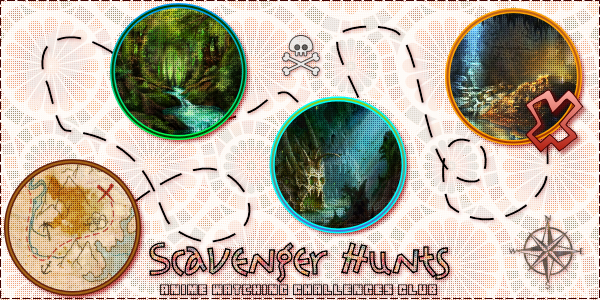 Difficulty

: complete the 5 listed items.
 — These hunts can be completed twice (x2) per. (added on Feb 11, 2020)
 — You don't need to complete a set before starting a hunt's second run.


Previously completed series

aren't

allowed. Neither is re-watching.
 — Series previously started

can't

be used.
 — Airing can be used, but you must

complete

the series, so you can only turn-in the challenge after the series has finished airing.


Any type/length is allowed.
 — Unless otherwise stated.
 — At least one anime per hunt

MUST

have 10 episodes or more.


Your challenge "Starting Date" is the day you post.
 — Remember that it's required to add the start and end dates to any anime you use for our challenges.


You cannot use the same entry more than once across all hunts.
 — All anime used can't be repeated per individual hunt NOR per global hunts.
 — This means that once an anime is used for one hunt, it can't be used for any other.



NOTE

: To make this easier on the inspectors, it's suggested you link to a master thread where you keep track of all of your scavenger hunt's posts.
 — It can be a blog post or on your thread on the

Progress Tracking Club

.
 — A master thread refers to one of two:
  (1) a post on which you have a link to every post containing your hunts -OR-
  (2) a post with a compilation of all items/series used


Check our post containing all items, from all hunts,

here

.


Suggested by ?

Scavenger Hunt #11
[ 0 / 5 ]
Sign Up Code Here
Find and watch a series...


 

[X]

... with a non-humanoid main character


State the character used; The character can't have a humanoid shape/physical appearance; Must retain that appearance for more than half of the series.




 

[X]

... that started airing on the 9th day


Any month/year.




 

[X]

... that has a number in an Alternative Title, but not in the main title


Can be any that appears under the "Alternative Titles" section; The number should be in its cardinal (1, 5, 10) or roman (I, V, X) form; Written numbers can't be used (one, five, ten).




 

[X]

... that has no Recommendations listed


Check under the Recommendations tab; Saving a screenshot that shows your username is suggested.




 

[X]

... that has a Featured Article
Must have at least one linked; To see if a series has one, either scroll to the bottom of the series page (usually below "Recent Forum Discussion") or search them here.


Created by riho88riho




[img]https://i.imgur.com/b7ANccz.png[/img]
NOTE: This challenge can be attempted twice. To attempt this, you

have to complete a hunt

(one previous attempt) once. Your second attempt

has to be

in a new post, with new entries. By completing a new run, you are allowed to use a

x2 Badge

. More information can be found

here

.

Created by KuraikoDesu




[img]https://i.imgur.com/iJ7Kx4x.png[/img]

Jun 03, 2022
— cosmetic update ; clarifications added to some items
SheyCroix
Dec 6, 2022 6:29 PM
More topics from this board