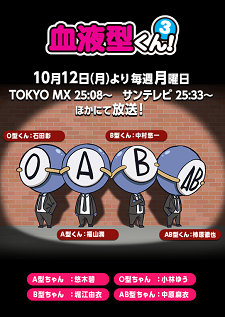 Earth Star Entertainment has updated the official website of the
Ketsuekigata-kun!
anime series to reveal that a third season will air from October 13, 2015. The first two seasons aired in Spring 2013 and Winter 2015.
Ketsuekigata-kun!
is the Japanese print version of a Korean webcomic series by Park Dong-sun, who goes by the penname Real Crazy Man. Earth Star Entertainment publishes the series in Japan. In the series, four characters of different blood types discuss stereotypes about blood type personalities in Japan and South Korea. The voice cast of the series will reprise their roles in the new season.
Cast
A-Gata-kun:
Jun Fukuyama
(
Ao no Exorcist
)
B-Gata-kun:
Yuuichi Nakamura
(
Break Blade
)
O-Gata-kun:
Akira Ishida
(
Persona 3 the Movie
)
AB-Gata-kun:
Tetsuya Kakihara
(
Tengen Toppa Gurren Lagann
)
A-Gata-chan:
Aoi Yuuki
(
Hyakka Ryouran: Samurai Girls
)
B-Gata-chan:
Yui Horie
(
Love Hina
)
O-Gata-chan:
Yuu Kobayashi
(
Mahou Sensei Negima!
)
AB-Gata-chan:
Mai Nakahara
(
Higurashi no Naku Koro ni
)
Narrator:
Kyoko Narumi
(
Teekyuu
)
Staff
Director:
Yoshihisa Ooyama
(
Ketsuekigata-kun!
)
Series Composition:
Kenichi Yamashita
(
Jitsu wa Watashi wa
)
Character Design:
Yoshihiro Hiramine
(
Suzakinishi the Animation
)
Studio:
Assez Finaud Fabric
,
Feel
,
Zexcs
Production:
Earth Star Entertainment
Source:
Moca News
Ketsuekigata-kun! 3
on MAL

RSS Feed