The official website of
Ame-iro Cocoa
revealed that the second season will premiere on October 4, 2015. The sequel will be titled
Ame-iro Cocoa: Rainy Color e Youkoso!
and will air on Tokyo MX and Sun TV every Sunday in a 10-minute time slot of 10:15-10:25 pm.
The anime's official Twitter account also
announced
a
crowdfunding campaign
to raise 2 million yen (about US$16,300) for the addition of new cast and characters. The campaign has already raised over 200,000 yen for the project. Rewards for contributing include a video thank you message and a drama CD of the first season.
Contributors of 10,000 yen and above will also receive S-class or SS-class seat tickets for the "
Ame-iro Cocoa: Rainy Color e Youkoso! Cocoa Party 2015
" event on September 20, 2015. Other upper tier rewards include having a photograph taken with one of the cast members at the event and participating in voice recording sessions.
Ame-iro Cocoa
aired in Spring 2015 in 12 episodes as 2-minute shorts.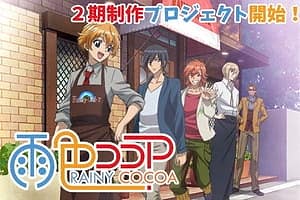 Returning cast
Aoi Tokura:
Hiro Shimono
Keiichi Iwase:
Hikaru Midorikawa
Shion Koga:
Daisuke Hirakawa
Kouji Amami:
Ryo Horikawa
Ryouta Sakuragi:
Mamoru Miyano
New cast
Noel Koga:
Kazutomi Yamamoto
Nicola Koga:
Yoshitaka Yamaya
Jun Arisawa:
Shouma Yamamoto
Haruka Torigoe:
Shunya Marue
Source:
Official site
News submitted by
sevenPocky
Ame-iro Cocoa: Rainy Color e Youkoso!
on MAL

RSS Feed