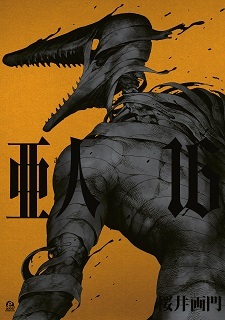 Gamon Sakurai
's
Ajin
(
Ajin: Demi-Human
) manga ended its nine-year run in the March issue of
good! Afternoon
on Friday.
Sakurai originally launched the horror action manga with
Tsuina Miura
in good! Afternoon in July 2012. Following chapter five, Miura withdrew from the series and Sakurai became its sole creator. Kodansha published the 16th volume last May (pictured), with the 17th and final volume planned for a May 7 release.
Polygon Pictures
adapted the manga into a 2015–2016
anime film trilogy
alongside
two television anime
in Winter and Fall 2016. The eighth, ninth, and tenth manga volumes each included an
original video anime
(OVA).
Vertical licensed the manga in English in February 2014 and
published
the 15th volume on August 11, with the 16th volume planned to
go on sale
on February 23. Crunchyroll began simulpublishing the series in March 2014. The manga has also been published in multiple foreign languages, including Spanish, German, Polish, Brazilian Portuguese, Italian, and Russian.
Sentai Filmworks licensed the anime series in North America and released the film trilogy and television anime on home video in May and December 2017, and the OVAs on
December 1
last year. Netflix began streaming the two seasons outside of Japan in April and December 2016, respectively.
A live-action film adaptation opened in Japan in September 2017, grossing over 1.44 billion yen (approximately US$13.6 million).
Katsuyuki Motohiro
(
Psycho-Pass
,
FLCL Progressive
) directed the film, starring Takeru Satou (
Rurouni Kenshin
,
Kamen Rider Den-O
).
Ajin
placed third in the
2014 Kono Manga ga Sugoi!
rankings among the male readers and was nominated for the
7th Manga Taisho
,
40th Kodansha Manga awards
, and
18th Tezuka Osamu Cultural Prize
. The film trilogy ranked among the top ten films in the
2016 Newtype Anime Awards
.
Synopsis
Seventeen years ago, mysterious immortal soldiers known as "divine warriors" appeared on the battlefields of Africa. These life forms later became known as "Ajin," or demi-humans, and were considered to be one of the greatest discoveries of mankind. The government declared their existence to be compatible with humans; however, it is rumored that they instead offer bounties for captured Ajin to secretly perform inhumane experiments on these rare beings.
Kei Nagai, an apathetic high school student, is studying to become a doctor and only wishes to live a normal life. However, this simple dream is shattered after he suddenly gets into a deadly traffic accident. Reviving at the scene, he is immediately labeled as an Ajin by bounty-hungry witnesses. Unable to understand his immortality or prove his innocence, he starts to live his life on the run and fights for survival. He barely escapes the government's reach when a group of anarchistic Ajin contacts Kei, asking him to join their forces to retaliate against the government. But who is Kei's real enemy, and which side will he take when it comes down to humans versus Ajin? [Written by MAL Rewrite]
Manga official page:
https://afternoon.kodansha.co.jp/c/ajin.html
Official anime site:
http://www.ajin.net/
Official anime Twitter: @
anime_ajin
Source:
Comic Natalie

RSS Feed