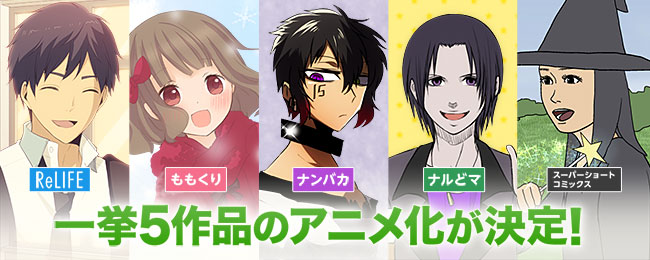 It has been announced on NHN PlayArt's
official site
that several manga series will be receiving anime adaptations. The series to be adapted include:
Nar Doma
by Kaite Meetoru (announced in January)
ReLIFE
by
Sou Yayoi
Momokuri
by
Kurose
Nanbaka
by
Shou Futamata
Super Short Comics
by Kyuu Amekawa
The manga series are published via the smartphone app "comico." Comico is a website and free smartphone app where you can read original manga for free. The app is available globally in Japanese and Korean.
Last month, another comico manga,
Nar Doma
, was announced to receive an anime adaptation. The announcement was made on the wraparound jacket of the manga's first volume.
The anime adaptations for
Nar Doma
and
Super Short Comics
will be airing in Spring 2015.
Momokuri
is scheduled to premiere in late 2015, and
Nanbaka
and
ReLIFE
are set to debut in 2016.
Source:
Official site
,
Scan via Yaraon
,
Otakomu
Nar Doma
,
ReLIFE
,
Momokuri
,
Nambaka
, &
Super Short Comics
on MAL

RSS Feed