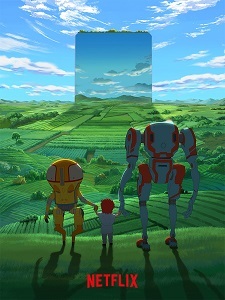 Global streaming content platform Netflix has announced an original sci-fi fantasy anime titled
Eden
. The announcement was made on Monday at the Work in Progress session of the Annecy International Animation Film Festival in France.
Eden
will premiere exclusively on Netflix in 2020.
According to producer
Justin Leach
(
Kick-Heart
),
Eden
is the first anime title commissioned by Netflix without the involvement of a production committee. The four-episode series will be produced by
Qubic Pictures
—a new production company incorporated in Tokyo last September and helmed by Leach as CEO—and Taiwan-based animation studio
CGCG
. Beijing-based
Nice Boat Animation
and Shanghai-based
Wolf Smoke Studio
are also credited in the production.
Synopsis
Thousands of years in the future, the world is inhabited solely by artificially intelligent robots whose former masters vanished long ago. These mechanical caretakers have created the perfect utopian society free of crime, violence, and poverty. On a routine assignment, two robots accidentally awaken a human baby from stasis, bringing into question all they were taught to believe. (Source: Annecy Festival)
Staff
Director:
Yasuhiro Irie
(
Fullmetal Alchemist: Brotherhood
)
Script:
Kimiko Ueno
(
Oushitsu Kyoushi Heine
)
Character Design:
Toshihiro Kawamoto
(
Cowboy Bebop
)
Concept Design:
Christophe Ferreira
(
Hirune Hime: Shiranai Watashi no Monogatari
)
Art Director:
Clover Xie
Music:
Kevin Penkin
(
Tate no Yuusha no Nariagari
)
Producer: Taiki Sakurai (Netflix), Justin Leach (Qubic Pictures), Andy Tsao (CGCG), You Shang (Nice Boat Animation)
Source:
Comic Natalie

RSS Feed