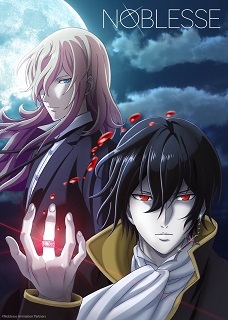 Crunchyroll revealed the main cast, staff, the first promotional video, and a teaser visual (pictured) for the anime adaptation of
Jae-Ho Son
and
Gwang-Su Lee
's
Noblesse
manhwa on Thursday. The anime series will premiere on Crunchyroll in October 2020.
Cast
Cadis Etrama Di Raizel:
Tarusuke Shingaki
(
Noblesse: Awakening
)
Frankenstein:
Daisuke Hirakawa
(
Dance with Devils
)
M-21:
Kousuke Oonishi
(
Fairy Tail: Final Series
)
Han Shinwoo (Yusuke Tashiro):
Ryouta Iwasaki
(
Boku no Hero Academia 3rd Season
)
Woo Ik-Han (Manabu Kase):
Youhei Hamada
(
Beelzebub-jou no Okinimesu mama.
)
Staff
Chief Director:
Shunsuke Tada
(
Kuroko no Basket
,
Tsubasa: Shunraiki
)
Director:
Yasutaka Yamamoto
(
Hinomaruzumou
,
Jitsu wa Watashi wa
)
Series Composition:
Sayaka Harada
(
Code:Realize - Sousei no Himegimi
,
Uragiri wa Boku no Namae wo Shitteiru
script)
Character Design, Chief Animation Director:
Akiharu Ishii
(
Gunjou no Magmell
,
Blood+
)
Studio:
Production I.G
(
Kabukichou Sherlock
,
B: The Beginning
)
Planning:
Sola Entertainment
Synopsis
Within an abandoned building in South Korea lies a white coffin, from which rises Cadis Etrama Di Raizel "Rai"—an unimaginably beautiful, dignified, and noble man. Awakening in this unknown time, Rai must seek out someone he can trust—his loyal companion, Frankenstein. To begin with, Rai attempts to blend into human society by transforming his old-fashioned clothing into the pristine blazer of the nearby Ye Ran High School. As it turns out, the principal of the school is his servant Frankenstein.
After slumbering for the past 820 years, Rai requires Frankenstein's help to adapt to the current age, so Frankenstein enrolls him as a new student in order to help him understand modern society and experience a normal life. Frankenstein's plans, however, soon go awry not only because of the problems stemming from modern society, but also unresolved conflicts from him and his master's troubled past. Left with no other choice, Rai must resort to using his mysterious power to protect those he holds dear. [Written by MAL Rewrite]
The supernatural action manhwa began in
Naver Webtoon
(now Line Webtoon) in December 2007 and concluded last January. Naver began
releasing
the chapters in English in June 2014.
Noblesse
has garnered a cumulative views of 4.6 billion worldwide.
South Korean animation production company
Studio Animal
produced an
original video anime
in December 2015. An original net anime titled
Noblesse: Awakening
by Production I.G streamed on Crunchyroll and YouTube in February 2016, adapting the first season of the manhwa.
PV
Source:
Crunchyroll
Update August 14
Line Digital Frontier, operator of the webcomic portal Line Manga, opened an official website for the anime series on Friday and confirmed its Japanese broadcast this October. The website revealed the chief director (added above) and the
Noblesse: Awakening
original video anime as episode zero.
Noblesse: Awakening
Note: The video is region-locked; click here for an alternative link.
Official site:
https://noblesse-anime.com/
Official Twitter: @
noblesse_jp
Source:
PR Times
Noblesse
on MAL

RSS Feed