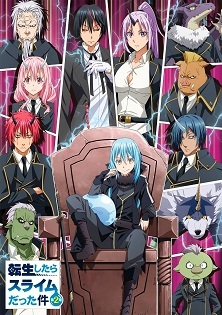 The official website of the
Tensei shitara Slime Datta Ken
(
That Time I Got Reincarnated as a Slime
) anime series announced on Sunday that its
second season
will air in two cours. The first half will debut in October 2020, with the second half in April 2021. The website also revealed the first promotional video.
Bandai Namco Arts simultaneously announced a television anime adaptation of
Shiba
's
Tensura Nikki: Tensei Shitara Slime Datta Ken
(
The Slime Diaries: That Time I Got Reincarnated as a Slime
) spin-off manga. The anime will air from January to March 2021.
Both the main television series and the spin-off anime will premiere on Tokyo MX, MBS, BS11, TV Aichi, TV Hokkaido, TVQ Kyushu Broadcasting, Tochigi TV, and Gunma TV. This marks nine consecutive months of new
Tensei shitara Slime Datta Ken
anime installments that will broadcast on television. The first season will begin rerunning on the aforementioned channels—with the exception of Tokyo MX and MBS—on April 14.
Synopsis (Tensura Nikki)
"Dear diary... I got reincarnated as a slime."
Even in another world, lives aren't always on the line. There's plenty of work to be done, from feeding the community and forging the items the community needs; as well as plenty of play ...and hijinks throughout! Join Rimuru and friends as they kick back and enjoy their daily lives. (Source: Kodansha Comics)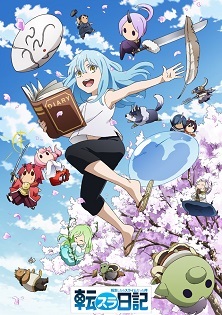 Staff (Tensura Nikki)
Director: Yuuji Haibara (
Hoshiai no Sora
CG director)
Assistant Director: Tsutomu Kasai (
Rewrite
animation producer)
Series Composition: Kotatsumikan
Character Design: Risa Takai (
Strike the Blood
animation director), Atsushi Irie (
Knight's & Magic
prop design)
Art Director:
Ayumi Satou
(
Sakura Quest
)
Color Design:
Maki Saitou
(
Tensei shitara Slime Datta Ken
)
Photography:
Chiptune
Music:
Ron
(
Hai to Gensou no Grimgar
)
Voice cast from the main television anime will reprise their roles in the spin-off.
Kodansha's
Monthly Shounen Sirius
magazine began serializing the spin-off manga in April 2018. The third volume went on sale on November 8 last year. Kodansha Comics licensed the manga in English in July 2019 and
published
the second volume on September 10. The manga has a cumulative 500,000 copies of its compiled volumes in print.
The television anime is based on
Taiki Kawakami
's
manga adaptation
of
Fuse
and
Mitz Vah
's
adventure fantasy novel series
, which aired in 24 episodes in Fall 2018. Crunchyroll simulcast the anime as it aired in Japan, while Funimation streamed an English dub. The latter also released the anime on home video in two installments on
October 1 last year
and
February 4
.
PV (Second Season)
PV (Spin-off)
Official site:
https://www.ten-sura.com/anime/tensura-nikki
Source:
Moca News
Tensei shitara Slime Datta Ken 2nd Season Part 2
,
Tensura Nikki: Tensei Shitara Slime Datta Ken
on MAL

RSS Feed