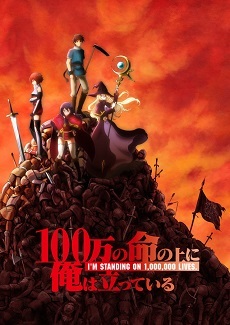 An official website opened for a television anime adaptation of
Naoki Yamakawa
and
Akinari Nao
's
100-man no Inochi no Ue ni Ore wa Tatteiru
(
I'm Standing on a Million Lives
) manga on Tuesday, scheduled to air in October 2020. The website also revealed the main cast, staff, a teaser promotional video, and the first key visual (pictured).
Synopsis
Yotsuya Yuusuke along with his classmates Shindou Iu and Hakozaki Kusue have been transported to a strange and unknown world inhabited by mythological creatures. As soon as they arrive, they meet somebody calling himself the Game Master who then grants them a time-limited quest. To aid them in this quest, he also bestows Shindou and Hakozaki with the roles of a Magician and a Warrior while Yotsuya is randomly granted the role of... a Farmer?!
This is how a hectic life of adventuring began for three students who now have no choice, but to complete random quests for several phases in the fantasy world if they want to stay alive and protect the real world from the demons and monsters they encounter. (Source: MU)
Cast
Yuusuke Yotsuya:
Yuuto Uemura
(
Bungou Stray Dogs
)
Iu Shindou:
Risa Kubota
(
Konohana Kitan
)
Kusue Hakozaki:
Azumi Waki
(
Sewayaki Kitsune no Senko-san
)
Yuka Tokitate:
Makoto Koichi
(
Egao no Daika
)
Staff
Director: Kumiko Habara (
Angolmois: Genkou Kassenki
assistant director,
Bishoujo Senshi Sailor Moon Crystal
episode director)
Series Composition:
Takao Yoshioka
(
Shichisei no Subaru
)
Character Design: Eri Kojima (
Carole & Tuesday
animation director),
Toshihide Masudate
(
Uchi no Ko no Tame naraba, Ore wa Moshikashitara Maou mo Taoseru kamo Shirenai.
)
Sub-character Design: Yuuko Ooba (
Cutie Honey Universe
prop design)
Color Design: Aki Watanabe (
Isekai wa Smartphone to Tomo ni.
)
Art Director:
Satoshi Shibata
(
Black Bullet
)
Director of Photography: Yukina Nomura (
Youjo Senki Movie
photography)
Sound Director:
Satoshi Yano
(
Lord of Vermilion: Guren no Ou
)
Music:
Ken Itou
(
Handa-kun
)
Music Production:
Lantis
Studio:
Maho Film
Yamakawa began serializing the manga with artworks by Nao in
Bessatsu Shounen Magazine
in June 2016. Kodansha will ship the ninth volume on March 9. Kodansha Comics licensed the manga in English last June for both digital and physical release. The fifth volume
went on sale
on January 21, with the sixth volume
planned
for a March 17 release.
Teaser PV
Official site:
http://1000000-lives.com/
Official Twitter: @
1000000_lives
Source:
Moca News
100-man no Inochi no Ue ni Ore wa Tatteiru
on MAL

RSS Feed