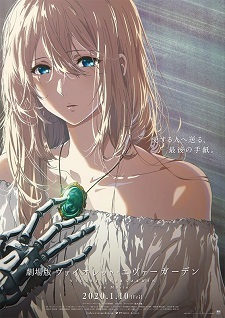 The official website of the
Violet Evergarden
anime film
revealed a key visual (pictured) on Friday.
Kyoto Animation
posted a teaser trailer for the film, which will open in theaters in Japan on January 10, 2020.
Synopsis
What does "I love you" mean?
My important person, who gave me love and taught me about it.
I can't see you, even if I want to.
Eternally.
My very, very important person, who I let go.
Her name is Violet Evergarden, and she works with letters. It has been years since the war has ended and left people with very, very deep wounds. The world returns to a more peaceful state gradually, and new technology is being developed and guides people into the future. Violet Evergarden keeps thinking of the person who means the most to her while she tries her best to live a life in this world without him. One day, she finds a letter... (Source: Manga.Tokyo)
The website also announced a new side story for the series titled
Violet Evergarden Gaiden: Eien to Jidou Shuki Ningyou
(
Violet Evergarden Side Story: Eternity and the Auto Memories Doll
). The side story will have a two-week limited screening in select theaters from September 6–19.
Haruka Fujita
, the series director for the television anime, is returning to helm the anime.
The anime film is planned for a simultaneous worldwide release.
Taichi Ishidate
will reprise his role as the director for the film. Lead staff members returning from the television anime include screenwriter
Reiko Yoshida
, character designer and chief animation director
Akiko Takase
, and music composer
Evan Call
.
The
television anime adaptation
of
Kana Akatsuki
and Akiko Takase's
awarding-winning novel
premiered in Winter 2018. Netflix streamed the series simultaneously in some territories, including Japan, the Philippines, the United Kingdom, Canada, and later, in the United States in April 2018. The fourth and final Blu-ray and DVD volume bundled a
special episode
in July 2018, which debuted on Netflix worldwide in October of the same year.
Teaser Trailer
Source:
Anime! Anime!
Violet Evergarden Gaiden: Eien to Jidou Shuki Ningyou
on MAL

RSS Feed