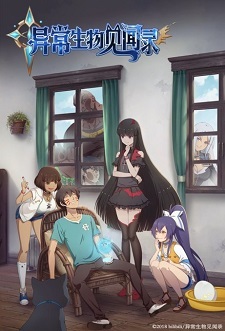 An official website has launched and announced that a web novel from China
Yichang Shengwu Jianwenlu
(
The Record of Unusual Creatures
) will get animation adaptation. The animation will be a collaboration between
MAGES.
and
bilibili
, and is planned to stream on bilibili this spring while it will broadcast on Japanese TV this year under the title
Ijou Seibutsu Kenbunroku
, the Japanese pronunciation of the original title.
Synopsis
Yoshihito is a 23 years old jobless and no girlfriend living in the village countryside of somewhere north. In order to make a living, he decided to empty a room of his house. The first person who decides to live there is a bit silly, tomboyish girl Lili. While directing her to check on the environment she is about to stay, they were attacked by a vampire called Vivian. Then he realized that Lili is not a human but a werewolf. After seeing both of the creatures fighting over silly matters, the three ended up living together. Yoshihito then was suddenly scouted by an empire maintaining the order of multiverse, and became an examiner in training. He became an investigator whose job is to welcome those abnormal livings and maintain them. While Yoshihito wonders between the world he lives and other dimensions with those abnormal living civilians, he gets to know various culture, solving the mysteries and cases around the universe.
Staff
Chief Director: Shenlanren
Director:
Yukio Nishimoto
(
Ongaku Shoujo
(TV))
Character Design:
Children's Playground Creative Inc.
Producer: Children's Playground Media Inc.
Studio: MMT Technology Co.,Ltd
Editing:
REAL-T
Production: bilibili
Opening Theme Song Performer:
Alfakyun.
Ending Theme Song Performer:
Purely Monster
Cast
Yoshihito:
Jou Mikami
Lili:
Aya Suzaki
(
Himote House
)
Vivian:
Yuuko Natsuyoshi
An AnimeJapan 2019 stage for the series will be held on March 24. All of the main cast members that announced so far will appear for a talk show while revealing more cast members and theme song titles.
The web novel has been serialized by Yuan Tong since July 2014. There are more than 1774 chapters as of
April 2018
. The novel is on second place of Sci-Fi section of Baidu Popular Novel Ranking.
PV
Note: There is no official YouTube mirror available. Please click here to view the promotional video
.
Chinese Streaming:
https://www.bilibili.com/bangumi/media/md4313642/
Japan official site:
http://ijouseibutsu.com/
Source:
Comic Natalie
Yichang Shengwu Jianwenlu
on MAL

RSS Feed