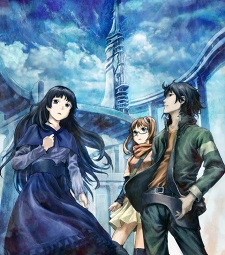 An official website opened for the
previously announced
original anime series
Project D
on Monday. Formally titled
RErideD: Tokigoe no Derrida
(
RErideD: Derrida, who leaps through time
), the anime will be directed by
Takuya Satou
(
Steins;Gate
) and feature original character designs by
Yoshitoshi Abe
(
Serial Experiments Lain
). The series is scheduled to broadcast this year.
Synopsis
The year is 2050. Young engineer Derrida Yvain became famous thanks to his contribution with the development of "Autonomous Machine DZ" at Rebuild, the manufacturing company founded by his father. One day, Derrida and his colleague Nathan find a serious flaw in the "DZ"s and try to warn their boss but are ignored. Although aware of the danger, they reluctantly decide to put off taking any measures and go to Nathan's daughter Mage's birthday party.
Next day, after spending a peaceful time, Derrida and Nathan are suddenly attacked by unknown forces. At the end of escape, Derrida falls into a cold sleep machine and 10 years later, he wakes up to a devastated world in the middle of a war. Being attacked by a group out of control "DZ"s, Derrida almost gives up but he recalls Nathan's last words:
"Take care of Mage."
Despite the harsh fate that has fallen upon him, Derrida sets off to seek Mage.
Beyond the time, we reunite—This is the story of a journey for hope. (Source: Official site, edited)
Staff
Series Composition:
Kenji Konuta
(
Blood Lad
)
Character Design:
Kouji Watanabe
(
Date A Live Movie: Mayuri Judgment
)
Music:
Maiko Iuchi
(
Toaru Majutsu no Index
)
Sound Director:
Yukio Nagasaki
(
B: The Beginning
)
Music Production:
Kadokawa
Sound Production:
Half H.P Studio
Studio: Geektoys
Production: RErideD partners
Cast
Derrida Yvain:
Kensho Ono
(
Aldnoah.Zero
)
Mage Bilstein:
M.A.O
(Mao Ichimichi) (
Gokukoku no Brynhildr
)
Yuri Dietrich:
Himika Akaneya
(
Shuumatsu no Izetta
)
PV
Official site:
http://rerided.com/
Official Twitter: @
Derrida_2060
Source:
Moca News

RSS Feed