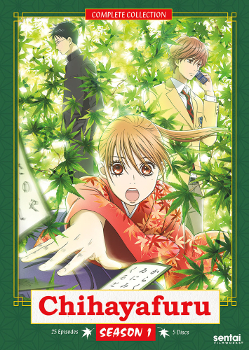 American anime licensor
Sentai Filmworks
has announced the English dub cast for
Chihayafuru
on Friday.
Shannon Reed
will direct the dub, with Joey Goubeaud and
Brittany Deans
serving as assistant director. Javier Lopez,
Kyle Jones
, and Joel McCray are penning the script. The first season will be released on a Blu-ray and DVD volume, as well as a premium box set on September 12.
Cast
Chihaya Ayase:
Luci Christian
Taichi Mashima:
Adam Gibbs
Taichi (Young):
Chelsea Ryan McCurdy
Arata Wataya:
Blake Shepard
Arata (Young):
Shannon Emerick
Kanade Ooe:
Juliet Simmons
Yuusei Nishida:
Greg Ayres
Tsutomu Komano:
Bryson Baugus
Taeko Miyauchi:
Vicki Barosh
Shinobu Wakamiya:
Kira Vincent-Davis
Michiru Horikawa:
Melissa Molano
Chieko Ayase, Daisuke, E-Chan:
Rachel Landon
Chitose Ayase:
Carli Mosier
Kenji Ayase:
Chris Gibson
Reiko Mashima:
Allison Sumrall
Rika Mashima:
Tiffany Terrell
Mari Wataya:
Katelyn Barr
Hideo Harada:
James Belcher
Hiro Kinashi, Fukasaku: Kyle Jones
Yasuda:
Andrew Love
O.Igarashi: Javier Lopez
Yuu:
Natalie Rial
Kitano: Steve Finley
Akito Sudou:
Mike Yager
Nayuta Amakasu:
Brittney Karbowski
Futoshi Mochida, Daijirou Ise:
Jack Ivy
Takemura Keiichi, Kenta Murao, Takuma:
Scott Gibbs
Yuuta Murao, Ryuugasaki:
Johnny Delacerda
Shinichi Murao:
Adam Noble
Hiroshi Tsuboguchi:
Benjamin McLaughlin
Shibata:
Ned Gayle
Isamu Kuriyama:
Ty Mahany
Sakura Kanai:
Hilary Haag
Anchor, Snowmaru:
David Wald
Tsubaki Kanai, Ririka's Mom, Sano:
Stephanie Wittels
Ririka Tachikawa:
Emily Neves
Yumi Yamamoto:
Courtney Lomelo
Kyouko Yamashiro: Kaoru Bertrand
Taichi's Girlfriend:
Shanae'a Moore
Watanbe, Anchor:
John Gremillion
Chihayafuru
adapts the
manga
drawn by
Yuki Suetsugu
that has been serialized since December 2007. Produced by
Madhouse
, the first and
second season
aired in Fall 2011 and Winter 2013, respectively, and were simulcast by
Crunchyroll
.
PV
Source:
Official site

RSS Feed