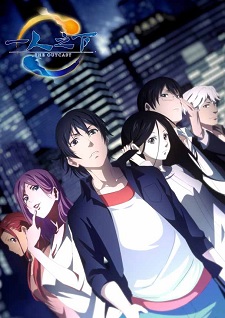 Haoliners Animation League
, a Shanghai-based animation production and distribution company, has announced that an animated series titled
Hitori no Shita
(
The Outcast
) will air on Tokyo MX in Summer 2016. The series will air on Saturdays at 9:00 p.m. beginning July 9.
Hitori no Shita
adapts the web manhua
Yi Ren Zhi Xia
, which is published on the online portal QQ.com. The series has been publishing since February 2015 and has 300 million reported views. The portal currently lists 164 chapters in the series.
Hitori no Shita
is the second production from Haoliners, after
Reikenzan: Hoshikuzu-tachi no Utage
, to be aired in Japan.
Synopsis
One day, Zhang Chulan is attacked by zombies in a graveyard. In the midst of that situation, he saves the life of a girl, throwing the kitchen knife in his hand in order to kill the enemies. The girl tells Chulan, who is relieved, to face his hardships head on and leaves. However, Chulan later sees that girl again at his university. From that moment, Zhang Chulan's destiny begins to move. There will be strangers with special powers appearing one by one, with battles involving those abilities. Each episode will bring a new mystery to light.
Cast
Zhang Chulan:
Atsushi Tamaru
(
Gakusen Toshi Asterisk
)
Zhang Chulan (youth):
Yuuko Iida
(
Aiura
)
Xu Baobao:
Saori Hayami
(
Akagami no Shirayuki-hime
)
Xu San:
Kenji Nojima
(
Himouto! Umaru-chan
)
Xu Si:
Shinnosuke Tachibana
(
Kamisama Hajimemashita
)
Yuan:
Kappei Yamaguchi
(
Ranma ½
)
Liu Yanyan:
Ayaka Asai
(
Hibike! Euphonium
)
Zhang Xilin:
Tadashi Miyazawa
(
Coppelion
)
Zhang Yude:
Kanehira Yamamoto
(
Ansatsu Kyoushitsu
(TV))
Xia He:
Yoko Hikasa
(
IS: Infinite Stratos
)
Lü Liang:
Marie Miyake
(
Gin no Saji
)
"Sandstorm" Yan:
Yumi Hara
(
Tasogare Otome x Amnesia
)
Zhang Lingyu:
Kousuke Toriumi
(
Yowamushi Pedal
)
Staff
Original Creator: Tencent
Director: Wang Xin
Assistant Director: Kazuhiro Toda, Mitsuo Mori
Chief Animation Director, Character Design: Kiriponta
Color:
Arisa Komatsu
(
Uchuu Patrol Luluco
)
Art Setting, Art Board:
Senju Kobo
,
Shin Watanabe
(
Robot Girls Z
)
Photography: YORIU, Ashirogi Muto
Director of Photography: Hayao Sumitomo
Planning: Li Haoling
Executive Producer: Shanrou Gaifan
Producer: Lu Xingcheng
Desk: Yu Gi-seok (NAMU Animation)
Setting Production: Masaki Miyabe, Kaon Sou
Production Manager: Yuu Tateishi
Studio: Pandanium × NAMU Animation
Official site:
http://www.hitorinoshita.com/
Official Twitter: @
hitorinoshita
Source:
Mantan Web
Hitori no Shita: The Outcast
on MAL

RSS Feed