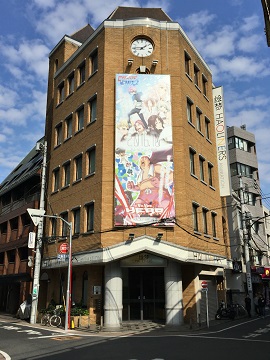 On one breezy weekend in February, employees at the animation studio
Emon
were busy setting up new workstations in their Kichijoji office at the edge of Tokyo. The five-story building houses the entire anime production operation at the Japan branch of Shanghai-based animation company
Haoliners
.
Since Haoliners was established in 2013 by Li Haolin, a rising animator who had not yet turned 30 at the time, it has become one of China's leading domestic animation studios. It is backed by some of the leading players in the streaming content market, such as Internet giant Tencent and China's largest online video platform iQiyi.
While China has traditionally been a destination of outsourced work for the Japanese anime industry, that trend is starting to shift in the opposite direction. "There is demand from the Chinese side," says Widad Noureddine, Emon's general manager of international media operations. "Tencent has a big catalog of webcomics which are very popular, and they would love to see these works adapted into animation."
Talent has mushroomed in the Chinese animation industry in recent years, and producers now believe they are ready to take the charge in animation production. Emon, Japan's first animation studio by a Chinese production company, was established in response to this market shift. "If you want anime, you have to produce it in Japan," so goes the mantra, according to Widad.
The
Nikkei Asian Review
reports the Chinese animation market is projected to reach 150 billion yuan (US$21.7 billion) this year, a figure three times its size in 2010 and also larger than the Japanese market. According to 2015 data from the
Association of Japanese Animations
, Chinese buyers account for more than half of the year-over-year increase in industry revenue generated from overseas anime license sales.
An executive with a Beijing affiliate of
Dentsu
, Japan's largest advertising agency and a major anime investor, explains in a recent report by
The Wall Street Journal
that the crackdown on piracy has shifted the landscape of China's anime market in a positive direction. Government enforcement of copyright laws has resulted in producers and licensors seeing increased animation sales.
Reduction in piracy has made anime licenses more attractive to local buyers such as streaming sites Youku Tudou, Tencent Video, and Bilibili. The industry also benefits from the fact that streamed animation is not subject to the same quotas and content reviews put in place for foreign live-action films and television shows. At the same time, however, industry insiders warn this boom could end if Chinese media regulators decide to change their stance.
License costs are also on the rise with increasing competition among video streaming sites. For example,
The Wall Street Journal
estimates that one episode of
Gintama
sells for approximately US$100,000. This is why Tencent and other media publishers are beginning to invest as joint stakeholders in Japanese productions in order to avoid bidding wars. At the same time, Tencent can also develop its own webcomic properties with Japanese talent not only for the enjoyment of Chinese audiences, but also for others.
With the establishment of a Tokyo office, Haoliners has been able to produce some of its titles entirely in Japan. Other works, such as
Hitori no Shita: The Outcast
, are mainly planned and animated in Japan but through collaboration with studios in China and South Korea. "Right now, the only 100 percent Chinese product is
To Be Hero
, which is created by Li Haolin," Widad reveals.
As Chinese companies increase investment in anime productions, they still face obstacles in these new ventures due to negative perceptions of Chinese-made works. "The most challenging thing is dealing with the image that Chinese people only copy," Widad admits. "It's true that the origin of the works is not Japanese, but they are animated by Japanese people, in the Japanese way, at a Japanese studio."
Given the anime industry's current challenges, such as the shortage of animators, Widad believes Chinese co-productions can help revitalize support for creators. "Japanese people keep doing the same stories every time. The characters may be different, but they are still the same pattern of stories. I think that's where the Chinese market can do something different."
Animation Productions Supported by Haoliners
Original reporting by arsonal for MyAnimeList. A complete transcript of the interview with Widad Noureddine, Emon's general manager of international media operations, will be available at the end of May.
Related Database Entries
| | |
| --- | --- |
| Anime: | Huyao Xiao Hongniang, Reikenzan: Hoshikuzu-tachi no Utage, Gin no Guardian, Reikenzan: Eichi e no Shikaku, Hitori no Shita: The Outcast, Huyao Xiao Hongniang: Yue Hong, Ling Qi, Cheating Craft, Bloodivores, To Be Hero, Kenka Banchou Otome: Girl Beats Boys, Centaur no Nayami, , Tu Bian Ying Xiong Leaf, Hitori no Shita: The Outcast 2nd Season, |

RSS Feed