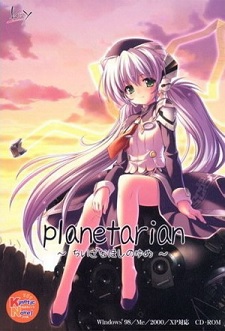 Visual novel publishing company
Visual Art's
has opened an official website for an anime adaptation of
Planetarian: Chiisana Hoshi no Yume
, a "kinetic novel" originally published by its
Key
label in 2004.
David Production
is producing the
Planetarian
anime for release later in 2016. A promotional video was released on Friday as part of April Fools' Day celebrations by Visual Art's. The video features narration by
Daisuke Ono
, who voices the protagonist in the visual novel.
Further information on the anime adaptation will be announced at an event in Akihabara Radio Kaikan, which will also be streamed on a Niconico Live, on April 15. Sekai Project released an English translation of the
Planetarian
visual novel in 2014. It is also available on the Steam digital distribution platform.
Synopsis
It is thirty years after the failure of the Space Colonization Program. Humanity is nearly extinct. A perpetual and deadly Rain falls on the Earth. Men known as "Junkers" plunder goods and artifacts from the ruins of civilization. One such Junker sneaks alone into the most dangerous of all ruins—a "Sarcophagus City." In the center of this dead city, he discovers a pre-War planetarium. And as he enters he is greeted by Hoshino Yumemi, a companion robot. Without a single shred of doubt, she assumes he is the first customer she's had in 30 years. She attempts to show him the stars at once, but the planetarium projector is broken. Unable to make heads or tails of her conversation, he ends up agreeing to try and repair the projector... (Source: Steam)
PV
Official site:
http://www.planetarian-project.com/
Source:
Hachima Kikou
Planetarian: Chiisana Hoshi no Yume
on MAL

RSS Feed