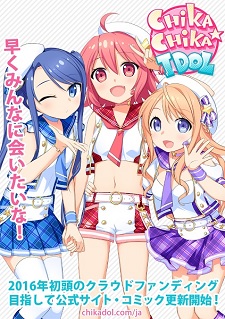 Symphonium, an animation planning company founded in July 2015 and based in Tokyo, announced on Monday that it is launching an original idol animation project using CG animation. The company plans to launch a crowdfunding campaign in Japan and the United States in 2016 in order to help finance the project.
Titled
Chika☆Chika Idol
, the work follows a trio of girls who form an underground (chika) idol group named Pâtisserie. Underground idols are idols who do not belong to any agency and who usually perform at live shows rather than appearing on television or magazines.
Anime director
Hiroshi Nishikiori
(
Toaru Majutsu no Index
), who is also a founding director of the company, will lead the project.
F_sik
, a company specializing in 2D and 3D animation, will produce the CG work.
Nishikiori and co-founder, former adult manga magazine editor Takeshi Honjou intend to explore new production methods such as crowdfunding, CG animation, streaming delivery, and virtual reality for the company's projects. According to the release, crowdfunding will allow the producers to include special benefits for a Blu-ray release.
Cast
Tenka Akasaki:
Marika Kouno
(
Sore ga Seiyuu!
)
Sumi Yuuki:
Yuuki Kuwahara
(
Himegoto
)
Abigail "Abby" Williams:
Rika Tachibana
(
Ore ga Ojousama Gakkou ni "Shomin Sample" Toshite Gets♥Sareta Ken
)
Hisame Nagasawa:
Ayane Sakura
(
Boku wa Tomodachi ga Sukunai
)
Yatarou:
Yuri Yamaoka
(
Tamako Market
)
Official site:
http://www.chikadol.com/
Source:
Animate.tv

RSS Feed