According to the official Twitter account, the fifth installment in the
Kono Danshi
series,
Kono Danshi, Mahou ga Oshigoto desu.
, will premiere in 2016. It will be the first
KonoDan
title to be produced for TV broadcast.
Soubi Yamamoto
, the director of the series' previous OVAs, will return for the new TV anime.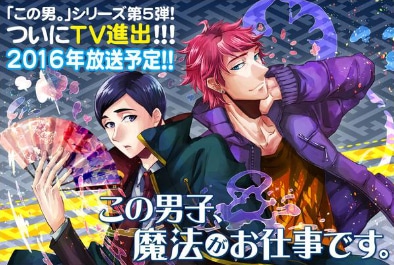 The previous
Kono Danshi
titles each consisted of different character stories, but kept within the same shounen ai theme. The first OVA,
Kono Danshi, Uchuujin to Tatakaemasu.
, and the second OVA,
Kono Danshi, Ningyo Hiroimashita.
, were released in 2011 and 2012, respectively. The third installment,
Kono Danshi, Akunin to Yobaremasu.
, was a drama CD released in 2013. The last OVA, titled
Kono Danshi, Sekika ni Nayandemasu.
was released in 2014.
Official site:
http://www.konodan.com/wizard
Source:
Official tweet
News submitted by
Shadow-Chan
Kono Danshi, Mahou ga Oshigoto Desu.
on MAL

RSS Feed