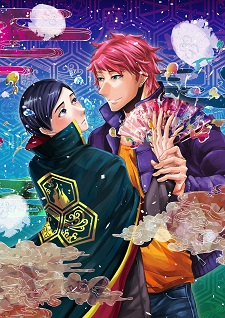 The official website of the upcoming BL (boys' love) TV anime
Kono Danshi, Mahou ga Oshigoto Desu.
has revealed a key visual, along with the cast members of the series. Director
Soubi Yamamoto
, who helmed previous
Kono Danshi
anime projects, will return to direct the latest installment.
Cast
Chiharu Kashima:
Yuuki Ono
(
Kuroko no Basket
)
Toyohi Utsumi:
Taku Yashiro
(
Dungeon ni Deai wo Motomeru no wa Machigatteiru Darou ka
)
Synopsis
Chiharu Kashima is the captain of the Wizard Bureau's Crisis Countermeasures Division. One day, he meets a friendly man named Toyohi Utsumi at the bar he frequents. Soon after the meeting, Utsumi confesses, "I've fallen in love with Kashima-san." Kashima is taken aback, but the two soon begin to spend more time together.
Source:
Ota☆Suke
Update November 26
It has been announced that the anime will be airing on Ultra Super Anime Time on February 5, 2016 with a total of 4 episodes.
Source:
Ota☆Suke

RSS Feed