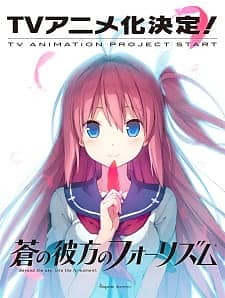 Ao no Kanata no Four Rhythm
(
Aokana
), a TV anime adaptation of the adult visual novel of the same name, has been announced to air in Winter 2016. The cast will be announced at a later date.
The original PC game is developed by sprite, which also developed
Koi to Senkyo to Chocolate
. The latter was adapted into a
TV anime
in 2012.
Aokana
won the Grand Prize and User's Choice Award in the 2014 Moe Game Awards. A PlayStation Vita version is scheduled for release in 2016.
Director:
Fumitoshi Oizaki
(
Etotama
)
Series Composition:
Reiko Yoshida
(
Joukamachi no Dandelion
)
Studio:
Gonzo
Synopsis
In a world where flying is as simple as riding a bicycle, there is a popular sport called "Flying Circus." The protagonist once had a bright future ahead of him in that field of sports, but due to an overwhelming defeat in addition to a certain other reason, he has left that field. However, he meets the transfer student Asuka Kurashina and regains his passion as he teaches her how to fly. With his situation changed, he participates once again in the Flying Circus. Just how high will he be able to fly this time with Asuka at his side? This is a love story about the two who met while soaring in the skies, and the friends surrounding them. (Source: VNDB)
Source:
Otakomu
Previous related news:
Adult Game 'Ao no Kanata no Four Rhythm' Gets TV Anime

RSS Feed