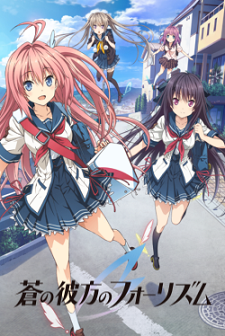 An official website has opened for the Winter 2016 anime
Ao no Kanata no Four Rhythm
(
Four Rhythm Across the Blue
), revealing a new key visual and the cast of the series.
The series is an adaptation of the visual novel by sprite. Also known by the short name
Aokana
, the visual novel won the Grand Prize and User's Choice Award in the 2014 Moe Game Awards. A PlayStation Vita version is scheduled for release in 2016 featuring the same cast as the anime series.
Studio
Gonzo
will animate the series under the direction of
Fumitoshi Oizaki
(
Etotama
). Animation character designs were created by
Keiya Nakano
(
Escha & Logy no Atelier
), while
Reiko Yoshida
(
Romeo x Juliet
) is composing the series scripts.
Cast
Asuka Kurashina:
Misato Fukuen
(
Strike Witches
)
Misaki Tobisawa:
Azumi Asakura
(
The iDOLM@STER
)
Mashiro Arisaka:
Nozomi Yamamoto
(
Absolute Duo
)
Rika Ichinose:
Madoka Yonezawa
(
Daitoshokan no Hitsujikai
)
Official site:
http://www.aokana-anime.com/
Source:
Ota☆Suke

RSS Feed