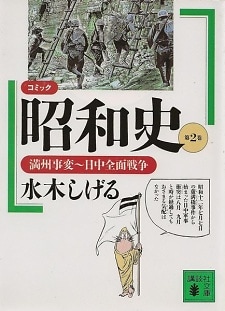 The second and third volume of Drawn & Quarterly's English release of
Shigeru Mizuki
's semi autobiographical manga
Comic Showa-Shi
, titled
Showa 1939-1944
and
Showa 1944-1953: A History of Japan
, won this years' manga-exclusive Eisner Awards for "Best U.S. Edition of International Material—Asia" category.
The nominees for the Asia category include
All You Need Is Kill
by
Takeshi Obata
,
Hiroshi Sakurazaka
,
Ryousuke Takeuchi
,
Yoshitoshi Abe
Master Keaton
by
Naoki Urasawa
,
Hokusei Katsushika
,
Takashi Nagasaki
One Punch-Man
by
ONE
,
Yusuke Murata
Ookami Kodomo no Ame to Yuki
by
Mamoru Hosoda
Shibou to Iu Na no Fuku wo Kite
by
Moyoco Anno
Shigeru Mizuki, known for
GeGeGe Kitaro
, wrote
Comic Showa-Shi
accounting his life experiences during the Showa period. The manga was originally published under Kodansha in Japan. It received the Kodansha Manga Award in the General category in 1989.
Publisher Drawn & Quarterly licensed the manga in 2013 for English release under the title
Showa: A History of Japan
. The first volume, titled
Showa 1926-1939
, was released in October 2013 and covered the militarization of Japan and the lead-up to the Second World War. The second volume,
Showa 1939-1944
, was released in May 2014 and recounts the final moments that ignited the Second World War, and how harsh life in Japan was during its militarized era.
Showa 1944-1953
, the third and final volume, was released in November 2014 and covered the final years of the Pacific War and the war's aftermath for Mizuki and the Japanese people.
The Will Eisner Comic Awards, or the Eisner Award, are achievements that recognize creativity in the American comic book industry. The award recognize greatness in several categories, including categories such as Best Writer/Artist, Best New Series, and Best Publication for Young Adults. Held at the San Diego Comic-Con International, the first awards took place in 1988.
Source:
Official site

RSS Feed