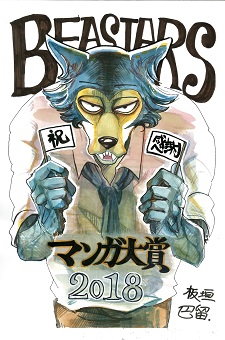 The 2018 award list for the 11th edition of Manga Taisho, an annual Japanese manga award, has been announced. The award is decided by a panel of bookstore clerks who select the best title from manga series which have fewer than 8 volumes and have released at least one volume in the last year. The first voting round decides the nominees, and the second decides the final ranking.
*1. 78 pts 
Beastars
[drama, shounen, slice of life, psychological]
by
Paru Itagaki
*2. 68 pts 
Warera Contactee
[Seinen]
by
Rui Morita
*3. 56 pts Nagi no Oitoma
comedy, josei, romance, slice of life
by Misato Konari
*4. 52 pts 
Dungeon Meshi
[comedy, fantasy, seinen]
by
Ryoko Kui
*5. 47 pts 
Fumetsu no Anata e
[drama, shounen, supernatural]
by
Yoshitoki Ooima
*6. 46 pts 
Runway de Waratte
[drama, shounen]
by
Kotoba Inoya
*7. 42 pts 
Tongari Boushi no Atelier
[fantasy, magic, seinen]
by
Kamome Shirahama
*8. 40 pts 
Made in Abyss
[adventure, drama, fantasy, sci-Fi]
by
Akihito Tsukushi
*9. 38 pts Eizouken ni wa Te wo Dasu na!
[adventure, school life, seinen]
by Sumito Oowara
10. 28 pts 
Eiga Daisuki Pompo-san
[comedy, drama]
by Ningen Plamo
11. 26 pts 
Yakusoku no Neverland
[mystery, horror, sci-fi, shounen]
by
Posuka Demizu
and
Kaiu Shirai
12. 13 pts 
Golden Gold
[supernatural, seinen]
by
Seita Horie
Source:
Comic Natalie
←
Previous Year

RSS Feed