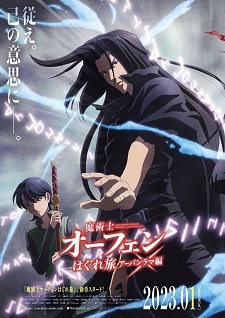 The official website of the
Majutsushi Orphen Hagure Tabi
(
Sorcerous Stabber Orphen
) anime series announced a third season on Monday, revealing additional cast, staff, a teaser visual (pictured), and a teaser promotional video. The new season, subtitled
Urbanrama-hen
, is set to broadcast in January 2023.
Daisuke Ono
(
Leadale no Daichi nite
) and
Shiki Aoki
(
Edens Zero
) are joining the cast as Ed and Lottecia, respectively.
Kenji Konuta
(
Servamp
) is replacing
Reiko Yoshida
for series composition. The other staff members will be reprising their respective roles.
The anime adapts
Yoshinobu Akita
's
adventure fantasy light novel series
, featuring illustrations by
Yuuya Kusaka
. Fujimi Shobo published 20 volumes between 1994 and 2003. Akita also wrote a 13-volume side story novel titled
Majutsushi Orphen: Mubou-hen
alongside the main series from 1996 to 2003. Kadokawa published the two-volume short story titled
Majutsushi Orphen: Mawari Michi
in 1997-1998.
TO Books published a ten-volume sequel novel series between 2011 and 2015. The company has since reprinted the original novel and the
Mubou-hen
side story novel in ten and seven volumes, respectively.
Studio
J.C.Staff
adapted the light novel into a
television anime
in Fall 1998, which ran for 24 episodes until March 1999. A
23-episode sequel
aired in Fall 1999.
The new television anime produced by
Studio Deen
premiered in two seasons in Winter 2020 and
Winter 2021
. Funimation simulcast both seasons in English.
Hajime Sawada
drew the
first manga adaptation
in
Monthly Dragon Junior
between 1997 and 2001. A
sequel
was published in the same magazine from 2002 to 2003.
Muraji
illustrated a
three-part manga adaptation
on Famitsu's
Comic Clear
website between 2016 and 2018. Kadokawa published the manga in five compiled volumes.
J-Novel Club licensed the light novel in English in July 2018 for digital release and published the 18th volume on August 16.
Synopsis
In a world of magic and monsters, Krylancelo Finrandi and his foster sister Azalie Cait-Sith were once promising students of sorcery, prodigies at the famous Tower of Fangs. But an experiment gone horribly wrong warps Azalie's appearance, trapping her in the form of a dragon.
Elders at the Tower—more interested in preserving their reputation rather than their students' lives—drive off the transformed Azalie and cover up the incident. Outraged, Krylancelo strikes out on his own, taking the new name of "Orphen" and vowing to return Azalie to her normal state.
Five years later, Orphen's quest has stalled. A chance encounter brings him face to face with Azalie again, but he still has no way to restore her body. And with a hostile group of sorcerers hunting her down, he may be running out of time. The past and present collide as Orphen tries to find how to save Azalie from their former teachers and friends. [Written by MAL Rewrite]
Teaser PV
Official site:
https://ssorphen-anime.com/
Official Twitter: @
orphen25_tv
Source:
Oricon News
Majutsushi Orphen Hagure Tabi: Urbanrama-hen
on MAL

RSS Feed