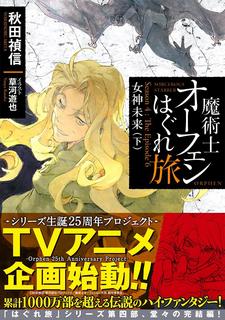 To commemorate its 25th anniversary in 2019, a website opened and revealed that light novel
Majutsushi Orphen Hagure Tabi
(
Sorcerous Stabber Orphen
) will be receiving a new TV anime project.
Synopsis
A sorcerer who was once the top student of the famous Tower of Fang, now spends his time chasing around his hopeless clients as a moneylender, at least until his client comes up with a plan to make money: marriage fraud. Unwillingly being dragged in to the plan, Orphen encounters a monster who has long been his goal since the day he left the Tower of Fang. Between those who seek to kill the monster and Orphen, giving everything to protect the monster, his lousy but peaceful days end. Trying to turn back his sister, Azalie, back to her true form leads to many more mysteries and the key to the secret to the world.
The series was written by
Yoshinobu Akita
with illustrations by
Yuuya Kusaka
. It began publishing in May 1994 and concluded in September 2003 with a total of 20 volumes. A
manga adaptation
with illustrations by
Hajime Sawada
published for a total of six volumes from December 1997 to January 2001.
Adapted by studio J.C.Staff, a television anime adaptation titled
Majutsushi Orphen
aired for a total of 24 episodes from October 1998 to March 1999. A
sequel
aired from October 1999 to March 2000 for a total of 23 episodes. Both series have been released by ADV Films in North America.
Source:
Official site

RSS Feed