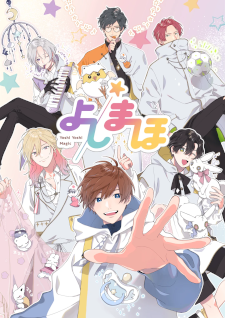 An official website opened for a media mix project titled
Yoshimaho
(
Yoshi Yoshi Magic
) on Wednesday. The project will include an anime, music, and audio dramas released on YouTube and is scheduled to premiere this June.
Synopsis
Exhausted by your daily life, you were seeking a way to heal. You wanted to be kindly praised and comforted. "Toddlers can be legally fawned over, they're so lucky..." Such thoughts were an escape from reality.
One day, you bought a blue pacifier from a general store. When you popped it into your mouth, you were engulfed by a mysterious light. Before you knew it, you were reincarnated in another world as a five-year-old child!
Cast
Koguma (Bear Cub) Class
Jun:
Kentarou Kumagai
(
A3! Season Autumn & Winter
)
Sana:
Takuya Satou
(
IDOLiSH7
)
Usagi (Rabbit) Class
Vi:
Souma Saitou
(
Tsukipro the Animation
)
Kai:
Toshiki Masuda
(
Tsukiuta. The Animation
)
Kitsune (Fox) Class
Ikkei:
Shunichi Toki
(
Wave!!: Surfing Yappe!!
)
Rou:
Tarusuke Shingaki
(
Saezuru Tori wa Habatakanai: The Clouds Gather
)
Cool Doji Danshi
(
Play It Cool, Guys
) mangaka
Kokone Nata
headlines studio
DLE
's project as the character designer.
Yuuki Takabayashi
(
Nande Koko ni Sensei ga!?
) is writing the script.
Audio for
Yoshimaho
will be recorded using a dummy head microphone for an immersive experience. The production staff hope that this—coupled with the project's concept—will create "healing content for adults."
Official site:
https://yoshimaho.com/
Official Twitter: @
Yoshimaho_PR
Source:
Comic Natalie
Yoshimaho
on MAL

RSS Feed