The 10th anniversary event of World Witches "Minna ga Ita kara Dekita Koto!" held on Sunday has announced three new anime projects for the series.
World Witches Series 501-butai Hasshin Shimasu!
will premiere next year, followed by
Dai 501 Sougou Sentou Kuukoudan Strike Witches Road to Berlin
in 2020, and
Ongakutai Witches
(tentative title) in 2021. Along with the titles, cast and staff members for the anime were also announced, most of which are reprising from the franchise's previous installments (denoted by an asterisk *).
World Witches Series: 501-butai Hasshin Shimasu!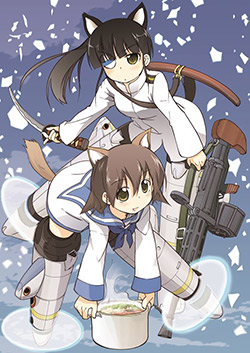 The anime will be an adaptation of
Makoto Fujibayashi
's two volume 4-koma
manga
. For the original work, the series is credited to
Humikane Shimada
and Projekt Kagonish.
Introduction
Yoshika Miyafuji joins the 501st Joint Fighter Wing, a defense unit specializing in taking down alien beings known as the Neuroi. However, in days of no invasion, she and the members of the unit are taking down day to day tasks like cooking and laundry.
Cast
Yoshika Miyafuji:
Misato Fukuen
* (
Yozakura Quartet: Hana no Uta
)
Mio Sakamoto:
Saori Seto
* (
High School DxD
)
Lynette Bishop:
Kaori Nazuka
* (
Hisone to Maso-tan
)
Perrine H. Clostermann:
Miyuki Sawashiro
* (
Wotaku ni Koi wa Muzukashii
)
Minna-Dietlinde Wilcke:
Rie Tanaka
* (
Choujigen Game Neptune The Animation
)
Gertrud Barkhorn:
Mie Sonozaki
* (
Nanbaka
)
Erica Hartmann:
Sakura Nogawa
* (
Seto no Hanayome
)
Francesca Lucchini:
Chiwa Saito
* (
Bakemonogatari
)
Charlotte E. Yeager:
Ami Koshimizu
* (
Kill la Kill
)
Sanya V. Litvyak:
Mai Kadowaki
* (
Fate/stay night: Unlimited Blade Works
)
Eila Ilmatar Juutilainen:
Ayuru Ohashi
* (
Houkago no Pleiades
(TV))
Dai 501 Sougou Sentou Kuukoudan Strike Witches Road to Berlin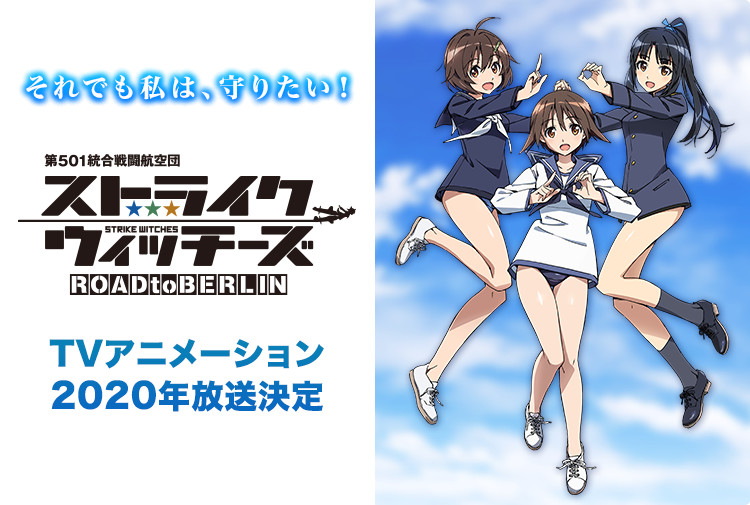 A new anime project of the mixed media franchise has been greenlit with main key visual, staff members, and first promotional video released. The cast members announced for
501-butai Hasshin Shimasu!
will be reprising their roles for this anime. Studio
david production
will be handling the animation, while
Nippon Columbia
for the music, and
Magic Capsule
for the sound.
Staff
Original: Humikane Shimada and Projekt Kagonish
Director, Character Design:
Kazuhiro Takamura
(
Vividred Operation
)
Series Composition: Striker Unit
Script:
Tatsuhiko Urahata
(
Tsurezure Children
),
Takashi Aoshima
(
Himouto! Umaru-chan
),
Toshihiko Tsukiji
(
Kämpfer
)
Setting, Research:
Takaaki Suzuki
(
High School Fleet
original creator)
Planning: Shinya Murakami (
Viper's Creed
)
Mechanical Design:
Naohiro Washio
(
Gundam Build Divers
)
Music:
Seikou Nakaoka
(
Hitsugi no Chaika
)
Sound Director:
Tomohiro Yoshida
(
Romeo x Juliet
)
Sound Effects:
Mutsuhiro Nishimura
(
Mobile Suit Gundam Thunderbolt
)
Producer: Takashi Tachizaki (
Baka to Test to Shoukanjuu
)
PV
Ongakutai Witches (tentative)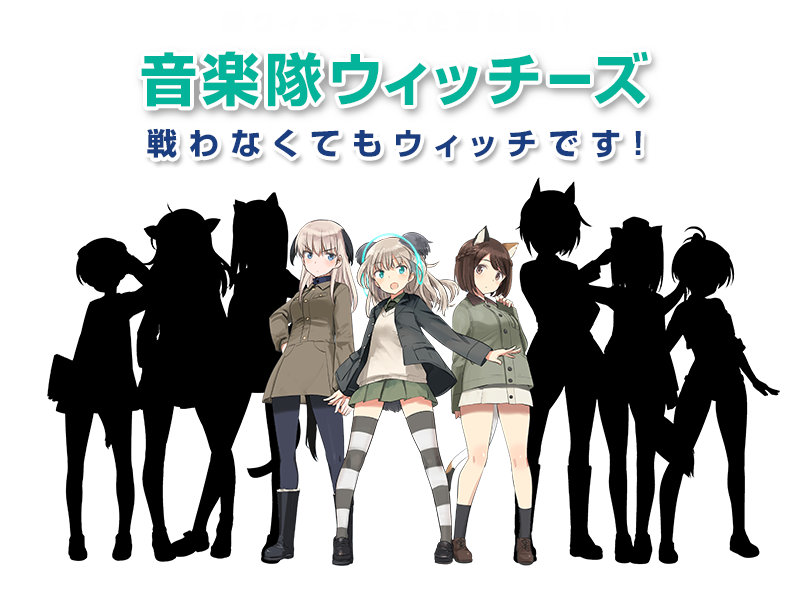 A music-centered project was also revealed as a part of the franchise's 10th anniversary, with a unit comprising of nine members, three of which are revealed. The idol group based from the series will be debuting next year, with its unit name and the series' official title still unannounced, with fans given the opportunity to submit their suggestions. Original creator Humikane Shimada is credited for the original character design, while Shinya Murakami will be in charge of the series literature.
Kadokawa
is producing the music.
Shouji Saeki
(
Medaka Box
) will handle the direction and series composition.
Introduction
These are witches who defend everyone's smiles and fight enemies through the healing power of music. These witches, opposite of those in the defense fleet, are idols known as the Music Squadron.
Cast
Virginia Robertson: Mai Narumi
Inori Shibuya: Minako Hosogawa
Lyudmila Andreyevna Rouslanova: Ami Aimoto
PV
Furthermore, it was announced by Kadokawa's Sneaker Bunko that the three volume novel
Strike Witches: Suomus Iran-ko Chuutai Series
by the late
Noboru Yamaguchi
(
Zero no Tsukaima
) and Humikane Shimada will get a reboot. It will be written by Toshihiko Tsukiji with artworks by Kousuke Tsukinami. The novel is slated to ship on October 1 with its premium edition bundling a drama CD and rubber strap.
PV
Source: Moca News
1
,
2
World Witches Series: 501-butai Hasshin Shimasu!
,
Dai 501 Sougou Sentou Kuukoudan Strike Witches Road to Berlin
, and
Ongakutai Witches
on MAL

RSS Feed