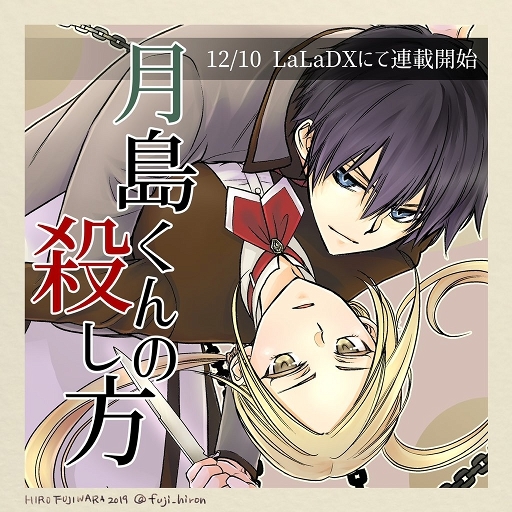 Kaichou wa Maid-sama!
author,
Hiro Fujiwara
, announced her news series will be titled
Tsukishima-kun no Koroshikata
and its first chapter will be released in
LaLa DX
's next issue, on sale December 10. While the magazine normally releases bi-monthly (on even-numbered months), Fujiwara has requested a less frequent schedule for the series, and chapters are expected to serialize quarterly.
Fujiwara debuted in Lala DX's May 2004 issue, winning the 145th LaLa Mangaka Scout (LMS) Best Rookie award for her one-shot
Kaerimichi, Yuki no Netsu
under the penname Hiro Izumi. After publishing a number of other one-shots in Lala and Lala DX (and changing her penname to Hiro Fujiwara), the author began her prominent work
Kaichou wa Maid-sama!
on Christmas Eve, 2005 in
LaLa
.
Kaichou wa Maid-sama!
(
Maid-sama
) was serialized for almost eight years in LaLa, finishing in September 2013 for a total of 18 volumes. Multiple side-stories were later published in various LaLa DX issues in 2017 and 2018, which were compiled into one volume
Kaichou wa Maid-sama!: Marriage
released on August 3, 2018. The series inspired a 26-episode
anime adaptation
in Spring 2010, animated by J.C.Staff. The manga and anime currently rank 29th and 79th, respectively, on MyAnimeList's most popular titles.
Fujiwara's next series,
Yuki wa Jigoku ni Ochiru no ka
, was serialized in LaLa from February 2014 to September 2016, and totaled six volumes. Since its conclusion, Fujiwara has only published a number of original and side-story one-shots;
Tsukishima-kun no Koroshikata
will be her third series.
Source:
Fujiwara's Tweet

RSS Feed