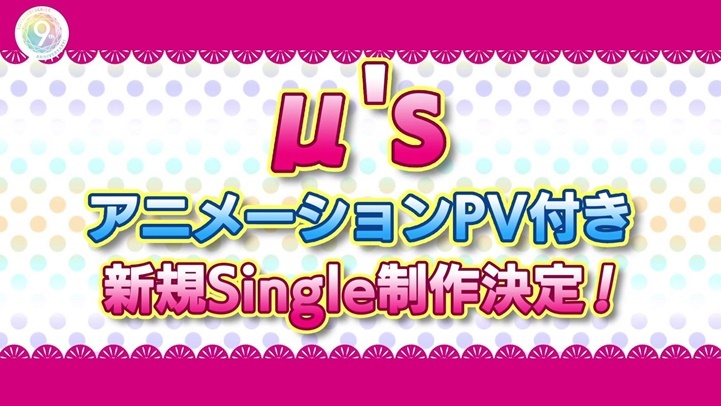 Three years since the last single of μ's, the first
Love Live!
idol group, the franchise announced that the group will get a new single to commemorate its ninth anniversary. The single will be released with an anime music video.
A joint-project between animation studio
Sunrise
, music label
Lantis
, and Kadokawa's
Dengeki G's magazine
,
Love Live!
began its serialization in the magazine in June that year. The debut single,
Bokura no Live Kimi to no Life
, was initially released as a limited edition CD and DVD copy on Comiket 78 on August 13, followed by a general release on August 25. Only the characters of the single were credited under the artist name "Love Live! School Idol Project" and their respective performers were later revealed in Dengeki G's November issue.
The 2010 single ranked 167 in the Oricon charts and was succeeded by numerous singles and albums over the years until their "final single." Titled "Moment Ring," the single was released in March 2016 and peaked second at the Oricon chart.
The franchise spawned adaptations in multiple mediums including manga, light novel, game, live concerts, and anime. Sunrise produced
two anime seasons
in 2013 and 2014 and a
movie
the following year.
In 2015, a new group was formed under the franchise named "Aqours" and has also received multiple adaptations following the setting's concept.
Two TV anime seasons
aired in 2016 and 2017, followed by a
movie
opened in Japan on January 4 this year.
Source:
animate Times

RSS Feed