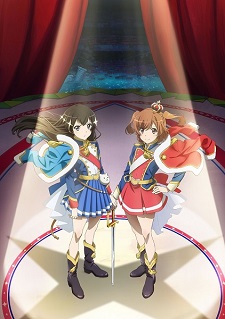 Bushiroad
and
Nelke Planning
have launched a large-scale project of "new feeling of live entertainment" titled
Shoujo☆Kageki Revue Starlight
(
Girls☆Musical Revue Starlight
). The project will get both a TV anime and a musical. The main cast members consisting of seiyuu, stage actress, and idols, will partake in both formats. The five musical live performances will take place between September 22-24 at the AiiA 2.5 Theater Tokyo.
Synopsis:
Starlight—this is "Revue" of song and dance that's loved worldwide.
Karen and Hikari, who caught their hearts by the stage, made promise to each other when they were young.
"Let's stand on that stage together one day, for sure!"
Time passes, and now Karen Aijou is 16 years old, who continues her lessons enthusiastically to keep her promise.
The one who transferred to her school is Hikari Kagura, who was separated when they were young.
The destiny starts to move with the reunion, and a mysterious audition starts.
"Do you want to be a top star?"
The person who passed the audition gets to be the lone top star that can get to shine.
The only one that can get it is the "Revue" who stands above the battle royal stage.
Karen and Hikari, as well as the chosen stage girls, participate to a mysterious Revue to make their dreams come true.
Shining dream. Burning passion. Dreams that cannot give up to others.
"Even if I have to fight against her!—"
Revue Starlight that mixes comedy and tragedy—starts now!
Cast
Karen Aijou:
Momoyo Koyama
(
Bishoujo Senshi Sailor Moon
musical)
Hikari Kaguya:
Suzuko Mimori
(
Tantei Opera Milky Holmes
)
Maya Tendou:
Maho Tomita
(
Galaxy Angel Rune
ending theme performer)
Junna Hoshimi:
Hinata Satou
(
KutsuDaru.
)
Mahiru Tsuyuzaki:
Haruki Iwata
Nana Daiba:
Moeka Koizumi
Christine Saijou:
Aina Aiba
(
Kemono Friends
)
Futaba Isuruzaki:
Teru Ikuta
Kaoruko Hanayagi:
Ayasa Itou
(
BanG Dream!
)
Staff
Director:
Tomohiro Furukawa
(
Yuri Kuma Arashi
assistant director)
Series Composition:
Tatsuto Higuchi
(
Cross Ange: Tenshi to Ryuu no Rondo
)
Character Design:
Hiroyuki Saita
(
Kuma Miko
)
Studio:
Kinema Citrus
Trailer
Official site:
http://revuestarlight.com/
Source:
animate Times
Shoujo☆Kageki Revue Starlight
on MAL

RSS Feed