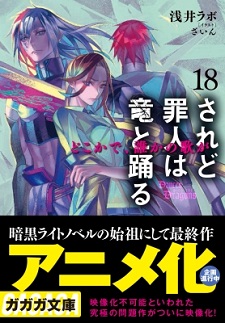 The 18th volume of
Saredo Tsumibito wa Ryuu to Odoru: Dances with the Dragons
, which went on sale today, is announcing on its wraparound jacket band that the light novel series will be receiving an anime adaptation. The format and duration of the series will be announced at a later time.
Synopsis
The series takes place in an alternate world, staged mostly in the city of Eridana, whose territory is half in the Tseberun Dragon Empire, and half in the Lapetodes Seven Cities Alliance. Each half is separated by the Orielal River. In this world, special abilities called spell formulas (咒式, jushiki) exist, which are essentially chemical reactions augmented through special weapons that cause a magic spell-like effect. These special weapons are called Magic Staff weapons, and are as varied as regular weapons are. Spell formulists use these spell formulas to fight with "Beasts of Abhorrent Form," natural creatures that use spell formulas and pose a threat to humans, such as Dragons, Aions, or Enormes. The story focuses on the two main characters, Gaius Sorel and Gigina Ashley-Bufh, the only two employees of spell formulist dispatch office Ashley-Bufh & Sorel Co. They are met with a variety of requests from a variety of clients, all requiring the adept use of spell formulas. (Source: LNDB.info, edited)
The novel series is written by
Labo Aisai
and illustrated by
Terui
, with both Terui and
Zain
illustrating the remake
Saredo Tsumibito wa Ryuu to Odoru: Dances with the Dragons
. The original series,
Saredo Tsumibito wa Ryuu to Odoru
, had eight volumes published under Kadokawa's Sneaker Bunko label between January 2003 and May 2006, while the remake version began publishing on May 20, 2008 under the new publisher Shogakukan. The 17th volume of the series charted in the
weekly light novel rankings for July 18 - 24
, selling a total of 4,850 copies.
Source:
Otakomu
News submitted by
Hongu
Saredo Tsumibito wa Ryuu to Odoru
on MAL

RSS Feed