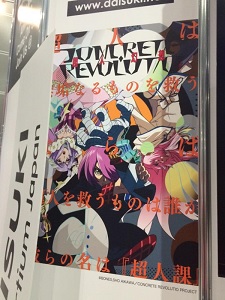 Studio Bones is expected to announce an original anime,
Concrete Revolutio: Choujin Gensou
, for broadcast in October 2015. The official anime website has been registered but requires authentication to access. A
key visual
has been displayed at Daisuki's booth at Anime Expo 2015.
Synopsis
Apotheosis, a superhuman phenomenon in Tokyo. The reason of their birth is unknown. Some of them were modified by evil organizations; some came from outer space. Some came from a magical world, while others are monsters from ancient times. Some are robots made by scientists, OOPart (out-of-place artifact) robots. However, the Japanese government cannot afford to turn a blind eye to the prevalence of these superhumans.
Source:
Otakomu
,
YusaAni
News submitted by
sevenPocky
Update July 3
Cast and staff members were revealed, along with a PV.
Cast
Jirou Hitoyoshi:
Kaito Ishikawa
(
Haikyuu!!
)
Kiko Hoshino:
Sumire Uesaka
(
Chuunibyou demo Koi ga Shitai!
)
Emi Kino:
Aki Toyosaki
(
K-On!
)
Routa Fuu:
Eriko Nakamura
(
The iDOLM@STER
)
Raito Shiba:
Kenichi Suzumura
(
Danshi Koukousei no Nichijou
)
Hyouma Yoshimura:
Tokuyoshi Kawashima
(
Eikoku Koi Monogatari Emma
)
Daishi Akita:
Tetsuo Kaneo
Staff
Director:
Seiji Mizushima
(
UN-GO
)
Script:
Shou Aikawa
(
Fullmetal Alchemist
)
Character Design, Chief Animation Director:
Yoshiyuki Ito
(
Star Driver: Kagayaki no Takuto
)
Original Character Design:
Noizi Itou
,
Hekiru Hikawa
,
Ryou Hirao
Mechanical Animation Supervisor: Ken Ootsuka (
Mobile Suit Gundam AGE
)
Art Supervisor:
Hiroki Matsumoto
(
Shikabane Hime
)
PV
Official site:
http://www.concreterevolutio.com/
Source:
Moca News
Concrete Revolutio: Choujin Gensou
on MAL

RSS Feed