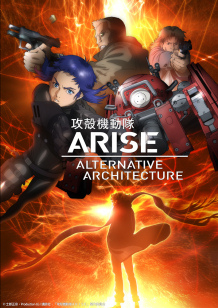 According to its official website, a
Ghost in the Shell: Arise
TV anime will be broadcasted this April. More details will be announced shortly.
Source:
Official site
,
Anime! Anime!
Ghost in the Shell: Arise (TV)
on MAL
Update February 17
The
official site
was updated today to indicate that
Ghost in the Shell: Arise
will broadcast under the title
Ghost in the Shell Arise - Alternative Architecture
. The series will air starting April 5 as a recompilation of the movies for TV broadcast (totaling 8 episodes) with two additional episodes of original content. These episodes will connect the previous
Arise
movies with the upcoming
Ghost in the Shell movie
scheduled to premiere this Summer.
CM:
https://www.youtube.com/watch?v=O8Ma8duhSWI
Source:
Moca News
Discussion continues from here.

RSS Feed