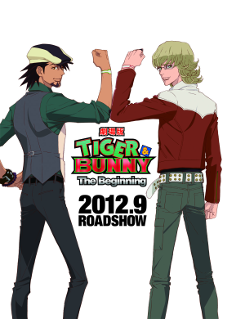 According to the official website, a special program called "WEEKLY HERO COUNTDOWN" is currently being held, where those who have bought an advance ticket may use the inscribed serial number to place one vote for the hero that will shine in the last scene of the movie. The vote rankings will be announced weekly until the end of the program on July 3rd. The top 5 heroes will be considered prize winners, and each hero will be granted time on-screen at the end of the movie, respective to their rank. The site states 5th place will have 15 seconds, while 1st place will have 3 minutes. 1st place will also be granted the title "KING OF MOVIE HERO", as well as a probable separate event dedicated to that character.
Tiger & Bunny: The Beginning
is planned to be released on September 29th, and the
second Tiger & Bunny movie
is planned to be released within 2013. The movie series has been produced as a "hybrid series" that contains a behind-the-story synopsis of the
TV series
in addition to the new material, allowing newcomers to enjoy the movies as well.
Source:
Official Voting Page
(Japanese),
Eiga.com
(Japanese)

RSS Feed