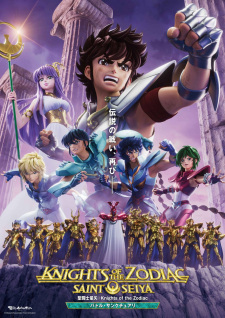 Streaming service
Crunchyroll
revealed
at Comic Con Experience 2022 a third season for the
Knights of the Zodiac: Saint Seiya
original net anime on Thursday. Crunchyroll will stream the anime on their platform.
Produced by
Toei Animation
, the first season streamed in two six-episode parts worldwide on Netflix in July 2019 and January 2020, respectively. The
second season
, subtitled
Battle for Sanctuary
, premiered on July 31 on Crunchyroll.
The anime series is based on
Masami Kurumada
's
action adventure manga
, which was serialized in
Weekly Shounen Jump
from December 1985 to November 1990.
Synopsis
Time is running out! Only five hours remain before the god-killer arrow lodged in Athena's chest will kill the goddess. The powerful Grand Master is the only one who can save her life, but to even reach the Grand Master's chambers, Seiya and his fellow Bronze Knights must ascend Sanctuary and pass through all Twelve Houses, each temple guarded by a Gold Knight. Not everyone will complete the journey and reach the summit of Sanctuary where a shocking surprise awaits. (Source: Crunchyroll)
Official site:
https://www.saintseiya-kotz.com/
Official Twitter: @
saintseiyaanime
Source:
Crunchyroll

RSS Feed