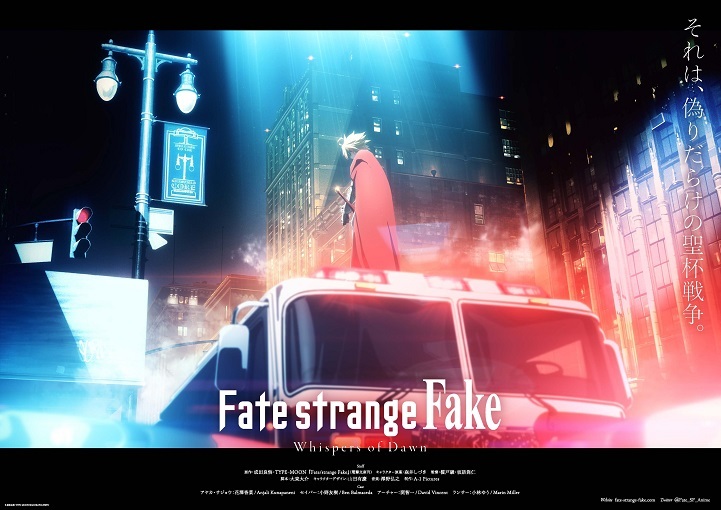 The Aniplex Online Fest 2022 event announced a television special anime for
Ryohgo Narita
's
Fate/strange Fake
light novel on Saturday.
Aniplex
simultaneously opened an official website, revealing the main staff, cast, a teaser visual (pictured) and teaser promo. The special episode, subtitled
Whispers of Dawn
, will debut on December 31 this year.
Staff
Director: Shun Enokido (
Manga de Wakaru! Fate/Grand Order
),
Takahito Sakazume
(
Princess Connect! Re:Dive Season 2
episode director)
Script:
Daisuke Oohigashi
(
Mahoujin Guruguru
(2017))
Character Design:
Yuukei Yamada
(
Fate/Apocrypha
)
Music:
Hiroyuki Sawano
(
86
)
Studio:
A-1 Pictures
Cast
Ayaka Sajou:
Kana Hanazawa
(
Yoru wa Mijikashi Arukeyo Otome
)
Saber:
Yuuki Ono
(
Hataraku Maou-sama!
)
Archer:
Tomokazu Seki
(
Fate/stay night: Unlimited Blade Works
)
Lancer:
Yuu Kobayashi
(
Vampire in the Garden
)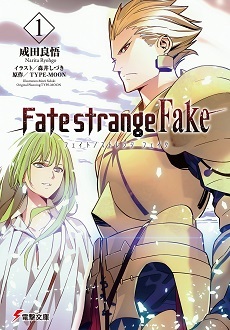 The text—
Fake/states night
—was originally placed as an April Fools joke on Narita's homepage, presented as a prologue and introduction to a role-playing game. The second volume of
TYPE-MOON Ace
reissued it as a stand-alone novel form under the title
Fate/strange Fake
in January 2009.
Kadokawa began publishing it through its Dengeki Bunko imprint in January 2015, featuring illustrations by
Shizuki Morii
(
Fate/Grand Order: Zettai Majuu Sensen Babylonia
). The seventh volume went on sale on March 10.
Type-Moon concurrently began releasing a
manga adaptation
by Narita and Morii digitally under its Type-Moon Books imprint the same month as the light novel, with Kadokawa publishing the print version. The fifth volume also shipped on March 10.
A-1 Pictures produced a
promotional video
commemorating the release of the sixth light novel volume on New Year's Eve in 2019.
Synopsis
Fate/strange Fake
centers around an imperfect copy of a Grail War based on the Third Holy Grail War in Fuyuki. Following the conclusion of the third Grail War, a US-based organization with magi distinct from the London-based Mage Association, used data from Fuyuki's Grail War to plan their own ritual. Seventy years later, they used the city of Snowfield as the Sacred Land for their own Grail War. However, they were unable to successfully replicate every aspect of the ritual, resulting in it acting only as an imitation that has lost the Saber class and allowed for the summoning of strange Servants due to the blurring of the definition of a "hero."
Rohngall and his pupil, Faldeus, have been dispatched by the Mage's Association to investigate the city and the state of the war. Faldeus, a US organization spy, has Rohngall sniped upon his arrival, despite knowing that Rohngall is a puppet. He declares that their Holy Grail War has been in development and is real, causing a commotion at the Clock Tower, and that he wishes to "advertise" the project to the Association.
Teaser PV
Official site:
https://fate-strange-fake.com/
Official Twitter: @
Fate_SF_Anime
Source:
Dengeki Online
Fate/strange Fake: Whispers of Dawn
on MAL

RSS Feed